How Can You Prepare for Summer Camping?
---
Camping in the summer means embracing the outdoors and enjoying the summer sun far away from home on a campground. Preparation for summer camping entails a lot of things but they are not limited to being aware of the risks posed by the hot summer sun, what and what not to bring along while camping, gear needed, and helpful tips to help you enjoy your camping experience. 
WHAT TEMPERATURE IS TOO HOT FOR CAMPING?
The camping experience is determined by the temperature you are camping in. From the cool weather to the warm temperatures, it is your choice as to which temperature you would love to camp under. When a camp is said to be too hot, the temperature range is between 90 and 100 degrees Fahrenheit with humidity levels of less than 20 per cent and over 80 per cent.
In order to enjoy a good night's sleep under the heat conditions, a portable power station can be brought along for the trip and used to power up a portable fan to keep you cool through the night. Of course, summer is perfect for beach camping, so if you're planning to go camping in Oregon, here's an article about camping in Oregon.
There are a number of things to consider when it comes to you determining what temperature is too hot for camping. You can go over them below so as to better prepare and have a fun and entertaining experience while camping.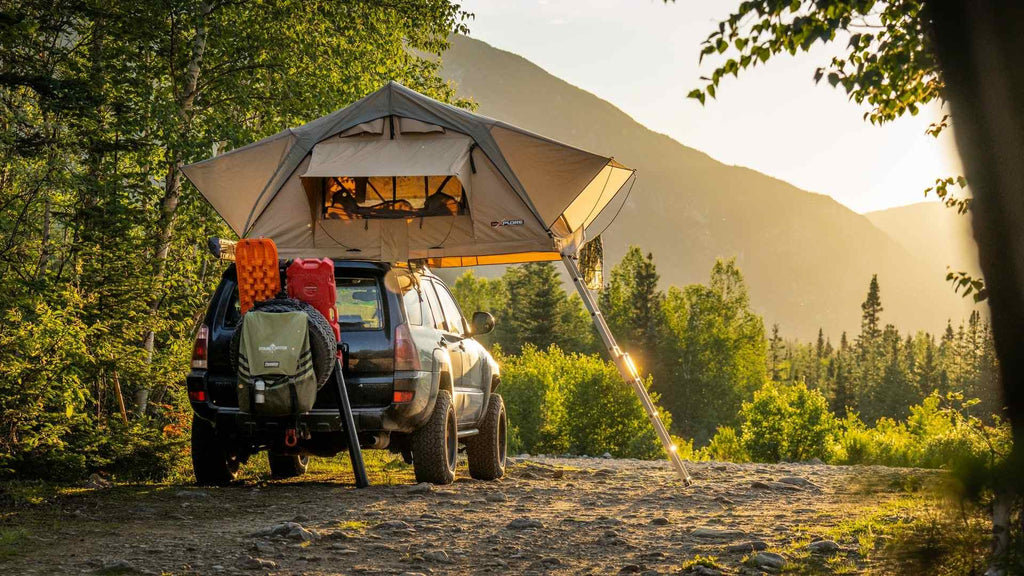 Your planned location for camping plays a huge role in how affected you are by the temperature. A certain degree of temperature will affect the body differently in different locations. Ninety degrees in a swamp hits differently from ninety degrees in a dry desert. Spending a day with a temperature of 90 degrees Fahrenheit by the water is more comfortable and enjoyable than spending the day in an area without a considerable body of water in sight. The surrounding water helps by adding coolness to the air, and you can also go for a swim to cool off.
Sleeping well at night makes your camping experience great and enjoyable. You can check out Acevolt Campower for their Campower 700 solar generator to help you power up a fan and provide cool air. 
WHAT YOU NEED FOR CAMPING IN THE SUMMER?
There is this feeling of excitement around hearing news about camping trips. You get to experience swimming in cool water, family fun, games, cookouts, and the relaxing atmosphere of a campground. You start to pack your baggage and, most of the time, end up packing things you actually do not need.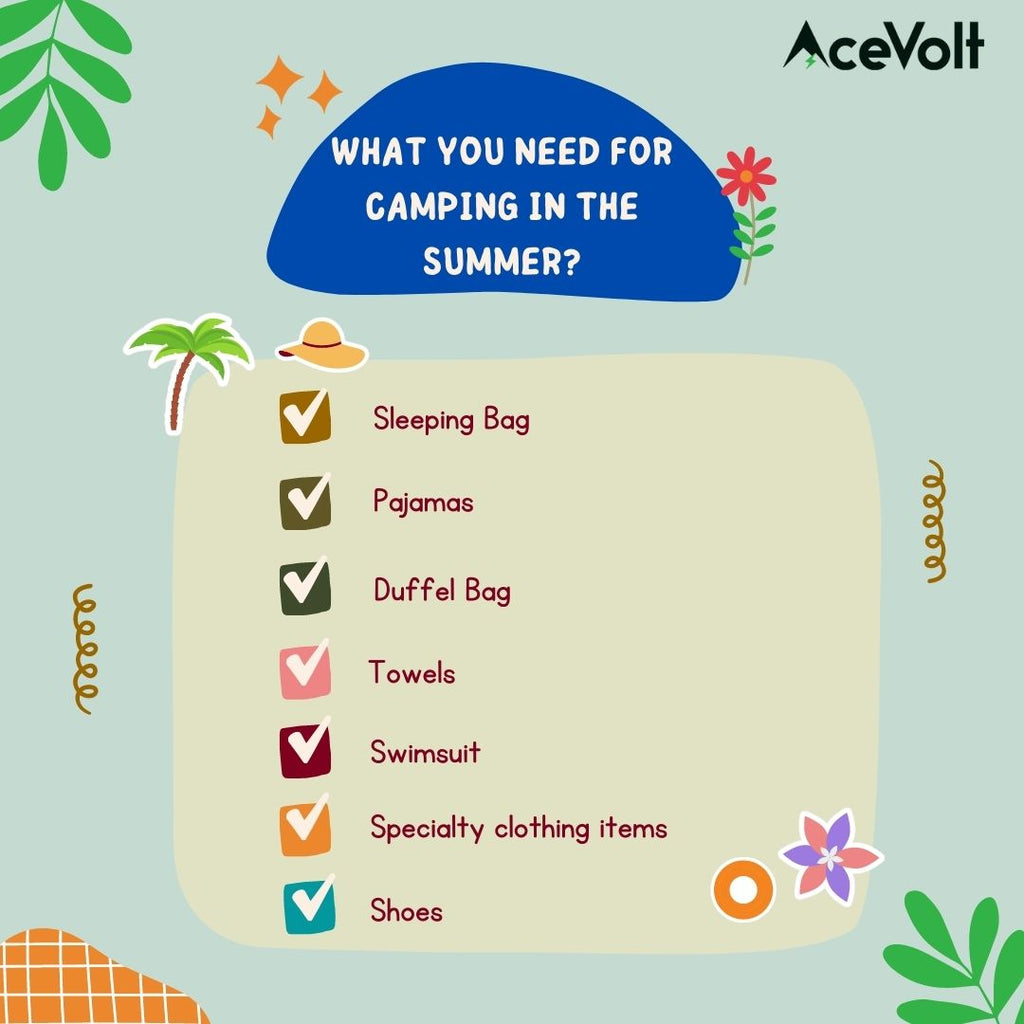 Here is a list of things needed for camping in the summer;
1. Sleeping Bag: No matter where you will be staying, be it a cabin, tent or lodge, you will definitely need a sleeping bag. Another advantage is that the sleeping bag is enough to keep you warm for the chilly summer nights.
2. Pajamas: A comfy set of pajamas helps you unwind after a fun-filled day at the camp.
3. Duffel Bag: A duffel bag is very necessary to hold all your essentials for days while you are away from home.
4. Towels: At least two towels should be packed. To help you dry up after swimming and bathing, and so they can be rotated.
5. Swimsuit: You should always come with swimwear if you plan on swimming during the camp, and at least two swimsuits should be brought, so they each can be rotated while one is left to dry.
6. Specialty summer clothing items: In the event, you are heading off to a special summer camp, which include the likes of a fishing camp or sports camp, you require specialty items that cannot be borrowed. Your camp website should give you directions on the gear and clothes needed for the camp.
7. Shoes: Come prepared for all kinds of weather and different scenarios. Rain boots in case of rain and wet weather, slippers or flip-flops for the pool and when you need to shower tennis shoes and sandals.
CAN YOU USE PORTABLE AC IN A TENT?
Camping under the open atmosphere is fun and one of the most exciting feelings unless it is during the humid months of the summer. And when it comes to that, and you are camping in a tent it is possible to use a portable AC. You will need a portable power station solar generator to run your portable AC comfortably.
When going over your plans to purchase your portable AC, take note of the space the model of the AC will contain. Then how the AC will get its power and for that the acevolt campower 700 Portable Power Station Solar Generator is ideal.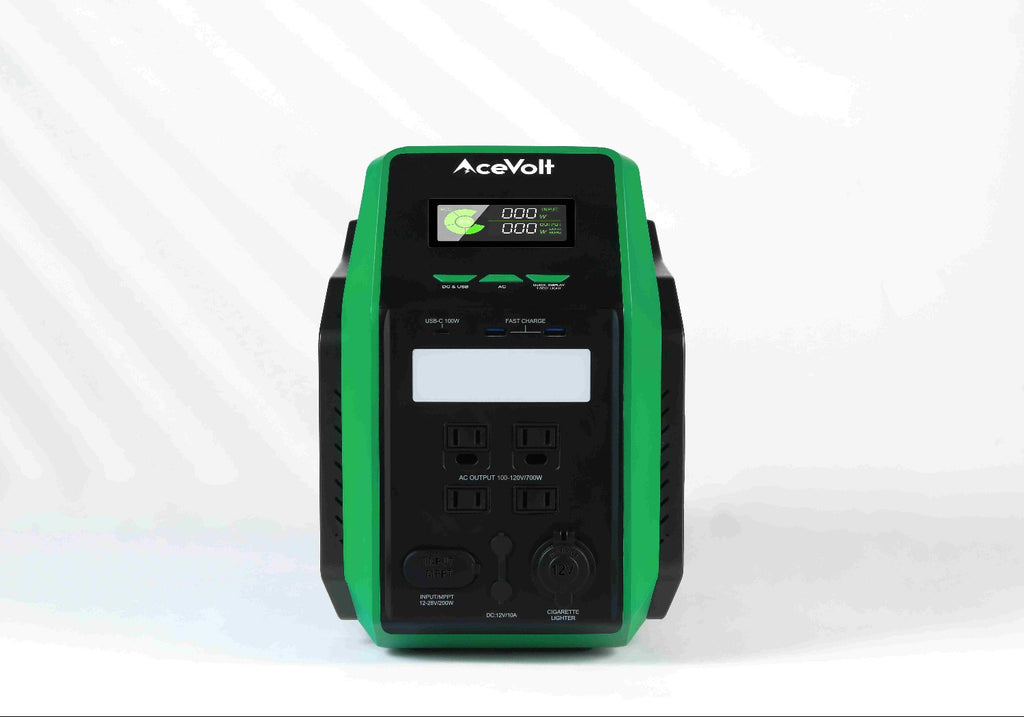 SUMMER CAMPING TIPS
It's essential to be aware of the dangerous risks presented by the hot summer sun. Sunburns are uncomfortable and dangerous at worst. The heat of the hot summer sun drains you of energy faster than you can imagine.
These tips will make summer camping enjoyable and a pleasurable experience for you.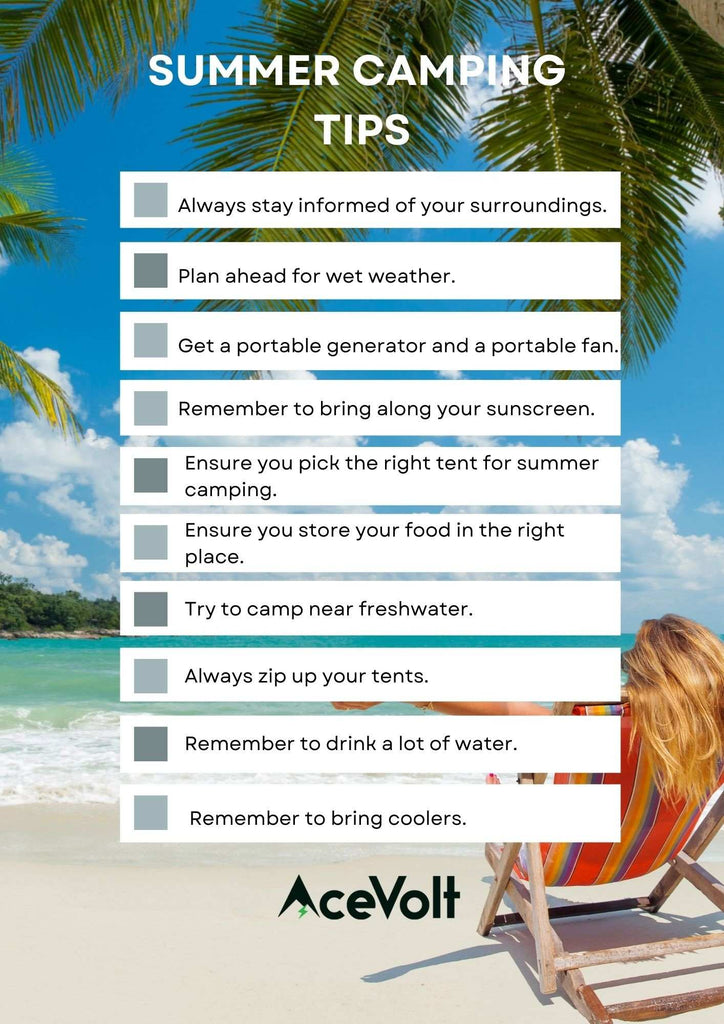 1. Always stay informed of your surroundings.
The most important thing is to know everything you can about your camping destination, from the campground hosts to a map of the surrounding area to allow exploration without the fear of getting lost. If you are heading on a solo road trip, you should read these car camping safety tips we have prepared for you. 
 2.Plan ahead for wet weather.
You can bring along your waterproof and consider waterproofing your important gear while you are at it.
3. Get a portable generator and a portable fan.
A portable power station and a portable fan provide a battery-powered cool breeze that keeps you cool through the night. It is very advisable you go along with them if you will be camping in locations which have over 90 degrees weather.
4. Remember to bring along your sunscreen.
For protection against sunburns, never forget to bring along your sunscreen while preparing for summer camp. Always reapply every few hours and apply after swimming as well.
5. Ensure you pick the right tent for summer camping.
It is essential for your tent of choice to have some UV protection, and it should be able to block out a certain percentage of the sunlight. Also, ensure your tent is not made from a thin material. All these factors determine if you will have a good night's sleep or the opposite.
6. Ensure you store your food in the right place.
You need to find a cool place to store your food before it goes bad. Fortunately, the AceVolt Campower 700 trolley case is also a multi-functional waterproof cooler bag. You can store chilled drinks or food in it, isn't it convenient?
7. Try to camp near freshwater.
Ensure you have natural water near your campsite because having a constant source of water is very important while camping. Depending on the type of water, you may end up needing to bring along devices to filter it.
8. Always zip up your tents.
While bringing along bug spray and insect repellant to the campsite is necessary, zipping up your tent is a better way to prevent insects from coming in, which allows the flow of air in the tent without the bug spray blocking it.
9. Remember to drink a lot of water.
Dehydration is a common occurrence in summer camps. Always remember to drink at least 2 litres of water daily, and this should increase with every intensive activity you engage in.
10. Remember to bring coolers.
At least two coolers should be brought along for your camping trip, one for drinks and one for food. This should help keep your experience while camping less chaotic.
Conclusion
The camping experience under the hot weather will be enjoyable if you are aware of the tips to follow and the dangers the hot weather can present with ways to deal with them. 
---
Related Product