The Most Popular Campgrounds in Florida
---
When you think about having leisure in Florida, what comes to your mind? Do you imagine beachside picnics, beautiful oceanic scenes, and hours of toning in the sun alone? Then you are missing out on one adventurous detail about a vacation experience in Florida – camping! Rather than spending a day on the beachside, you can have days or even a week more to enjoy the beauty of Florida. It only takes having a tent and other necessary camp equipment like an Acevolt Campower solar generator.
With the numerous beaches and abundance of sunshine that complement Florida's campgrounds, the state makes the best camping location in the South of the US. Camping here allows you to totally seep in all of the beauty of the US' most tropical region. Featuring a diverse topography, abundant wildlife, and a warm, friendly climate, places to camp in Florida have never been scarce.
Should you need some help on where exactly to pitch your tent in Florida for the best sunny experience, we have made our findings and gathered the five most popular campgrounds everyone who steps into Florida wants to visit. Simply said, we have reviewed the best campgrounds in Florida for your benefit. With just a little patience to read through, you will discover what makes these campgrounds truly famous.
Disclaimer: Although there are numerous activities to get you busy, camping in Florida is dominated mainly by water adventures. Be it peacefully flowing rivers, cool bubbling springs, or the salty expanse of the Atlantic Ocean, Florida has it all. Of course, you don't always have to get into the water. For some, observing the beautiful aquatic scenes is enough. For most persons, however, the abundance of water adventures is the highlight of the experience.
So brace yourself as we take this ride of imagery into exploring the best campgrounds in Florida.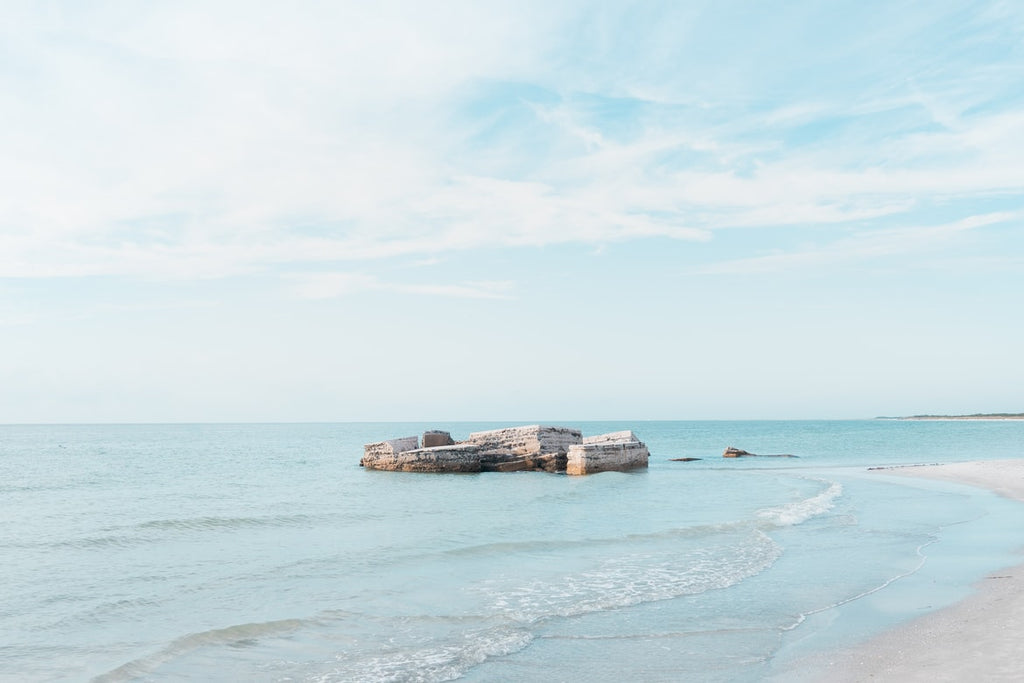 Fort De Soto Park, St. Petersburg
You've probably already heard of Fort De Soto's Beach, the vastest beach in Florida and perhaps the best in the US. Now, imagine having in the same location a park where you can camp! Fort De Soto's campgrounds make the beaches their home and are exposed to over 7 miles of oceanic waterfront. By directly looking ahead, you will view miles of water unending. When you turn to the left or right, you are gifted with a beautiful view of the vastest stretch of beach sand you've ever seen.
For your adventure, you can kayak down the water's edge or paddle through the 2.25-mile canoe trail. During these aquatic adventures, you may be lucky to observe sharks and manatees. Fort De Solo Park is gifted with five connected islands, also known as keys. In each of these islands, you will find Florida's natural foliage in abundance. From mangroves to palm hammocks and muddy wetlands, these kinds of views are only peculiar to Florida. Ecologists say the park houses over 328 species of birds. In essence, the camping treat at Fort De Solo is not complete without some birdwatching.
Interestingly, Fort De Solo holds some history that you will find more about when you visit the Soldier's hole nature trail. There is actually a real fort that campers now visit to view the cannons and firing galleries. 
There are 238 camping sites altogether at Fort De Soto campground. Impressive also is the dog park made available for dog lovers who would want their pets to get a feel of what camping in Florida is like.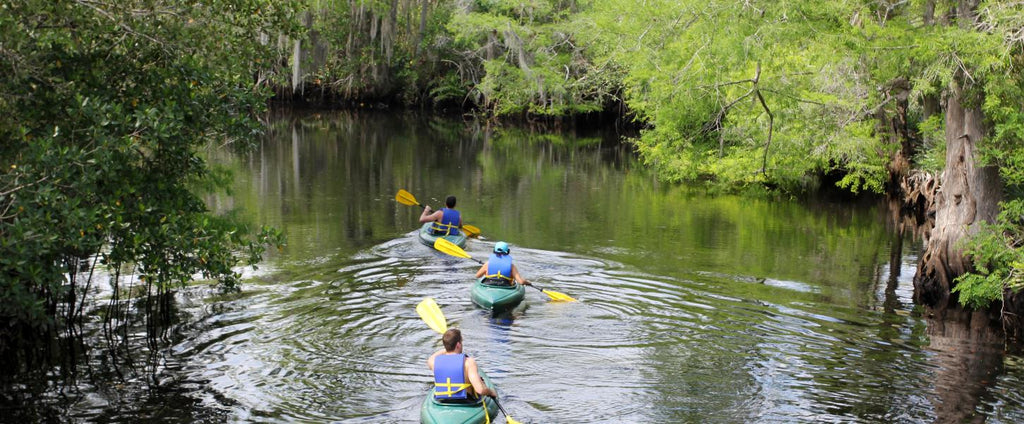 Jonathan Dickinson State Park, Jupiter
For a camping experience devoid of oceanic interference, Jonathan Dickinson State Park provides the best tent camping in Florida.  Rarely populated, peaceful, and very natural, you will love every moment of your stay here. There are about 16 natural communities in the park waiting for you to explore.
Winding through the park is the Loxahatchee River, whose name interprets "River of Turtles." Canoeing and kayaking are good ways to pass the time on the river. You can take a hike along the bank too. Be on the lookout though, you may find a turtle or two, and sometimes, alligators are not left out.
Campsites at the state park are large enough to accommodate your vehicle, but parking lots are also available. There are about eight camping types in all, including RV camping and group camping. The tip of the iceberg for many visitors is that the park does have some campsites that accommodate horses. In the evenings, you can explore the forests as an Equestrian or simply take a walkthrough if you don't have a horse.
The amenities available at Jonathan Dickinson State Park are standard and ensure convenience. They include picnic tables, quality internet connection, a ready market, and neatly furnished toilets.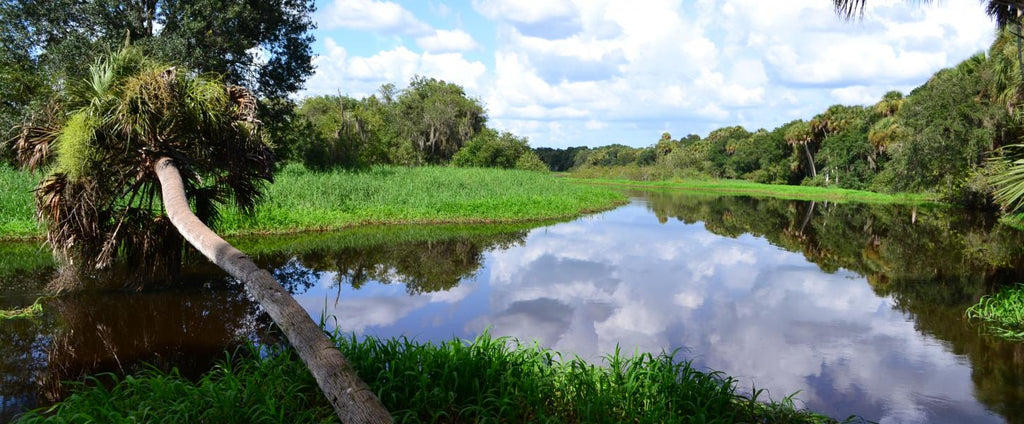 Myakka River State Park, Sarasota
Welcome to one of Florida's oldest and largest state parks – The Myakka River State Park. There is no better way to enjoy the generous gift of nature in the park than to spend a few days camping. One thing that makes Myakka state park outstanding is the diversity of wildlife. From land animals to water birds and alligators, the list of animals you will find here is inexhaustible.
Vegetation is abundant, and the habitats diversify from prairies to pinelands and wetlands dominated by palm trees. Because of the ecological diversity, wildlife watching is the highlight of activities at the State Park. You can do this by hiking on foot, cycling, or canoeing on the water. If you are keener about seeing alligators, there is the Deep Blue Hole which you must not forget to stop by.
On a hot sunny day at Myakka River State Park, the reflection of the blue sky on the still river is probably the most beautiful thing you will find. You can also get a scenic aerial view of the park by climbing the Myakka's palm tree canopy. There, you will get a glimpse of all the park holds at once.
There are 90 campsites altogether in the park, with provisions for primitive camping along the hiking trail. Each campsite is furnished with electricity, water supply, and a fire ring.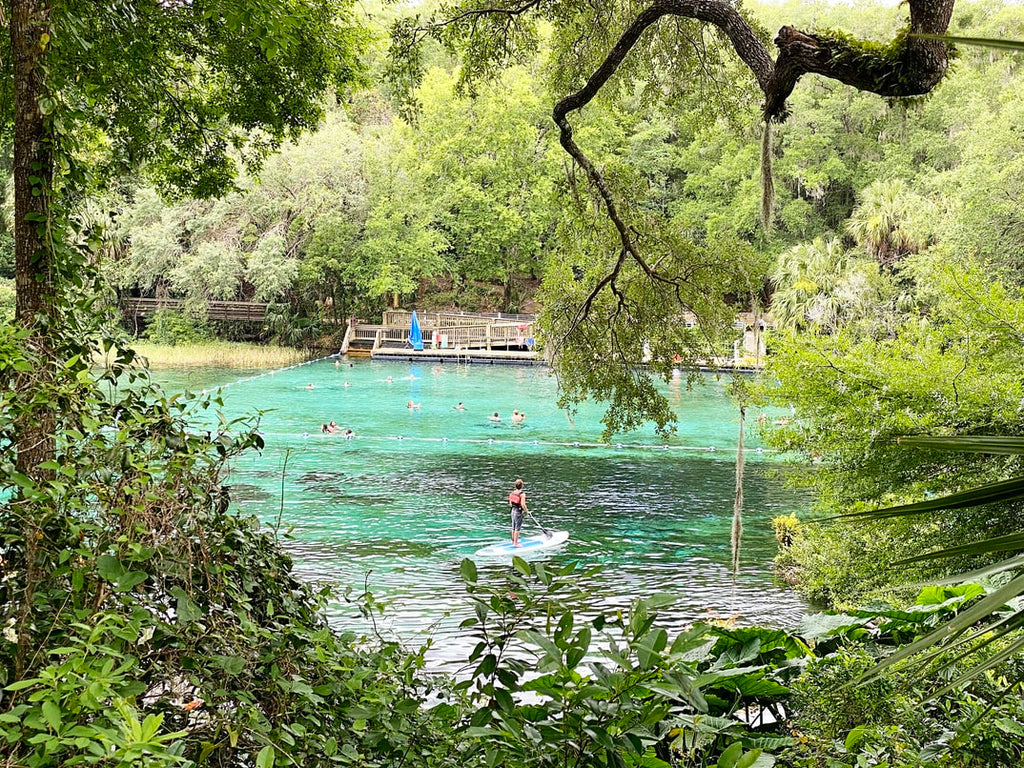 Rainbow Springs State Park
Do not expect to literally find a rainbow affixed on the sky that spreads across this park. However, the colorful reflections the waters give do say it all. Camping at Rainbow Springs State Park allows you to have almost all of the adventures camping in Florida can offer. Your days will be filled to the brim with activities from kayaking to hiking and snorkeling to fire camping. We will not forget to mention that you will take the most beautiful pictures of the river here.
History has it that humans first visited Rainbow Springs state park a little over 10,000 years ago. It turns out people are still trooping to the park today, and we don't expect that trend to end in the nearest future. Rainbow Springs makes a great place to camp with family. Children can enjoy the scenic views of artificial waterfalls or have a fun time on the playground designed specially for them.
The park's campground features well-furnished gravel sites for camping. There are only three RV-only campsites. However, there are 44 other sites available for either RVs or tents.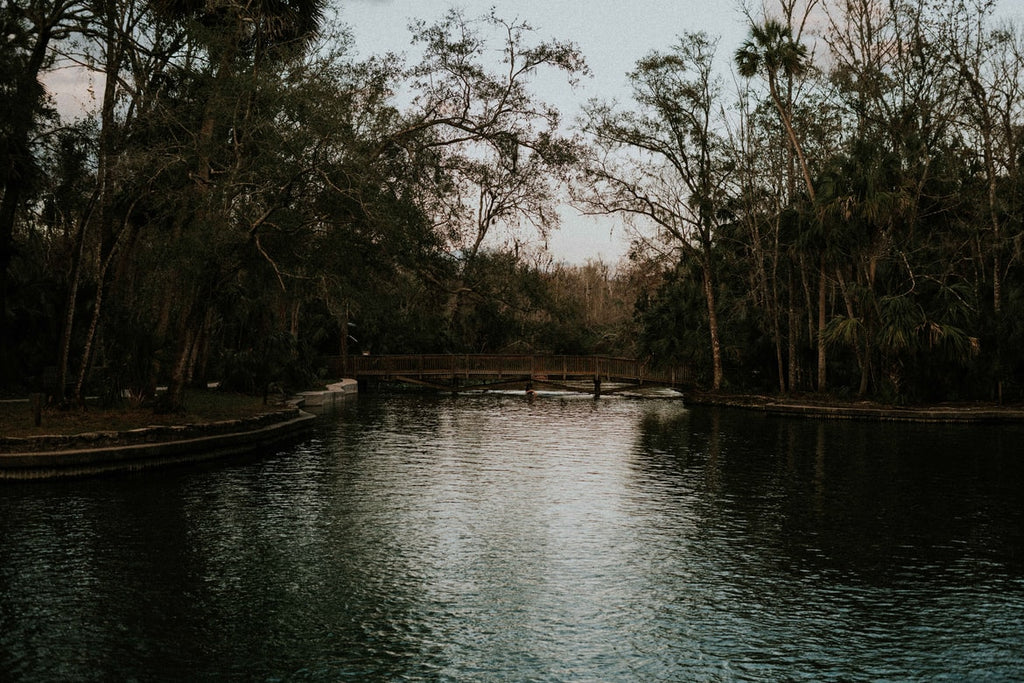 Wekiwa Springs State Park, Apopka
We cannot talk about the best places to camp in Florida without mentioning the Wekiwa Springs State Park. What gets everyone talking about this small park nestled in Apopka is the Wekiwa Springs. Bubbling out from miles beneath the earth's surface, the spring's water proudly stays at 72 degrees all year long. During the summer camping spree, campers make their way to the spring to have the coolest bath they can obtain around from a natural water body.
Of course, that is not all to the adventure available at the Wekiwa Springs State Park. Camping here allows you to explore the waters of the Wekiwa River. Wade through the Water plants that tower slightly above the water using a kayak and seep in the green scene. There are also several trails where you can hike or cycle.
There is nothing as close to the peace obtained when camping at Wekiwa Springs State Park. The park itself is located away from busy Orlando. It is rarely overpopulated and does well for primitive camping. Of course, you should not forget to take an Acevolt campower portable power station with you when having primitive camping.
Conclusion
Camping in Florida is truly a breathtaking experience. The unique climate makes the adventure very much unlike what you will find in any other US state. The highlights of most camps are cool springs, the abundance of wildlife and estuarine vegetation, the warm tropical climate, and of course, the not-so-friendly alligators.
Tent camping in Florida is an excellent choice to make when seeking something different from arid deserts, cold climates, and snowy grounds. What's more? Wildness, the spice of an authentic camping experience, is obtainable anywhere you camp in Florida. The beauty of the nights is appreciated when there is a full moon or stars to gaze at. At other times, a good source of electricity, such as the Acevolt Campower will do the job of lightening the environment and powering your devices.
Whenever your adventures bring you to the Sunshine State, find your way to any of the most popular campgrounds, and don't forget to share your experience.
---
Related Product