Easy Meals for Group Camping
---
Camping with loved ones is a beautiful experience that you can't forget in a short while. It makes hiking through forests, roasting endless s'mores and singing campfire songs more fun. With the fun and excitement about camping with family, your planning has to be doubled compared to a one-person trip.
Going on a vacation with family and friends requires you to coordinate events logistics and create a food menu for everyone. Most times, the overwhelming part of the planning is creating a food menu suitable for everyone.
There's a lot to note when creating a food menu for many people- easy and tasty meals and meals that you can prepare with rustic equipment. When you have a coordinated food menu for camping, cooking won't be complicated. In this article, you will see what you have to consider when curating a food menu and foods you can add to your food menu.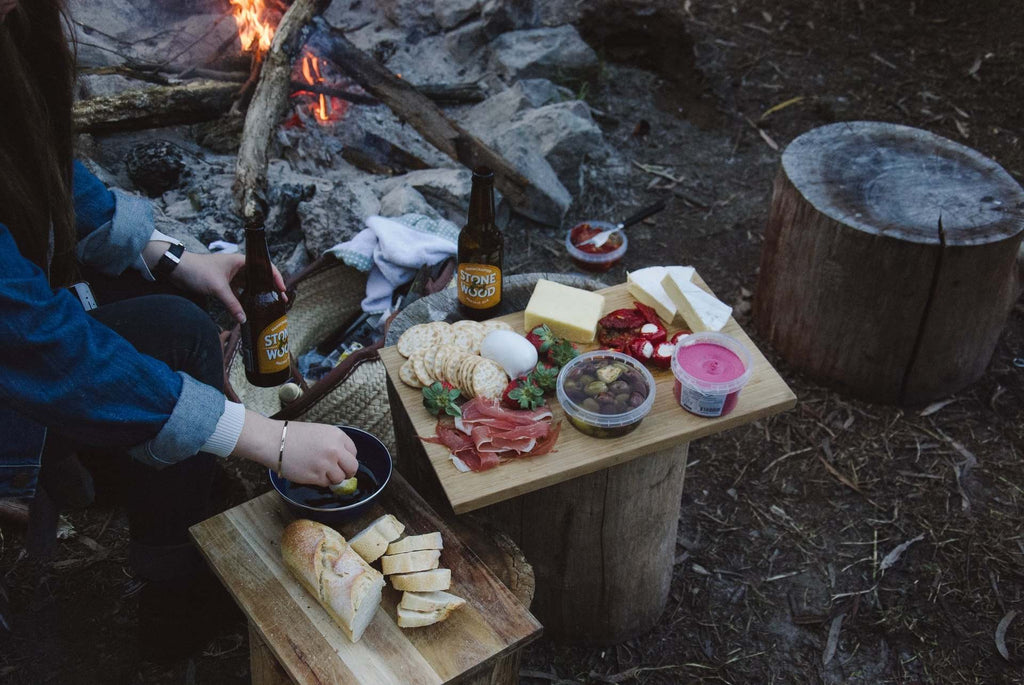 Tips to Preparing a Food Menu
Preparing a food menu for many people is more tasking than planning for just one person. To cook for everyone successfully, you have to plan, prepare and ask some essential questions that would help you decide what would be on your food menu. Here are some tips that would help you create a food menu of camping meals that all would enjoy:
1. Plan a menu for each day.
Before you go on vacation, you should plan out what you will be eating each day. It would be very draining to decide what to eat during the camp. You will have to juggle between so many people's input and opinions.
The best thing to save yourself is planning out what you'll eat each day. Doing this would help you know the types of food you will be eating out there. It would also help you understand the preparations you will do beforehand.
Since you have planned your food menu and you know the meals you're going to have, you have to prepare for each of them. You can designate the food items for every other person coming to the camp.
Get all the foodstuffs and perishable stuff you need. You can cook all the fresh food items you can't preserve a little bit to prevent spoiling. If you're making any flour-based meal, you can make the batter from home and store it in the fridge.
3. Make inquiries about food allergies.
While planning the food menu, ask your group members if they have any allergies or dietary preferences. It would not be very pleasant to find out that a member of your group can't eat what you have prepared the meal.
When planning, ensure that you know everyone's allergy and avoid things like soya beans that most people are allergic to. Take food alternatives along if there's still someone somewhere with a dietary preference. You can use a sandwich machine to make things easier, but you need a solar generator to power it. You can buy a solar generator from Acevolt to power it.
4. Don't forget to go along with plates and spoons.
People always mistake forgetting plates and spoons when going for camps and vacations. It's even funnier when you're done cooking, and you now figure out that nobody brought plates and silverware. 
To prevent this, ensure that you take more than enough utensils, plates, spoons and napkins that would be enough for everyone. Check this article out if you are preparing camping food and gear. You can also tell each person to come along with plates and silverware for at least two people.
Camping Food Ideas for a Large Group
Here's a list of food ideas consisting of breakfast, lunch, and dinner meals.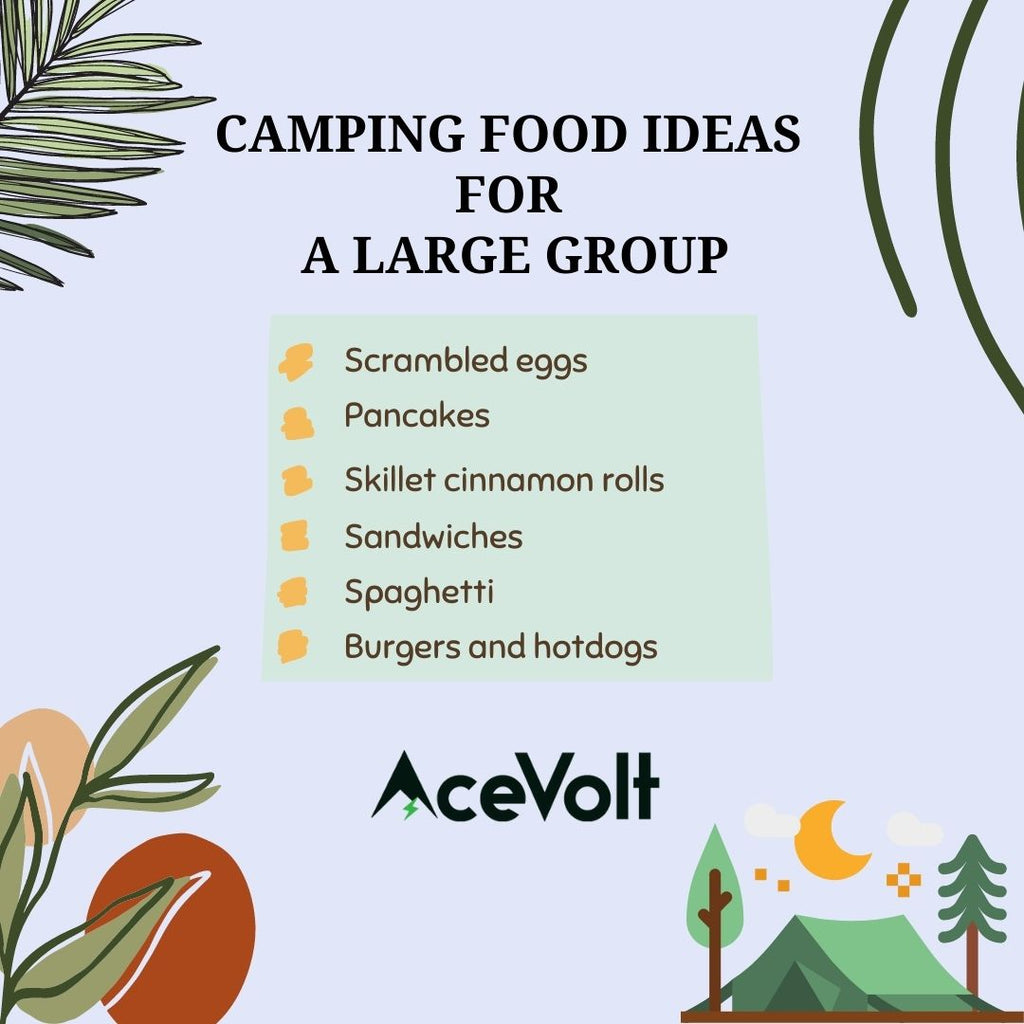 Scrambled eggs are a fast and filling meal for breakfast. The great thing about it is the ability to turn into whatever you want it to be. So anybody in the group can add extras like cheese, ketchup and salsa.
When bringing eggs to the camp, you must be very careful because putting the eggs in a pack can be very risky. The solution is to break the eggs into a bottle and refrigerate it before coming to the camp. You can add some extras to it like seasoning and cheese too.
Pancake is a quick breakfast meal that everyone would enjoy. It is simple, quick to cook and a delicious way to start the morning. To make things easier, you can make the batter before coming to the camp and store it well. If you prefer a fresh mix, get a pancake mix that has flour, milk and sugar in it, then you mix it with water and eggs when you get to the camp.
It's a simple breakfast, so you can make it very interesting by adding lots of unique flavors, extras' and toppings to it. Take fruits, jam and honey as light extras. You can also go along with Nutella, chocolate and marshmallow.
Skillet cinnamon rolls
3. Skillet cinnamon rolls
Skillet cinnamon rolls are also speedy and easy to make. Buy some cans of cinnamon rolls and the frosting you would like to use on them. Put the cinnamon rolls on a skillet and cook them till they are brown and crispy. Once it's brown and crisp, spread the frosting all over it.
You can also put the dough of the cinnamon roll on a stick and roast it over the fire. Turn it slowly until it bakes evenly, then put it into the frosting.
Sandwiches are a great option to feed many people when going camping. It is simple to cook, and you can tweak it by adding other things. Although people get tired of sandwiches, you can prevent that by going with other flavors that you can add, such as jelly, honey, bananas, peanut butter, lettuce, and tomatoes. You can also go with different types or variations of bread. With all the available flavors, each person can make their sandwich and put whatever they like.
Spaghetti as dinner would be so delicious and filling. Cooking spaghetti during camping must be kept to a one-pot meal to prevent using too many utensils. So to achieve this, you need a basic spaghetti recipe that consists of noodles, sauce, cheese and a pot of water. Boil the water, cook the pasta, and pour the sauce on it once it is done.
If there's a lot of space, you can go along with ground beef, onion, garlic and oregano.
Burger and hotdogs are very affordable for a large number of people. They are regular meals at camps because they are juicy and very filling. Some campers go with their grills and then assign the best griller to make dinner. If there's no grill, you can use the campfire and make heart hotdogs.
Stuff the meat, seasoning, veggies, yellow squash, sliced onions, salt, pepper, butter or margarine. Roll up the foil and cook in the campfire coals until it cooks. Then put the content in the loaf and squash ketchup on it, and then you have your heart burger and hotdog.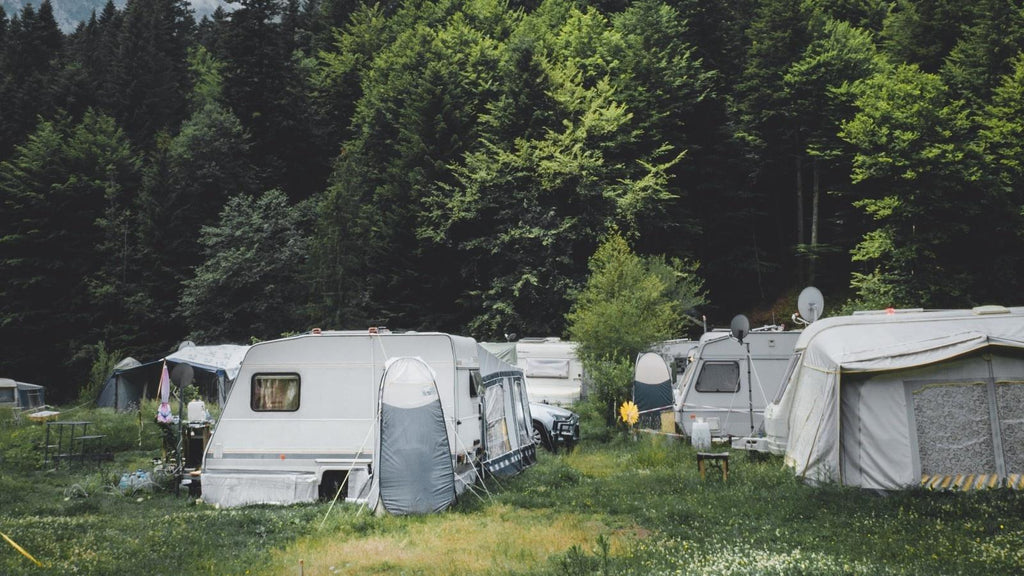 Conclusion
With planning, cooking for a group camping trip would be delicious and exciting. Ensure to get all the food items and utensils you need and even extra. You can also get an additional power supply to make your camping experience very enjoyable. Acevolt campower 2000 is a portable solar generator that can power all the devices you need during the camp. It charges under two to three hours. Acevolt produces the solar generator, and you can check here for more inquiries.
---