Top Ten Campfire Songs for Your Next Camping Trip
---
One of the exciting pastimes of camping is making a campfire, then sitting around it and singing campfire songs together with family and friends. Singing campfire songs together is an outdoor activity that has been cherished as a tradition for centuries. Cowboys and other recreational campers often sing campfire songs to relieve stress and have fun.
It is sometimes almost impossible to trace the inception campfire songs, but it has been around for many years now. There are several categories of campfire songs. Some tell stories; some are very funny, while some contain wise words. There are campfire songs for adults and children too. When planning a camping trip for your family and friends, you can also include the type of campfire song fit for the gathering.
Most of the best campfire songs include body and hand movements that bring energy into the music. This movement creates enthusiasm and anticipation for whatever is coming after. It also makes fun moments, especially when you're giving spooky moves to a fun song.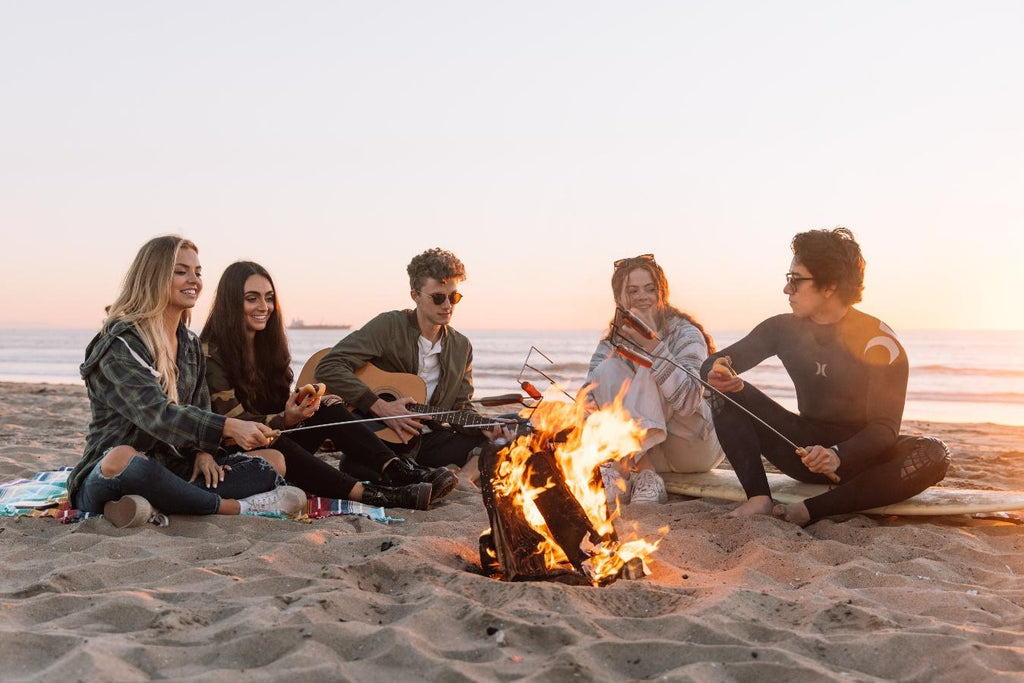 Why Campfire Songs
There are lots of reasons why it is important to sing camp songs. The very intriguing thing about campfire songs is that you don't need to be skilled in singing to sing them. It makes it easier for everyone to take part. The songs are very familiar, and if not, it's fun to learn them. Campfire songs must be present in every camping trip because:
● It consists of a full fun mode consisting of singing and body movements.
● It allows everyone to participate.
● It creates an environment that is saturated with energy.
● It makes sense of togetherness and bond.
Where does the campfire song tradition come from?
The campfire song tradition is traced centuries ago when singing together was a consistently practiced culture. The American tradition of singing campfire songs started in the late 19th and early 20th centuries. At these times, parks and summer camps were becoming popular. Families began to anticipate a camping vacation with a campfire and songs.
Most camp songs come from folk tunes produced in the '60s and '70s. The songs feel like they were composed to be suing beside the heat of a blazing fire. Pieces like Blowing in the wind, Puffing the magic, and Having a hammer are loved universally and sung by many. They can also be easily taught to children in a few minutes. These songs are good options for campfire songs.
Some campfire songs originate from American African spiritual music. A few of them are Deep River, He got the whole world in his hands, When the saints go marching in, and Wade in the water. These songs give an avenue for teaching and learning social and religious history.
Other songs come from war histories such as World War I and II. Such themes include Mademoiselle, Wing and a Prayer, Over There, Pack up Your Troubles, and White Cliffs of Dover. These songs tell us about the war and experiences from it. A few other campfire songs were written with fun and children in mind. Examples are Down by the bay, Flee fly, BINGO, and the meatball song.
Top ten campfire songs
It is always lovely to sing family-friendly campfire songs even before you listen to some spooky camping bedtime stories. The top ten campfire songs that we recommend are the following: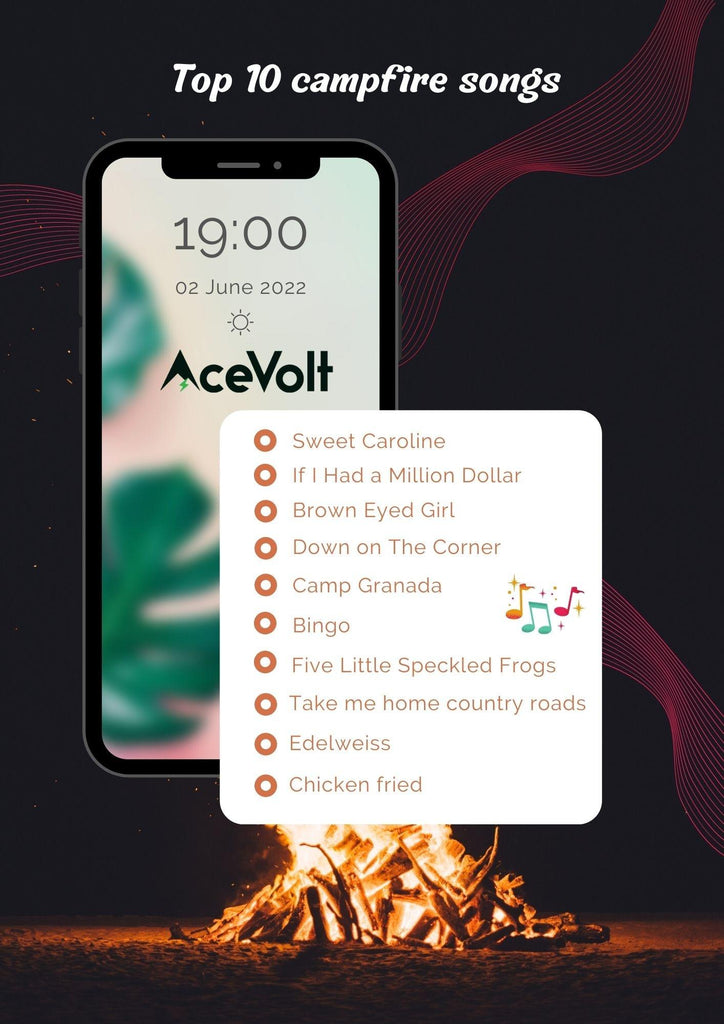 Sweet Caroline was written and performed by an American singer, Neil diamond. It was released as a single in 1969. Neil wrote this song for his wife then, to describe her. It's always a good time to sing this song with friends and family beside the warmth of a campfire. This song has always kept us fuzzy each time it is played, and it will continue to give that feeling forever.
2. If I Had a Million Dollars
This song is an enjoyable and relatable sing-along song. It was written by bare-naked ladies in 1988. This song has an appalling tune that would make your camp audience have an inter-song chatter. Singing this song also could make one daydream about how much they would do if they had one million dollars.
The brown-eyed girl is a more than a thousand random songs altogether. The song is a crowd-pleaser. The lyrics show portrays a young summer love that everybody loves talking about. The chorus also has catchy phrases that keep people singing on and on. Van Morrison performed the song, an anthem for lovers everywhere.
This song is a perfect campfire song that is perfect for the evening. It is a fantastic song to be sung close to supper time. It's a perfect song for roasting hot dogs and burgers filling over the fire. It's a song for adults, and it can be easily taught and learned.
Camp Granada is a song that became popular through a Grammy award-winning parody performed by a comedian by Allan Sherman in 1963. It is a song that is loved by all. It's trendy and can be quickly learned by children too. The piece creates a relaxed atmosphere and brings the group and family together.
Bingo is a popular childhood rhyme that everyone knows and can relate well to. The song brings up a funny and exciting atmosphere for the kids and everyone else. This song gets to the climax when you have some silly hand and body movements going along with it.
7. Five Little Speckled Frogs
It is another song that children are familiar with. It tells a tale of five frogs who take turns jumping into a pool of cool water. This campfire song is very educational such that it teaches the concept of subtraction of numbers.
8. Take me home country roads
Take me home country roads have always been around even before it started popularly. It became famous when other artists made a medley of it with other songs. John Denver originally wrote the song. It is a song for love birds, and it has become the unofficial anthem of West Virginia. It is also popular in some rural American towns.
Edelweiss from the 'sound of music is another genre of song. It is different from every other campfire song. It was performed in the movie "sound of music" by Rodger and Hammerstein production. This song helps to slow things down after all the energetic activities that have taken place while sitting around the campfire.
It is one of the modern campfire songs, and it is viral. The brown band released the song in 2005. After it was released, it became one of the most sought-after campfire songs. It is a song that should come before dinner to create anticipation.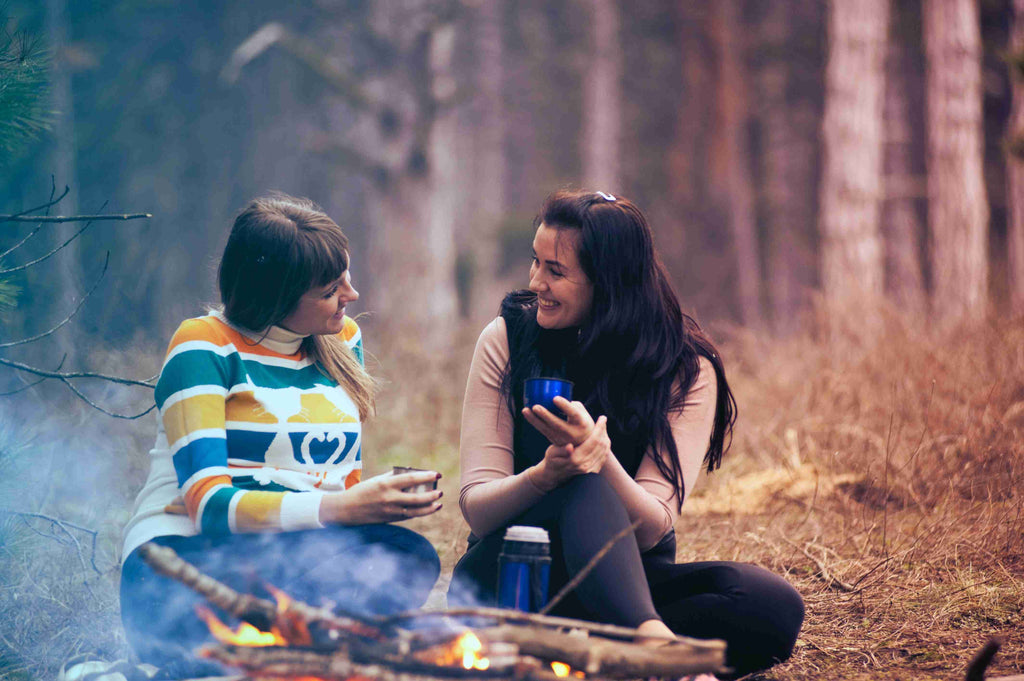 Conclusion
Singing Campfire songs is a significant part that you must include when planning your camping activities. It brings a sense of bond and joint stand with everyone who relates. Some of the songs mentioned above might be strange, but you can learn them. You can go along with a speaker that can amplify the pieces for more fun. While planning your camping activities, you should go along with a solar-powered generator such as acevolt campower 700. Acevolt is a company that produces solar generators for camping trip. Visit here to see the features of acevolt campower 700 potable power station.
---
Related Product
AceVolt Portable Solar Panel 100