Food and Gear for Campfire Cooking
---
One of the greatest highlights of camping is cooking over a campfire made with wood—the smoky feel in the foods and the ecstatic feeling of eating mostly roasted foods. The thought of s'mores and hot dogs would flash through the mind when you think of campfire food. Cooking with a campfire is very safe, and you can cook just about anything over a campfire with the right tools. It would be best to note some essential things during your preparations, such as where to build your campfire, ensuring you use the right tools, and so on.
As you will see later in this article, some cooking tools make campfire cooking a cinch, while others are more involved. It all comes down to the time and effort you want to put into meal creation and how long you plan to camp. Your preparation is crucial In how you're experience is going to be. You can give yourself the aesthetic feeling of supply of light and electricity given by the solar generator produced by Acevolt Campower 2000 solar-powered generator.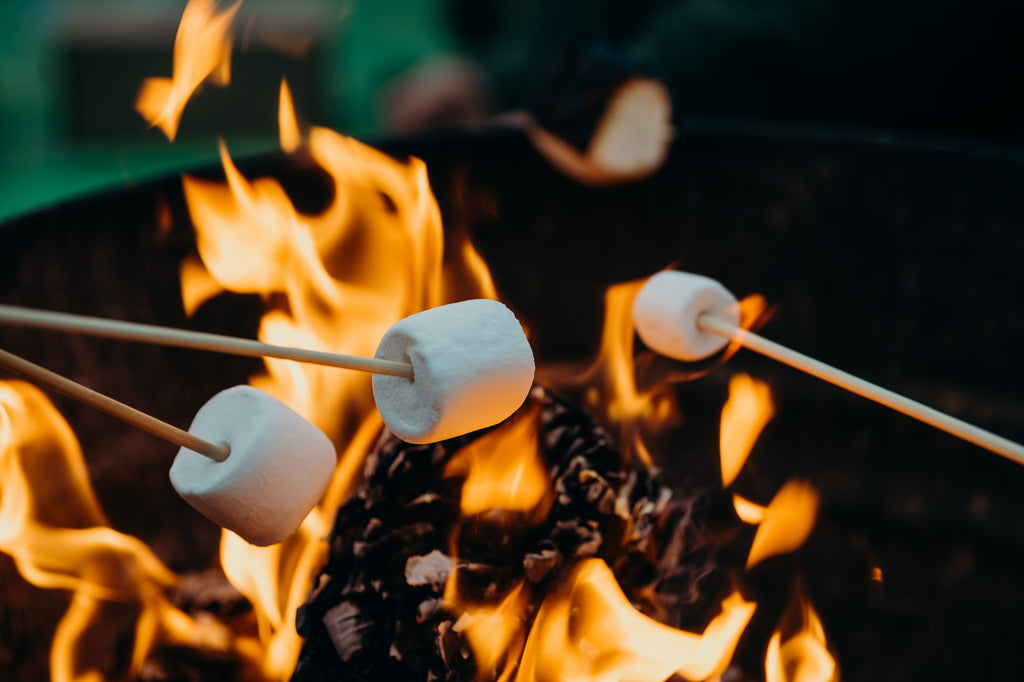 Helpful tips in cooking food with a campfire

1. Construct your fire well
This tip is essential because it determines the outcome of your campfire. To build a perfect campfire, you have to consider factors such as the type of wood, the location of the fire, and the clearance surrounding it.

The type of wood that is highly recommended is oak and hickory. You can also use Ash as an alternative if you can't get the wood mentioned above. It is essential that wood for campfire should be born slowly and mustn't have a choking smell.

The campfire should be built on an already dug hole and preferably protected from wind, grass and debris. Your campfire should be far away from overhead trees and powerlines. Your fire is always recommended to be 10 feet away from any tree or overhead pipeline.
To start a fire, lay down tinders such as dry newspapers, then arrange a pile of dry branches in a comical shape. But stones or rocky structures around it and then light the tinder.

It would help if you had the right tools for practical campfire cooking. The first essential tool is a grill gate. A grill is used to roast meat, fish and vegetables and can also be used as a platform to place your cookware on while cooking.

For your cookware, cast iron is recommended because cast iron is a dense metal, and it retains and distributes heat very well. Examples of cast iron cookware are a skillet, a Dutch oven and a cast-iron pot.

Ensure you have stainless steel tongs and long-handled spoons for serving and stirring. Go along with safety tools such as grill gloves and other necessary utensils such as aluminium foil, grill brush, and digital thermometer.

3. Avoid cooking directly over naked flames.
Cooking directly on naked flames from a campfire would land you into eating burnt food. The intense heat from the fire burns the food and chars your cookware's exterior. Burnt foods are unappetising and unhealthy. Instead of placing your food on the blazing fire, wait until the coals are white and then use a stand such as a grill plate.

4. Have a spray bottle to reduce flare-ups
Oil and grease that splash while cooking can ignite sparks that lead to fire flare-ups. The effect of bursts is an uneven heat distribution of your campfire, leading to unevenly cooked food.

So as soon you notice a spark flare-up, spay with water from the spray bottle to keep the fire calm.

It is also advised to reduce cooling foods that are greasy to prevent the number of flare-ups that you'll experience. You can use a Dutch oven for frying because it uses a low oil level and prevents oil splatters.
5. Have water and sand closeby
Campfires are unpredictable. It might go south when exposed to wind or left unattended. For eventualities like this, ensure that you have a standby bucket of sand and water to dampen the fire. To properly put out the fire, a little water to sand and then put it into the fire with a skewer till the fire and coals are completely cold.

FOODS THAT YOU CAN COOK WITH A CAMPFIRE

Below is a list of camping food ideas and recipes that you can cook with a campfire.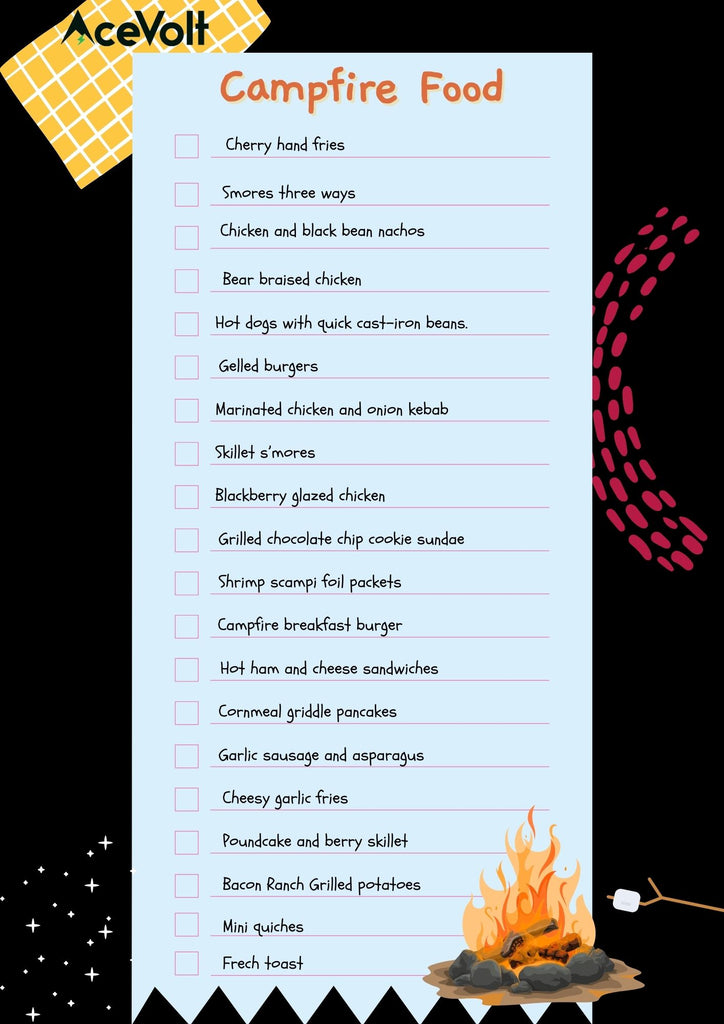 NECESSARY CAMPING COOKING KITS

Camping cooking kits are the essential tools to prepare meals during camping successfully. As earlier mentioned in the article, the best material cooking tool is cast iron. You can also get cooking wears made of aluminium, titanium and steel. The following cookware and utensils are essential in campfire cooking:

Cooking Surfaces such as grill grate, Dutch oven stand, rotisserie grill and spit and cast-iron tripod stand are needed during camping. A grill grate ensures that there's a safe and stable surface for cooking or placing a pan. It is majorly used as a platform for placing your cookware on. Ensure you don't use it to grill any food containing a lot of oil to prevent flare-ups. The rotisserie grill and spit are majorly utilised for grilling chicken, potatoes and bacon. It has a spit above the grill, which works hand in hand with the grill. The Dutch oven stand keeps the Dutch oven above the ground and close to the heat source.
The essential cookware you're to take along is a cast iron grill, griddle, and cast-iron Dutch oven. They have their specific functions, which make them very important. The cast iron grill and griddle are used to make pancakes, eggs and Grilled foods. The Dutch oven is used for making different recipes such as stews, soups, baked beans. It is also useful for boiling pasta and baking bread.

Once you get your cookware and surfaces, you should also get your cooking utensils to make things easier and ensure safety. For example, there are recommended utensils for flipping, stirring and serving.
A few of the necessary utensils you need are a steel tong, three in one folding grill tool, long-handled spoons and a grill utensil set. Although the three in one folding grill tool is a lot of load, it offers a grilling spatula, fork, and knife. Step tongs help to have a grip on turning food emulsifier grilling. Long-handled spoons are like gold during camping because it is the safest option for stirring soups, stew and oatmeal.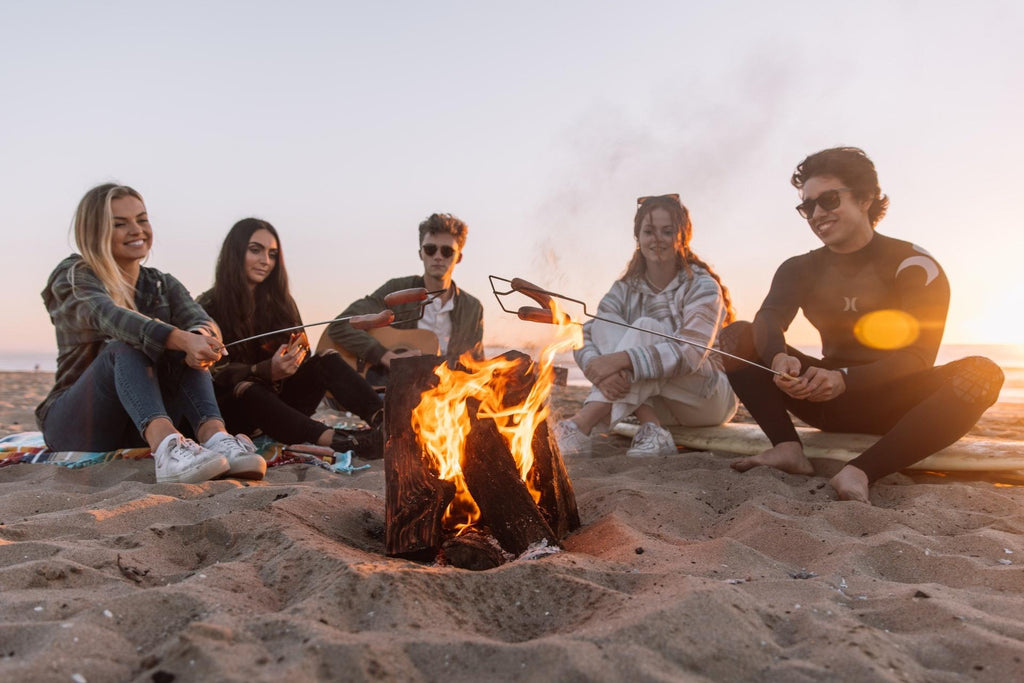 Conclusion

As you can see, campfire food is not just about roasting hot dogs on a stick; there's a safe way to go about it. Do not be afraid to get creative, try new ideas and enjoy delicious flame-cooked meals you and your camping companions will love. Ensure you follow the tip to bike your campfire and get the necessary tools, cookware, and utensils for perfect campfire cooking.
You can make your camping experience more convenient by getting a solar generator to light up your tent or power your devices. A good recommendation for a solar generator is Campower 2000, produced by Acecolt. The specifications are top notch and mind-blowing. 

---
Related Product
Sold Out
Campower700 LiFePO4 Portable Power Station