Camping Food Checklist: What To Bring When Camping
---
A camping kitchen is different from a home kitchen due to the absence of large equipment, lots of cabinets, and ample food storage. The basic things you can find are a small camp gas, cooler, storage bin and a plastic plate or two. There's no refrigerator for storage, microwave for heating or oven for grilling. The kitchen setting shows that it can take not all foods for camping.
There are a few types of food that you can bring along for survival in the woods. They should still be edible despite not being refrigerated for a long time. There are a lot of food items that you can put on your camping food list without worrying about disposing of them in no time. This article contains a list of these food items.
Basic Camping Food Items
The following is a list of the basic food to take camping.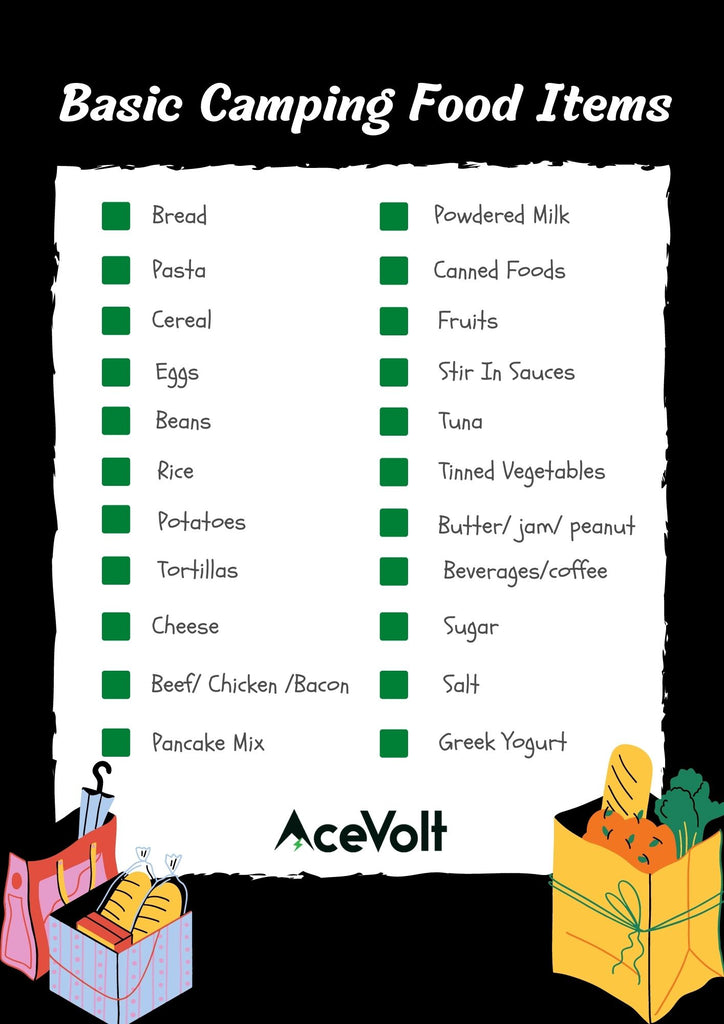 You can eat bread in several ways; sliced and as a loaf. Bread gives a wide variety of camping meals. As a loaf, it can be dunked into a soup, dipped into a stew, and ripped into hunks. When sliced, you can use it to make delicious sandwiches. It can also be used to make hamburgers, hot dogs, and rolls. The lifespan of bread is about 5-7 days; you can make it taste better by baking it yourself.
It is one of the ideal and fastest meals for campers. It is not perishable and easy to cook. It is a great food option because it has high calories that can serve the body for a long time. You can eat the pasta for lunch or dinner.
Cereal is another fast food that you can eat as breakfast on days with so many activities. It is dry food, so it can't spoil quickly. It's a vital component of your camping food list.
An egg is another great food option. It can be used as the main dish or with another dish. You can use it to make omelettes, a very nutritious breakfast. Eggs can also be scrambled, boiled, and poached. The great thing about eggs is that they don't need to be refrigerated. They can survive in temperatures below 25C. You also break the eggs into a clear bag.
Tinned beans are already processed and are stored by preservatives. A few examples are baked beans, kidney beans, peas. These provide a source of protein in your camping meals. You can use the tinned beans to make toasts and supplements for other dishes.
Rice is high in carbohydrates which makes it have high energy content. It is more suitable when eaten as lunch. It is very filling and provides enough energy for an adventure-filled day. It can be cooked in bulk and mixed with different soups and sauces.
There's a lot of cooking craft that potatoes can be used for while making a meal in a camp. They can be mashed, chopped, sliced, diced, grated, fried, peeled, and boiled. You can cook Potatoes with several toppings. You can also mix it with Greek yoghurt, bacon, cheese, and more.
Cheese is a significant component of your camping food. It is essential for every meal. It can be grated over a meal, used a layer in a sandwich, mixed with fruits, added to pasta, and lots more. It is a necessity on your camping food list.
This three are essential sources of proteins. You can use them to prepare the main course or as side meals. You can use them to make meatloaves, barbecued chicken, and stuff in a tortilla. You can add bacon to salads and sandwiches.
This mix makes it very easy and quick to make pancakes. You need to mix the dough and then fry or bake. It is a good option for breakfast and maybe an in-between snack. You can also use the mix to make biscuits and other snacks.
Stir in sauces are readily used to add flavor to whatever you add. They come in various forms, and you can add them to pasta, porridge, and other meals. You can get pasta sauce, curry sauce, and chilli sauce.
Tinned vegetables are a great addition to lunch meals for campers. Mixed veggies increase the nutritional value of a meal and make the food healthier. Since the veggies are canned, you don't have to worry about storing them.
Camping beverages and coffee go along with breakfasts or most suitable drinking on the go. Liquids have a long life span. Its preparation doesn't require much effort. You go along with a flask or a heated bottle to enjoy your beverage and coffee.
Fresh fruits are a no-go area because they are perishable. If you want to take fruits along, get tinned fruits with a long life span. It would be very refreshing to eat a balanced diet during camping.
Good Camping Snacks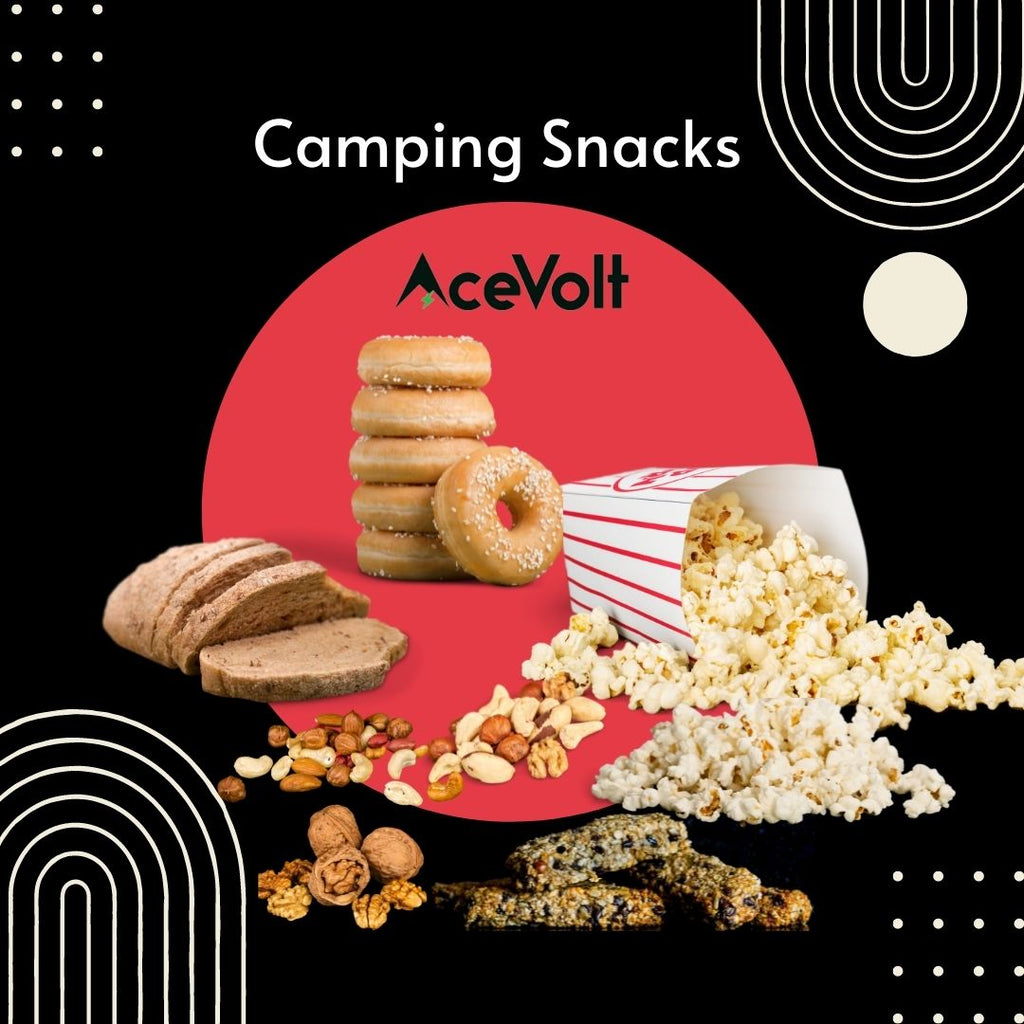 Snacks are essential components of your camping food list. It would be best if you took snacks like nuts, popcorn, bagels, granola bars along. You can also make some of them at home, like granola bars. You can also cause dry toasts and oat toasts in large quantities and keep them in tight containers.
You can also go along with pastries like rolls, pies, and balls that have a life span of about two days.
Fresh fruits are can also serve as snacks. Cut the fruits into a tight container and store them in a refrigerator. Then get a cooler that can maintain the cold temperature till you get to the campsite.
How to Keep Your Food Cold During Camping
The best way to keep your food cold during camping is by using a well-insulated cooler. Ensure that you have two separate coolers for food and drinks. Not only you can bring an AceVolt Campower 700 to power you mini-fridge, but also you can use the Campower trolley case as a cooler bag to store your food. For an effective cooling temperature, you have to do the following: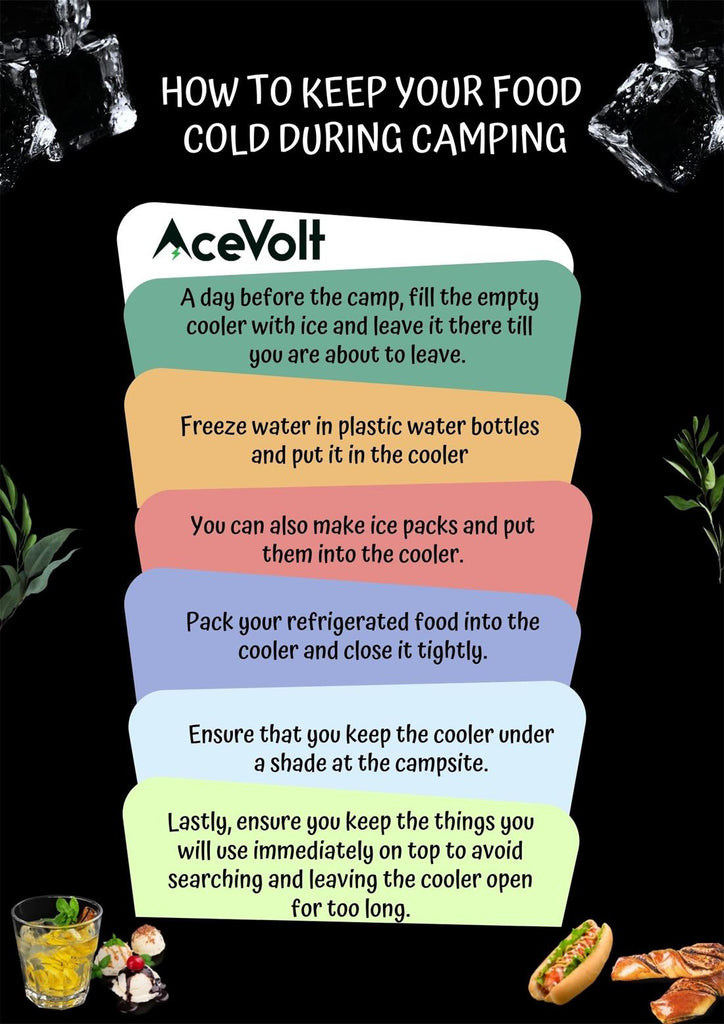 Conclusion
From the list of camping food items listed above, you can make various meals for breakfast, lunch, and dinner. All you need to do is think of a creative way to combine food items. Remember to go with something you can snack on between your camping activities. You can also protect your food by ensuring a constant power supply during camping. Acevolt campower 700 is the best solar generator for campers that can pair your tent or camper. It has a long life span and a fast charging technology that makes it very safe and durable.
---
Related Product
Sold Out
Campower700 LiFePO4 Portable Power Station