Hancock Campground - A Good Place for RV Camping During COVID-19
---
The coronavirus outbreak has significantly changed how we live our lives, but maybe not for RV campers. Rather than a downward trend, the culture and lifestyle around RV camping have spiked. Experts argue that the reason may be the secluded-like lifestyle surrounding RV travel: it provides a wonderful way to explore remote regions across the country while keeping human contact at minimal levels. 
Whether you're a first-timer or avid traveler, RV camping offers a versatile way for safe recreational travel amid a pandemic. Since you'll be away from home for a week at the very least, it's necessary to cover all bases. Essential gear for RVing includes everything from food staples and camping gear to powerful portable power stations like the AceVolt portable power station. Once you have all that you need, you're sure to have a great time. Some of the benefits of RV travel are:
A renewed love and appreciation for nature as campers drive through scenic routes 

The opportunity to engage with outdoor life when spending time with friends and family

A budget-friendly way to travel
RVing also provides the opportunity to meet new people and build significant friendships at RV campgrounds. Whether you're traveling with family or taking a long trip upstate, you can tick exciting camping activities off your to-do list without having to worry about being safe. This article highlights why Hancock Campground is one of the best places you can visit on your camping trips, especially during the COVID-19 pandemic.
About The Hancock Campground
The Hancock Campground is one of the North East's finest campgrounds for RV camping. It is situated on the western end of the Kancamagus Highway, a scenic byway about 5 miles east of Lincoln, New Hampshire. The Kancamagus Highway runs across New Hampshire through the center of the picturesque White Mountain National Forest. 
Licensed with the State of New Hampshire, the Hancock Campground is the ideal spot to rest, unwind, and recoup from a long day of driving. Onsite, there are about 56 different campsites to choose from, with more than half of them particularly suited for recreational vehicles or motorhomes. All campsites are well-spaced, roomy, and offer basic cleaning services, including flush toilets, bathrooms, and laundry. 
Hancock stands out from the rest of the competition with its natural aesthetic scenery. The entire campground is the ideal spot for picnics, swimming, boating, hiking, and fishing. Unlike other seasonal campgrounds, the campground is open all year round, offering you an all-season recreational paradise. Reservations are not allowed, and campsites are allotted on a first-come, first-serve basis.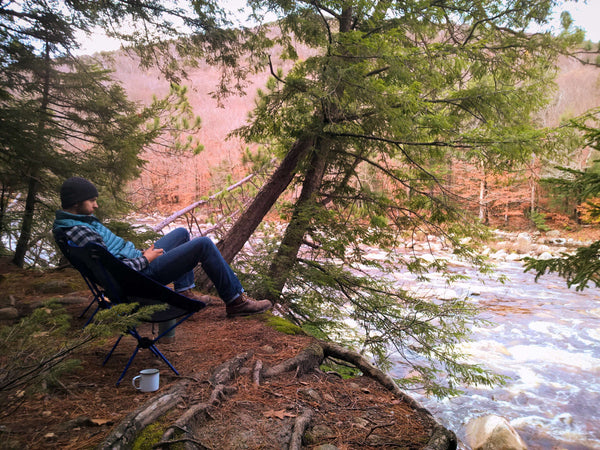 Nearby Attractions
Another feature that makes the Hannock Campground appealing for RV campers is its easy access to the city. The campground is located only 0.08 miles away from the center of Lincoln, and you will find 14 nearby restaurants within 0.3 miles of the campsite. Some of the most popular restaurants around this area include the Gypsy Café, La Vista Italian Restaurant, the White Mountain Bagel Company, and Purple Tomato.
Travelers also love to visit historical sites like the Betty and Barney Hill Incident Historical Marker, about 3.1 miles away from the campground. There are also many nearby attractions for travelers to explore on their journey. Some of them include:
Jean's Playhouse, a theatre specializing in Broadway-style plays, musicals, etc

Fired on the Mountain, paint and pottery workshop

Lahout's Ski and Snowboard Shop provides clothing and gear for all kinds of sports, including hiking, swimming, and snowboarding.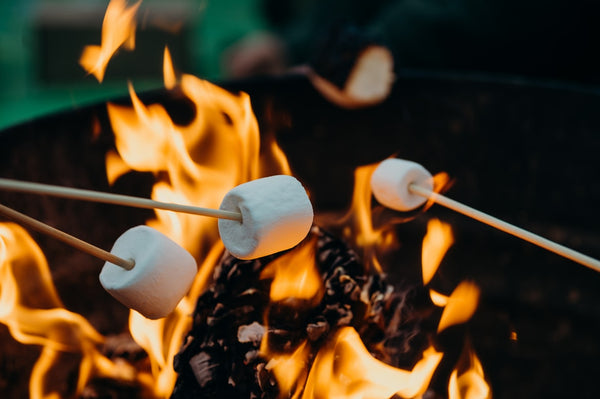 Camping Activities and Opportunities
The location of the Hancock Campground makes it a premium spot for the best RV camping experience. Many visitors to this campsite affirm each campsite's serene nature and privacy since the river drowns out most of the noise from other campers. Each wooded site is isolated to minimize contact with other campers, a feature that has come in handy during the pandemic.
Since campsites are situated along the Pemigewasset River, it provides excellent fishing opportunities for campers. There's plenty of rivers to go around for everyone, and plenty of fish too! If fishing isn't your thing, there are plenty of other activities that'll keep you engaged during your time in the campground.
For a more relaxing experience, campers also utilize the numerous swimming holes along the river. The water is cool, clean, and fresh, and the dry land around it is great for family picnics. Since the campground also provides a boating ramp, campers can also make the most of a wonderful boating experience.
Numerous hiking spots and trails also abound at the Hancock campground. These trails lead into the Pemigewasset Wilderness in the heart of the White Mountain National Forest. This is one of the best experiences you can have as you interact with nature. Hiking trails are relatively safe, but there are also adequate provisions in case of an emergency.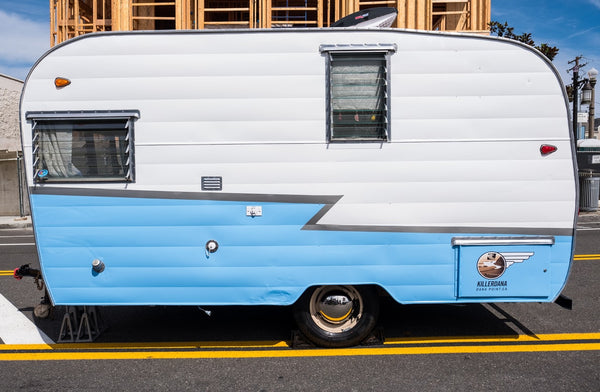 Preparing For Your RV Camping Trip
Ready to drive interstate with a scheduled stop at the Hancock Campground? There are a few important steps before camping you need to follow to ensure the most comfortable and optimal experience. Check out the following.
Getting Your Camper Ready For Your RV Camping Trip
Below are steps to follow to get your camper ready for the trip include;
Give your RV camper a good wash and air it out.

Carry out maintenance on the tires of your RV by rotating, cleaning, and greasing the bearings.

Flush the water system out with fresh water.

Turn on the RV heater's bypass.

Check all the taps and faucets for leaks.

Check the batteries and replace any faulty or cracked batteries.

Check hoses, regulators, and valves for any sign of drying out and replace any affected.

Test your refrigerator, stove, and furnace.

Finally, wash, vacuum, and wipe out the whole inside of your camper.
After preparing your RV trailer for the trip, you must pack sufficient supplies and tools for your RV camping. Food, water, and emergency supplies are at the top of the list to prepare for your trip.
AceVolt Portable Power Station – A Must Have
Another essential piece of equipment for your RV camping is a portable power station. A portable power station is your best option for powering common personal electronics and small appliances on the road. They are also a great source of backup power for emergencies. They are rechargeable battery-powered generators with AC outlets and USB charging ports built-in. Portable power stations are especially great for activities like camping, as they are much bigger, heavier and more powerful, and rugged than average power banks.
Specially designed for camping, the AceVolt portable power station is one of the best portable power stations you can use. It is a safe and eco-friendly device with huge capacity and lasting power. One of the major benefits of the AceVolt portable power stations is that it uses LiFePo4 cells instead of lithium-Ion battery cells. LiFePo4 cells are much safer and can resist higher operating temperatures. They have excellent thermal and chemical stability, making the AceVolt portable power station extremely safe and stable. The LiFePo4 cells can resist heat up to 140F, unlike Li-Ion battery cells that operate under 104F. The battery cell is noncombustible and remains cool at higher temperatures. This mitigates the risk of fires, overheating, and explosions and ensures maximum safety on your trip. 
The AceVolt portable power station is light and of convenient size to be transported and carried about easily. It can easily be stored in your RV camper. It runs silently, allowing for easy conversation around your campfire. The power station is also free of emissions, making it eco-friendly. The power station requires little to no maintenance like keeping gas handy or performing oil changes as with other power generators. The AceVolt portable power station also has Quick Charging USB-C technology to power up your devices quickly.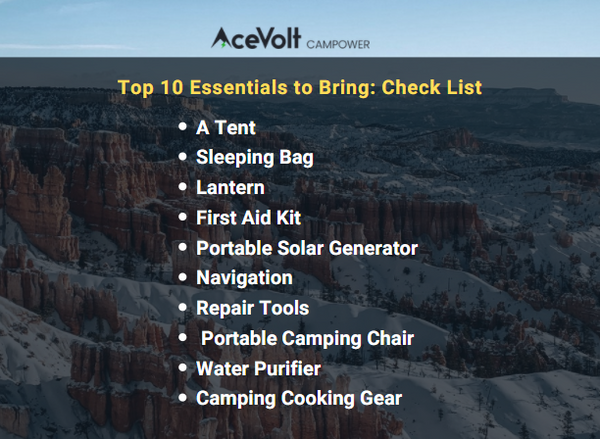 Other RV Camping Gears
Some other essentials to pack on your RV camping trip include toilet chemicals, RV-friendly toilet paper, water pressure regulator, leveling blocks, extension cords, surge protectors, flashlights, fire extinguisher, and Ziploc bags for keeping documents safe. You should also pack kitchen and cooking supplies, food staples, clothing and bedroom items, personal items and toiletries, and camping and outdoor fun gear.
Conclusion
RV camping is a great way to explore various locations and scenery conveniently and comfortably, and the Hancock campground is one of the best RV campgrounds with a solid reputation. Equipped with basic facilities and surrounded by beautiful scenery, the campground is a peaceful site with friendly staff and a comfortable environment for you to enjoy your camping. With the right equipment, including your Acevolt portable power station, you're sure to have the best experience possible on your camping trip.
---