Camping in West Virginia: 6 Fantastic State Parks
---
Camping in West Virginia: 6 Fantastic State Parks
West Virginia has a stunning landscape of rolling hills, forests, peaks, plateaus, and verdant river valleys that entice locals and visitors alike to come and spend some time getting closer to nature. The good news for campers and RVers is that there are a plethora of fantastic campgrounds and RV parks dotted throughout the state's many state parks and national forests, all waiting to welcome you.
Camping is a great family activity, and most campgrounds provide easy access to boating, hiking, biking, interpretive trails, fishing, and nature observation. Some offer basic primitive campsites for tent campers, whereas others provide full RV hookups, indoor swimming pools, and other resort amenities. You can have the best camping experience with superb facilities and a solar generator from Acevolt.
Summer is the perfect time to get outside and have one-of-a-kind adventures while making lasting memories. West Virginia State Parks has 35 state parks, nine state forests, three rail trails, and numerous adventures. This article will look at the six best state parks in West Virginia.
6 Fantastic State Parks in West Virginia
Watoga State Park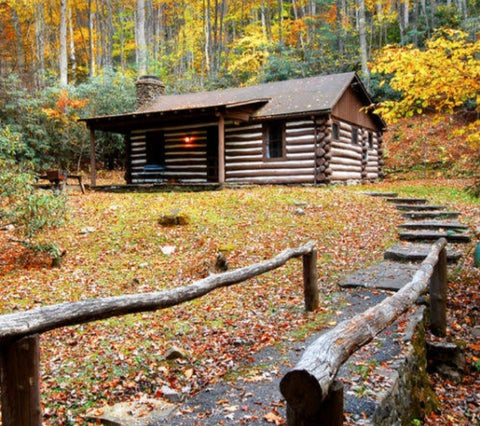 Address: Watoga State Park, 4800 Watoga Park Rd, Marlinton, WV 24954.
Phone: 304-799-4087
Watoga State Park encompasses over 10,000 acres of land in Pocahontas County's mountains, providing a vast recreational playground for nature enthusiasts. Suppose you want to participate in all the activities available. In that case, you'll need to camp for at least a few days in either Beaver Creek Campground or Riverside Campground, which offer both primitive and full-service campsites.
You can hike and bike over 40 miles of trails, canoe, paddle on the lake, or go fishing for dinner. After a long day of outdoor activities, you can relax with a hot shower at the main bath house.
Audra State Park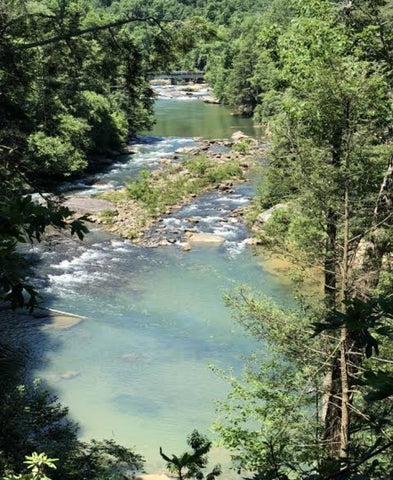 Address: Audra State Park, 8397 Audra Park Rd, Buckhannon, WV 26201.
Phone: 304-457-1162
Audra State Park is a beautiful stretch of forested land located primarily in Barbour County along the Middle Fork River. The campground has 65 tent and RV campsites, 13 of which have electrical hookups. Swim in the crystal-clear waters of the Middle Fork River, cast a line into the river or spend your day biking, boating or hiking in the pristine wilderness.
This park is ideal for families who enjoy spending time outside. The Middle Fork River's clear, clean water and the Alum Cave's rock overhang provide picture-perfect backdrops. After a long day outdoors, take a hot shower in the modern bathhouse before gathering around the campfire for a barbeque.
Dogs are allowed into the park, but they must be restrained on a leash no longer than 10 feet, picked up after, and have veterinarian-certified proof of immunizations.
Beech Fork State Park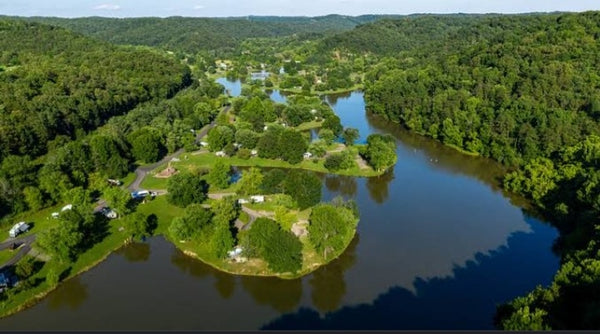 Address: Beech Fork State Park, 5601 Long Branch Rd, Barboursville, WV 25504.
Phone: 304-528-5794
Beech Fork State Park near Barboursville has four well-serviced campgrounds with a total of 275 campsites, many of which are right on the shores of Beech Fork Lake. The Old Orchard Campground is open all year, and you can reserve campsites well in advance. You can expect electrical and sewer hookups, bathhouses with hot showers, a coin-operated laundry, and even free Wi-Fi.
The campground has a large swimming pool, a marina, and a convenience store for all the necessities you left home. Hiking and biking along with various trails, boating on the lake or simply relaxing and birdwatching are all options. The campgrounds are available all year.
Campsites can be reserved online, by phone, or in person at the campground office. Reservations for at least two consecutive nights on weekends (Friday and Saturday) or one night Sunday through Thursday are accepted. There is a maximum stay of 14 nights. Checkout time is noon for all campsites.
Black Waterfall State Park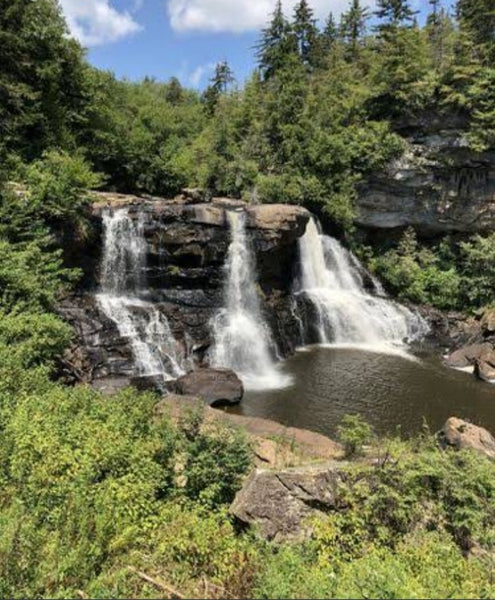 Address: Blackwater Falls State Park, 1587 Blackwater Lodge Rd, Davis, WV 26260.
Phone: 304-259-5216
Blackwater Falls State Park, located in Tucker County, is great for campers and RV enthusiasts to set up camp. Every year from Memorial Day to Labor Day, you can reserve your favorite campsite in advance. There are 65 campsites available, 30 of which have electric hookups, and the campground has clean restrooms with hot showers, flush toilets, and a coin-operated laundry.
There are several lookout points throughout the park to view the stunning Blackwater and Elakala Falls. Aside from fantastic hiking, there is also boating, fishing, volleyball, basketball, and tennis.
There are bears all over Blackwater Falls State Park in West Virginia. Every gift shop has bears, from the Trading Post to the Lodge to Park Road Gallery Gifts. T-shirts, shot glasses, key chains, postcards, books, and coffee mugs with bears can all be found at Blackwater Falls.
Big Bend Campground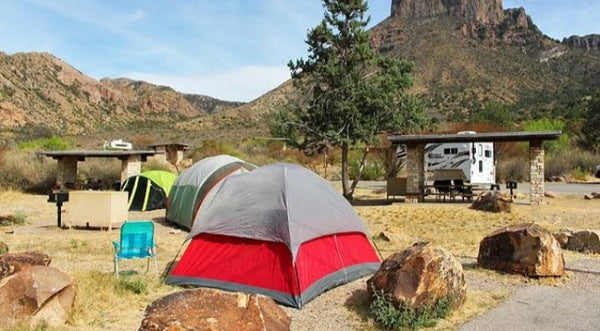 Address: Big Bend Campground, Monongahela National Forest, WV 26241.
Phone: 304-358-3253
Big Bend is a small family campground in Smoke Hole Canyon, near the Potomac River's south branch. Tents, RVs, and camping trailers can be accommodated on 46 sites, 18 of which are not reserved. Each location is shaded by a beautiful old-growth forest and features a lantern holder, fire pit, and picnic table.
Toilets and a shower house are also available in each loop. You can spend your days exploring over 30 miles of maintained hiking trails or venturing into the vast backcountry. Canoeing and kayaking are open on the river, as well as trout fishing and birdwatching.
The entrance fee into the park is paid, and it varies depending on your means of transportation. For pedestrians, it is about $15, but if you're coming with a vehicle, it costs $30.Much Chisos backpacking and primitive roadside campsites in Big Bend can now be reserved online up to 6 months in advance.
Canaan Valley State Park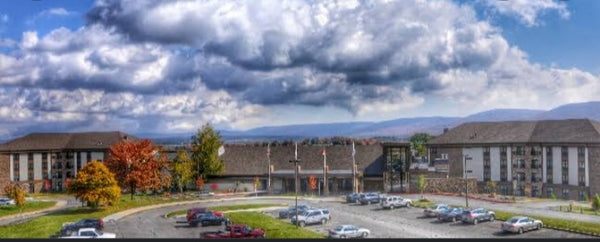 Address: Canaan Valley Resort, 230 Main Lodge Rd, Davis, WV 26260.
Phone: 304-866-4121
Not every day, campers find themselves in a campground with upscale resort amenities, but that's precisely what you can expect when staying at the Canaan Valley Resort and Conference Center. The 34 campsites include full hookup, comfort stations with showers, a laundry, and a discharge station for self-contained RVs.
Campers have access to all of the resort's amenities, so you can start your day with a swim in the heated pool, relax with a spa treatment, or go hiking to Seneca Rocks or the Smoke Hole Caverns. When you don't feel like cooking, there are on-site restaurants, and kids will enjoy the games arcade.
Unit Amenities are; High-speed internet, a 37-inch flat-screen TV, a refrigerator, a microwave, and a coffee maker are all available. They also have large bathrooms with granite countertops, individual climate control, a fireplace, a balcony, and separate living and sleeping areas (only in 1-bedroom suites).
Conclusion
Camping allows you to spend a lovely time with nature, build and strengthen relationships between family members, and encounter wildlife. It also ensures an educational opportunity for your children to learn new things.
However, one of the campers' major concerns on campgrounds is power supply; they fear not being able to keep their devices fully charged and working in case of emergencies or urgency.
You don't have to worry anymore because Acevolt Campower 700 offers you the most productive portable power station and solar panels, which are safe, cost-efficient, convenient, and rechargeable that can prepare you for camping and RV traveling.
---
Related Product
Sold Out
Campower700 LiFePO4 Portable Power Station