Camping In South Carolina: The Ten Best Campgrounds
---
We have introduce top campgrounds in North Carolina in the previous article, and today we will talk about South Carolina. South Carolina is famous for its beautiful vacation destinations such as islands, beaches, historical monuments, and family-friendly parks. Sitting pretty against the Atlantic Ocean, it is a sought-after tourist attraction. About camping, this southeastern side has many rich campgrounds that you should consider for your next camp with your friends, family, or yourself. This article aims to help you find the most suitable campgrounds in South Carolina, and we will be looking at 10 of them. Let's dig in.
1. The Congaree National Park
This Park is suitable for individual and group camping. It is open all year round, 24 hours every week, including festive seasons. Enjoy the natural view of the park via hiking or canoe trails. The trails can be easy, moderate, or difficult based on the length, conditions, and difficulty of navigation. One of the perks of this campground is the various campgrounds that campers are allowed to pick from based on their camping needs. There are two designated campgrounds: 
The Front country Campground: Two options from which you can choose are;
Longleaf Campground has ten individual and 4 group camping sites. The Individual sites can accommodate a maximum of 8 individuals and three tents. The maximum number a group site can have is 24 individuals, taking a maximum of 10 tents per site. Each site has a fire ring and a picnic table. This campground does not have running water.
Bluff Campground is a perfect combination of the front country and backcountry experience. This campground has six sites that can accommodate up to 8 campers each. Cars are not allowed on this campground.
The Backcountry Campground: Looking for a wilderness experience? Try Camping backcountry on the Congaree National Park. It is free but requires a permit.
You must choose either of the two campgrounds; you must make reservations before arriving at the camp. Campers seeking to use the Backcountry Campsite must possess a valid permit which must be applied for 48 hours before arrival by sending a mail to cong.information@nps.gov, while reservations can be made for the front country via recreation.gov or 1-877-444-6777. Note that you cannot make payment at the park. All payments must be made prior. Reservations are on a first-come, first-serve basis.
On the other hand, strict rules guide usage and access to the park. And If you must camp here, you should take note of the following;
1. Tent Camping: Only tent camping and hammock camping are allowed. RVs and trailers aren't allowed, and if you must come with one, you are restricted to the parking lot; however, you cannot stay overnight in the RV.
2. Campers can only set up camp on grounds they specifically reserved, i.e., you can only camp on the space you have reserved.
3. Vehicles are not allowed on campgrounds. There is a parking space allotment for campers camping at the longleaf or Bluff campgrounds
4. You can only camp within 14 days consecutively and 28 days within six months.
5. Cell phone reception is limited, fluctuating depending on the phone type and user.
2. Colleton State Park
Located on 147 Wayside Ln., Walterboro, S.C. 29488 and known as the Paddler's Paradise, it is 23 miles from Edisto River with 25 campsites. The waterways visitors to swim, kayak and fish. On this campground, RV and tent camping is allowed. Campers can also access individual cabins and primitive camping areas for group camping for over 50 people. Other recreational activities are permitted on the campground like volleyball, ball field, and more.
You are allowed to come to camp with your pets in the outdoor area as long as you can control pets from straying. Noisy and recalcitrant pets threatening wildlife would have to be removed from the campground by their owners. Pets are restricted around lodging areas.
For reservations, call toll-free 1-866-345-PARK or visit our reservations page by clicking https://reserve.southcarolinaparks.com/colleton/camping Rates vary by season and demand and are subject to change. Reservations must be made for a minimum of two nights.
3. Barnwell State Park
Located on 223 State park road, Blackville, S.C 29817. Its existence can be traced back to the era of the great depression. The Civilian Conservation Corps built it. The park consists of 25 campsites, five cozy park cabins accessible for overnight visitors, and picnic shelters. There is a suitable hiking nature trail for amp visitors who would like to enjoy the beautiful view of nature.
Behind Camping houses a community-building perfect for weddings, meetings, reunions, and many more. Recreation activities like volleyball, horseshoe pits can be engaged in by Campers.
4. Myrtle Beach Area & The Grand Strand 
Are you looking for a beach with one of the best spots for fishing and nature trails? Myrtle beach is just perfect. It is designed along tree-lined that it is easy for campers to enjoy the beachside during the day and relax underneath the trees towards dusk, drinking in the beauty of nature as the sunsets. Cabins are available for rent for overnight campers to lodge.
Visitors can make reservations before arriving at the beach. It is, however, on a first-come, first-serve basis. Bookings can be made by calling (843)2385325. 
5. Willow Tree
Solely an RV resort located near the grand strand area of South Carolina. It is a distance away from the city's noise and close to the warmth and serenity that beach life gives. This park is a perfect holiday spot for yourself and your family. Its cottages are home away from home.
Families can enjoy and explore the richness and comfort of the campground as it offers many amenities, such as; free wi-fi for easy access if you encounter poor network coverage, movies, books, and many more. 
Campers can explore a swimming area for leisure, nature trails to go hiking, large lawns that could serve as a playground for your kids, or a picnic area for group gatherings, fire rings, and charcoal grills. Halls are available on the campground as well. In the willow tree, there is something special for everyone.
Contact 843-756-4334 or Toll-Free: 866-207-274 to make reservations and questions.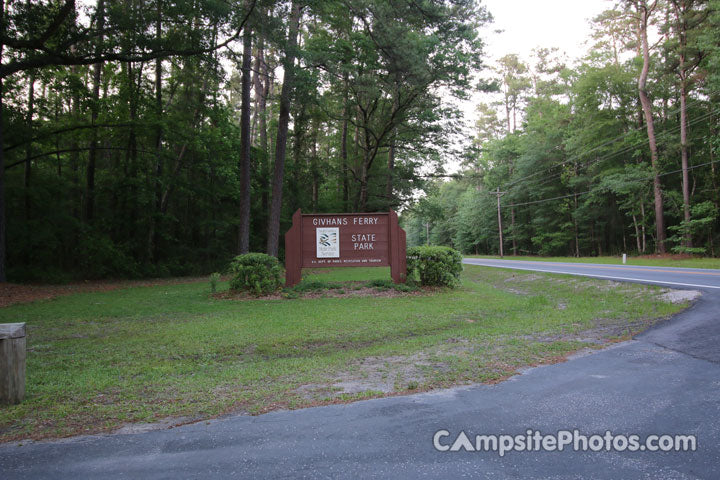 6. Givhans Ferry State Parks
Located on 746 WHANS FERRY ROAD, RIDGEVILLE, SC 29472. Located at the end of the Edisto River, the free-flowing black water in North America, specifically 23 miles. It is the closest park to Charleston, providing overnight facilities. Its shaded campgrounds its visitors from the harsh realities of the elements, accommodating both RV and Tent camping. 
Facilities available on the campground are a two-bedroom Cabin for guests who prefer to lodge in rooms than in a tent, the Riverfront hall built for group gatherings and events, Picnic shelters for rent.
Visitors can also access boats for boat riding, swimming in the river; this is at swimmers risk. And a canoe trail, wireless internet, playground for children, and sporting activities a gift shop. 
Also, campers who love adventure can explore walking or biking on nature trails of about 1.5miles.
Make reservations via givhansferry@scprt.com or call 843.873.0692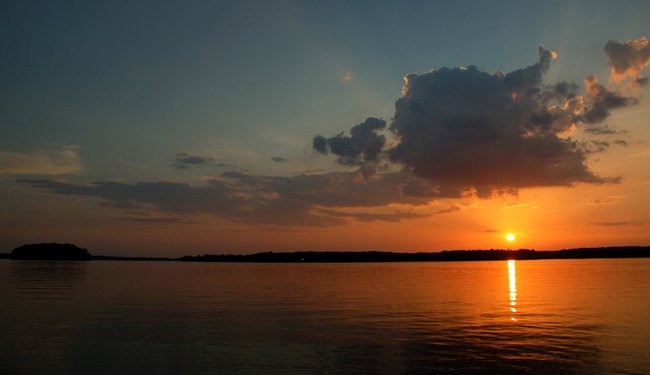 7. Dreher island state park
Located on 3677 state park road prosperity, SC 29127. Dreher's beautiful scenery, natural features, and landscape are beautiful sights to behold, making it a perfect spot for your next family vacation. It is located on Lake Murray. It admits both adults and children. Children between the ages of 6-15 are required to pay the sum of a dollar to access the park, while children beneath the age group are granted free access.
Recreational activities accessible to campers are nature trails, hiking trails; guests can also engage in water activities such as swimming, boat riding, and fishing. To fish, however, a fishing license is required. Scuba diving is permitted on Lake Murray because the park rents equipment. Divers might have to come with their equipment.
To make a camping reservation, call toll-free at 1-866-345-PARK. Note that the price rate might differ based on the season and demand.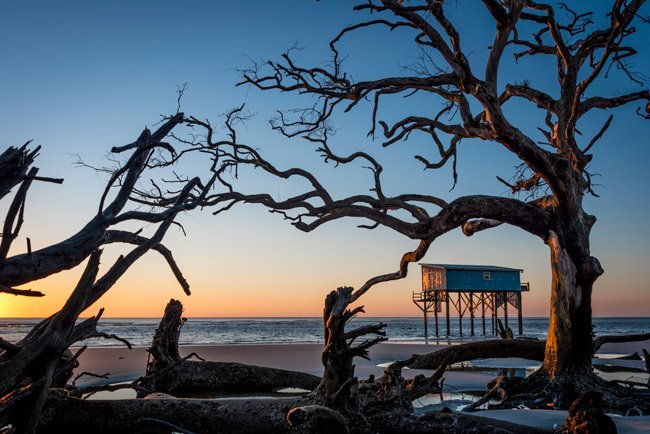 8. Hunting Island State Park
Located on 2555 Sea Island PKWY, Hunting Island, SC 29920. Hunting Island is surrounded by 5miles of beach and one saltwater lagoon. It houses the only publicly accessible lighthouse in South Carolina. To reach the top of the lighthouse, there are 167 steps. 
Facilities available on the island are a volleyball area where campers can enjoy playing. Parents can also convert it into a playground for kids. Also, there are Nature trails for guests to enjoy nature. There are three trails: the campground access trail, the lighthouse trail, and the marsh boardwalk. Biking and hiking trails of about 8 miles long are accessible to visitors. 
If you would be camping as a group, the picnic shelter is fully equipped with tables, fire rings, and electricity to ensure that you have a great time. However, it would be best if you considered coming along with a portable solar panel like the Acevolt campower 700 as a backup in case of a power outage.
Willing to camp here? To make your reservation or access current rates, call toll-free 1-866345-PARK (7275); prospective clients are required to make reservations less than 24 hours to check-in and directly through the park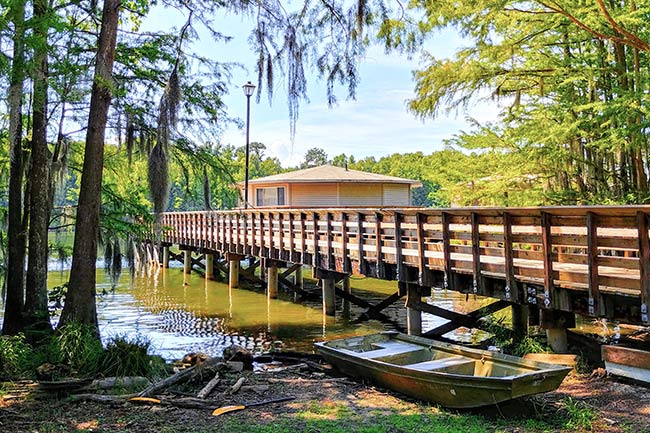 9. Santee State Park
Located on 251 State Park Road, Santee, S.C. 29142. The tent and RV Camping; there are 158 standard campsites solely for this purpose. It is located in Santee cooper country. A perfect fishing spot is popularly known for large catfish. Rondette Cabins are available to guests who prefer to lodge rather than camp outside.
Amenities and activities in the park include A community building for meetings, wedding functions, a large grilling facility, miles of biking, and hiking trails. Unique animals such as alligators, squirrels are usually found in Santee Park. Reserve a space for yourself and your family CALL; 803.854.2408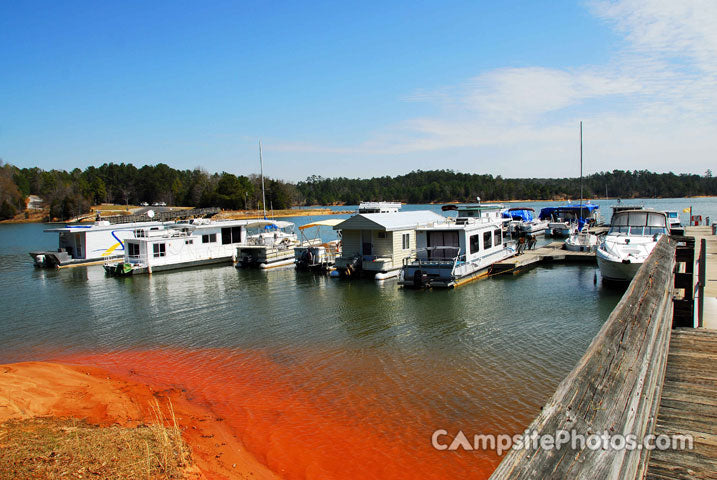 10. Calhoun Falls State Park
Located on 46 Maintenance Shop Road. Settled in one of the less developed reservoirs, Calhoun is one of the most desired parks in SC. with a scenic view. Located along the shoreline of Lake Rusell, the campground hosts 86 single-family campsites. These campsites are large and fully equipped with water, electric hookups, paved parking spaces for RV camping. Group camping is available for groups and families. It is open throughout the year and only closed during state holidays. Check-in is at 2.00 pm, and checkout is at noon.
Visitors can engage in boat riding, kayaking, fishing. Biking, hiking, swimming are other recreational activities operational on the campground.
About Acevolt Campower
Acevolt solar battery is a safe and fast charging technology specially designed for men and women who love to camp or glamp. 
---
Related Product