Camping in North Carolina: Top Campgrounds You Need to Know
---
North Carolina is home to many campgrounds. Being the ninth most extensive state in the USA, it houses 41parks, ten national parks and four national forests. Without adequate information, searching for the appropriate campsite for you might be tedious. Hence, this article is centered on helping you find the most suitable places to camp in NC. It would shed light on the top campgrounds in the old north state, the best seasons to camp there, their prices and many more.
Carolina Beach State Park
Find this 761-acre sitting pretty on the coastline of NC in Pleasure Island. It offers a beautiful blend of a rich beach experience from the past with the present need for family time. With 79 campsites, including two ADA accessible sites and a family campground, the knowledge on this beach is unrivaled.
The trees surrounding the beach serve as a shade. So you can enjoy the scenic view of the park under a relaxed atmosphere. As a Camp visitor, you can enjoy fishing, cycling or hiking trails during your stay. The courses are easy to walk in, bringing you closer to the beauty of nature. Having an insect repellant and a trail map is essential.

Asides from the scenic view of this campground, campers who would like enclosed spaces rather than the open air can book cabins. The cabins are furnished to comfort and taste. Four camper cabins can house up to six people, and bunk beds are available. The Cabin setup includes electrical hookups, heating, and air conditioning units. A picnic table and grill ring are constructed outside the cabin for personal/family use. Smoking pets are restricted in the cabin area.

If you intend to visit with friends and families, there are two specified camp areas for group camping. These camp areas are available to visitors based on reservations. The first accommodates about twenty-six and the other forty people.
Access to the park is free. However, reservation fees would be made for campsites, Marina, Boat launching, etc. Holding events or conducting research on Carolina Beach State Park would require a special activity permit.

The camp is open all year round except for Christmas day. The opening time is fixed at 7:00 am while the closing time varies based on the month's time. It is essential to know that exit and entry into the campground are limited after closing hours except in an emergency. Make reservations by calling (910) 458-7770, email:carolinabeach@ncparks.gov.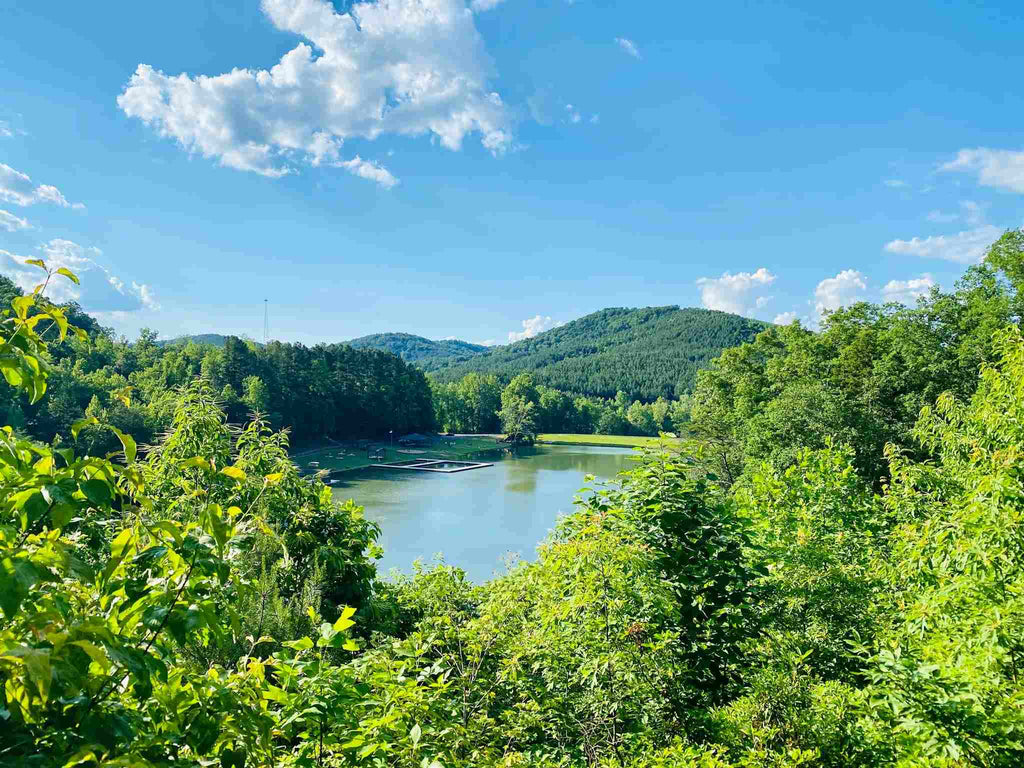 Camp Resort Golden Valley; 182 Jellystone Pwky, Bostic, NC 28018

This campground is another top spot for camping in North Carolina. Many visitors have to say about this camp is the orderliness, friendly staff and royal treatment you get when you visit. There is always something to do on this campground. It is surrounded by other parks estates that visitors can explore as well.

Camp Golden Valley is a family-friendly tent and RV campground with luxury cabin and lodge accommodation. It is located between Asheville and Charlotte. It is one of the ADA-accessible campsites. Comfort stations open 24 hours daily, laundry station, bark park for your pets, a ranger station to stock up on supplies, grill and concrete pad, pull-thru parking are one out of the many reasons this campground is a must-visit. There are hookups available on this campground. However, leave nothing to chance; go camping with an AceVolt Solar Generator to keep electricity up and running 24/7 in your RV or tent. On-site dining to refuel your belly after a fun day.
Friends and families can experience home away from home. Each cabin has detached bathrooms, a kitchenette, potable drinking water, air conditioning and heating units. However, access is only granted after reservations have been made. Some of The activities to engage in while on the campground include; Hiking trails, fishing, canoeing/ kayaking, swimming, mountain biking and picnicking. The kids are not left out of the fun as well. Numerous activities are lined up for them.
Entry into the Campground is free, but payment is required for activities and cabins offered on the campground. Opening hours are weekdays only from 9:00 am-5:00 pm and all year round. Peak season is June 3 – , August 14. Make reservations via 828.656.1035 or send mail to info@campgoldenvalley.com
Being a major tourist attraction in North Carolina, the best time to visit this campground is early before it gets busy and crowded. One downside of this campground is that the bathrooms are shut from December 1 to March 15, and only a pit toilet is available.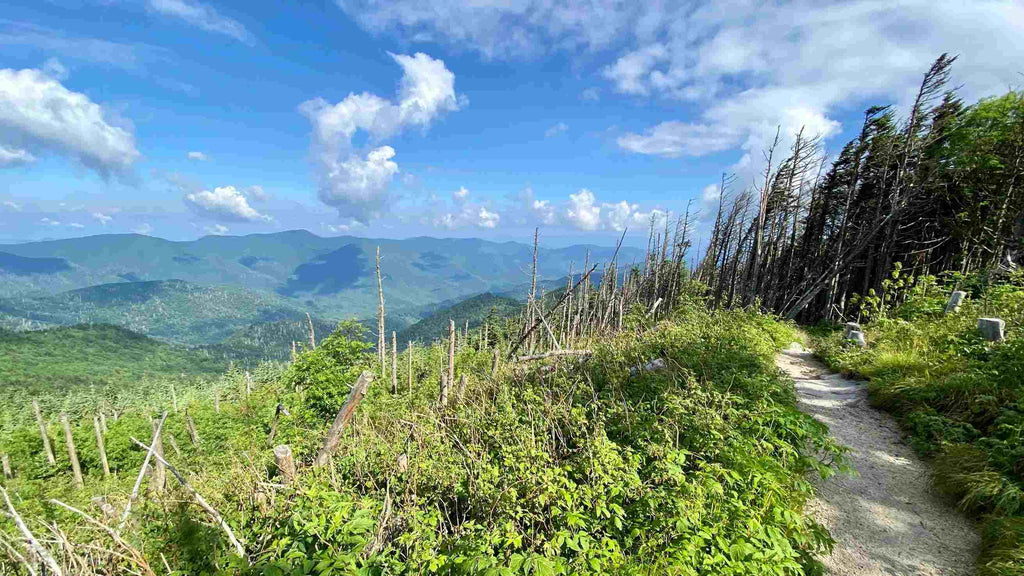 Black Mountain Campground; 50 Black Mountain Campground Rd, Burnsville, NC 28714

This campground is situated on the borders of the South toe river in the shadow of Mt. Mitchell. The campground is in an elevated position of 3,040 feet. Forests with lush green trees rich in wildlife surround it.

There are many camp recreational activities that you could engage in by yourself or with friends and family. Its closeness to water makes swimming worth considering. With numerous trails, day hiking would be fun. If none of these peaks your interest, picnicking should.

On the black mountain, the campground sits 37 primitive campsites, 3 possessing electric hookups. These campsites are furnished with amenities to make your outdoor experience an exciting one. They are equipped with tent pads, fire rings, picnic tables and lantern posts. Camp visitors also have access to hot showers and restrooms.

You can contact this campground on (828) 675-5616.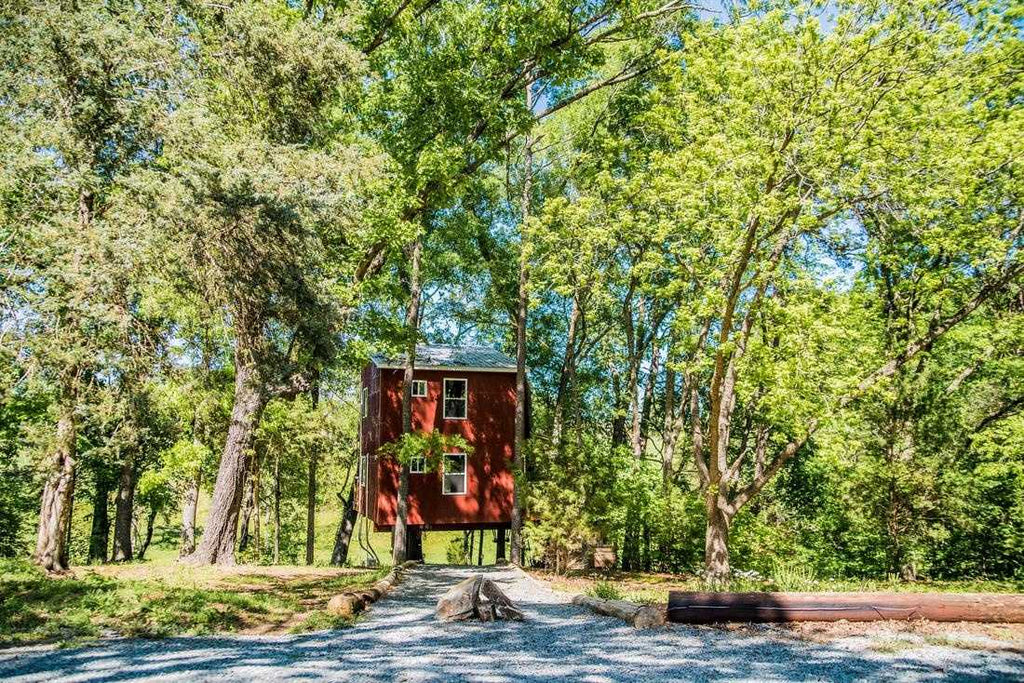 TREEHOUSE VINEYARDS; 301Bay St, Monroe, NC 28112

If you are in search of a perfect vacation spot for yourself and your beloved one, this is your best option. Treehouse vineyard is a privately owned park located in Monroe with beautiful scenery. It boasts of three treehouses: Date night, Papa's dream and Horse feather's Hideaway. Horse feather Hideaway is a spacious and newly built treehouse designed to accommodate 6-10 people based on weight restrictions. It is surrounded by a running creek and spectacular views.
The other two are more miniature treehouses but can still house about 4-6 guests. Date night is rented by the hour. Based on your choice, you should dress suitable for the weather and climbing. Asides from camping, other events such as weddings can also take place in this campground. You can also enjoy some freshly made wine as you enjoy the scenic view of nature.

Reservations and bookings are subject to the day of the week they are made. Also, the treehouses are equipped with amenities that would ensure you have a relaxing time away from the noise in the world. 
Check-in begins from 4:00-6:00 pm; check-out, on the other hand, is by noon the following day. Pets, smoking and candles are restricted on the premises. To reserve a treehouse, call 704-283-4208 or send an email.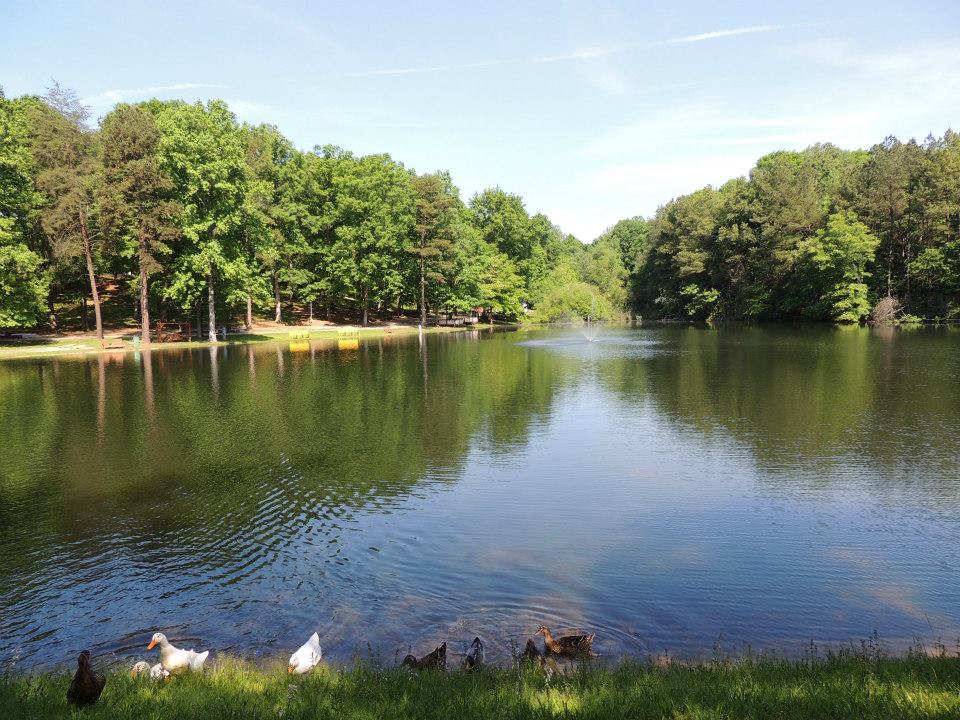 Midway Campground Resort; 114 Midway Drive Statesville NC 28625

Carolina Hemlocks is a family-owned campground and RV park. As a family-friendly campground, it is fully equipped with facilities for the convenience and comfort of its visitors. Amenities available on this campground include a ban Olympic size pool, cabins, playgrounds, basketball court, free Wi-Fi access, full hookup, and a 48 channel cable.

There is a fishing pond to engage visitors who are keen on fishing. Likewise, kids and adults can spend time feeding the ducks in the fishing pond. A game room for arcade games, a mini-golf course, and swimming are also available. Visitors need not worry or travel far to stock up on supplies as there is a camp store where you can shop.

The campground is always open all year round, and you can subscribe to daily, weekly and monthly visits. Cabins are available for lodgings; two-bedroom cottage, deluxe cabin and villa. Pet lovers should know that pets are not allowed on the cabin walls. Only for visitors renting deluxe cabins and villas.

Summertime is most suitable to visit Midway because camping is hassle-free at this time. During winter, the cabins are winterized. Therefore, there would be a stop in water flow in the cabins. Visitors would need to use restrooms and washrooms on the main campground. For more information or reservation, call 704-546-7615.
Conclusion
In conclusion, we hope you can choose one out of these camping spots in North Carolina to have good fun and reconnect with yourself. Ensure to take precautions and observe all COVID-19 policies. Let us know in the comment how this has been helpful to you. Visit acevolt.com for all your portable solar camping gear.
---
Related Product