The Beginner's Guide to Canoe Camping
---
If you enjoy the outdoors and want to put your canoeing skills to the test, canoe camping may be the activity for you. It combines outdoor camping, adventure, canoeing, and nature into a multi-day adventure trip.
The fact that everyone can do it makes canoe camping so enticing. While some canoe journeys are physically tricky and require a high level of competence, many canoe outings are suitable for novices and first-timers. You do not need to be a top athlete to participate.
This article offers a few suggestions for planning safe and enjoyable canoe camping trips.
What is Camp Canoeing?
Canoe camping is a multi-day camping vacation in which the canoe serves as the primary mode of transportation between campsites. Camping on a boat is also known as canoe touring or adventure canoeing.
When camping and canoeing, a person will typically pack all of their stuff for a multi-day vacation into the canoe and start on a pre-planned path that winds along major waterways from different locations for fishing, camping, hiking, and other activities.
Going on canoe camping trips is a water-friendly version of backpacking. Paddlers are drawn to picturesque campsites on rivers and lakes around the country by self-sufficiency, challenge, and exploration. Canoeists will pack all they need for the voyage into their boat, whether for one night or ten. After that, they sail and fish throughout the day and camp beneath the stars at night.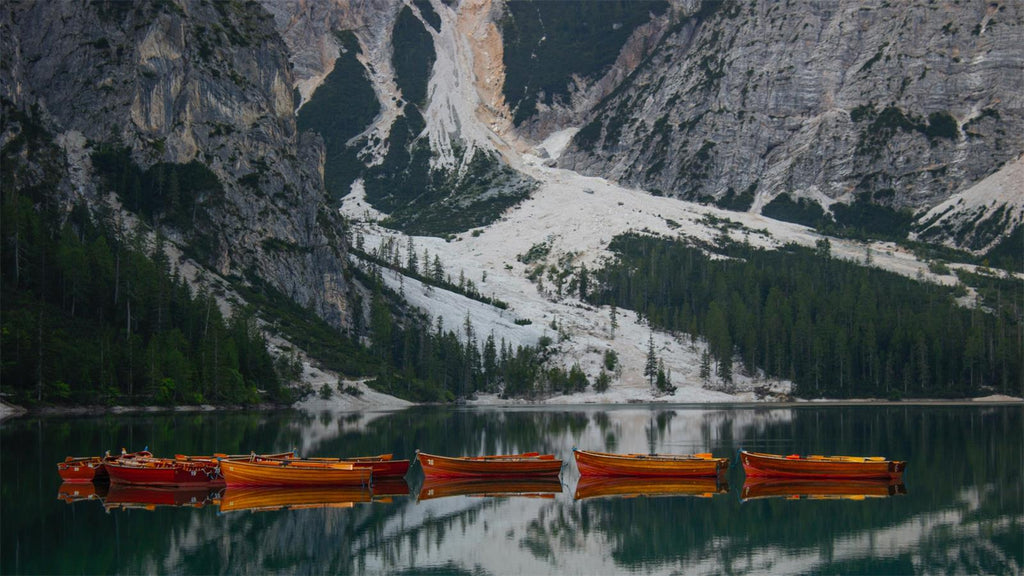 Is a Canoe or Kayak Better
As you may have realized, both canoeing and kayaking have numerous advantages, and the path you choose is primarily dependent on your circumstances and tastes. A kayak is more accessible to paddle and control than a canoe for people who go alone. However, paddling a canoe in a straight line takes some skill, especially if you don't have a companion.
When it comes to the speed of things, canoes and kayaks have displacement hulls, which means their length determines their top speed. The faster the boat goes, the longer it is. However, top speed does not mean paddling ease. The maximum speed of a fat canoe and a slim kayak of identical lengths is the same. In contrast, a narrow kayak will paddle more readily than the canoe since it has a less wetted surface area and less friction. Some people opt for kayaks over canoes because they are more accessible to paddle. Your personal preference, your setup in terms of usability and ease, and what you want to gain from your time on the water all play a role.
Still, some campers choose canoes over kayaks for the following reasons:

a. In a canoe, you can easily transport a lot of gear.

b. Because of their comfort and carrying capacity, they are suitable for long expeditions.

c. Canoes are more stable and less likely to capsize than kayaks.

d. It is more comfortable than kayaking because you can change your sitting position. This is especially true over long distances.

e. You are free to stand.

 
Tips for Canoe Camping
 1. Make a Trip Itinerary
Pick a nearby lake and plan a one- or two-night trip for your first time out in a canoe. You won't have to worry about shuttling automobiles if you paddle still water.
It is critical never to go alone, especially while traveling on the large water bodies. Plan your first trip with a close friend or family member, or even better, join a group of experienced canoeists. The best approach to improving your abilities and traveling safely is learning from others.
2. Keep the Elements in Mind
Consider the time of year and the kind of natural factors you'll encounter when packing your canoe camping gear and planning your vacation. The wind is a significant consideration when traveling by boat. Even a light breeze can quickly weary paddlers, resulting in longer days and lower temperatures.
Another issue is sun exposure, so review the packing list below and ensure you're ready to go for hours without shade. Bring extra water and always have water filtration on any warm or hot weather outings. Finally, be prepared for glitches. There will be bugs wherever there is water.
3. The Boat's Stability
Balance the weight of your stuff aft and stern, as well as on both sides, on your next canoe camping trip to make life easier and safer. A poorly balanced canoe is far more likely to turn over and is difficult to guide. Even if you know how to canoe like an expert, keep your gear basic and light to prevent weighing down the boat in the water. It's easy to swamp a ship that's low in the water.
4. Have a Map
It may sound romantic to set sail on the river and follow the current. However, just like any other travel, you should plan your route ahead of time. Always have a hardcopy map of the area you'll be paddling as part of your canoe gear. Extreme temperatures can quickly deplete batteries, and cell phone reception in remote regions is sometimes poor (or nonexistent). It's crucial to know how to use a map and compass and have a basic understanding of navigating.
5. Be Mindful of the Water
This is the most crucial piece of canoe camping advice. It's fun to get out on the water for a weekend of camping, but rivers and lakes can be dangerous to those who aren't prepared. Wear a life jacket, stay sober on the water, and avoid unnecessary dangers. Know where you're going, how you're going to get there, and how to keep safe.
6. Take What You Need
It's just as vital for your canoe trip packing list to contain just what you'll truly need. While it's tempting to prepare for every potential event and scenario, it's crucial to bring the essentials.
A canoe can carry a significant amount of weight, but there is a limit to how many objects and people can fit in a canoe. When a canoe's designed weight capacity is exceeded, it becomes more difficult to paddle and navigate on the water. This can cause you to become weary far more quickly than you would otherwise.
In the worst-case scenario, the canoe is packed down and becomes more unstable, increasing the risk of capsizing.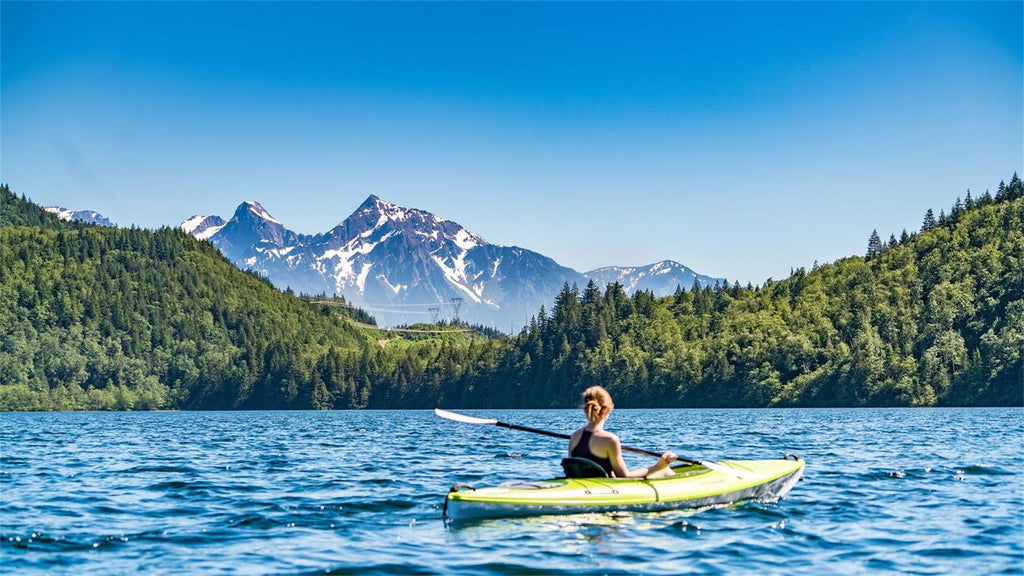 What Do I Need for a Canoe Camping Trip?
Much of what you pack for a canoe camping adventure will be comparable to what you would carry for a backpacking trip or basic car camping excursion. But, before we go into the camping checklist, let's speak about the most significant distinction.
You must be able to keep all of your belongings dry during a productive canoe camping trip, whether from the weather or a potential flip. Dry bags that are lighter, tighter, and more adaptable than older models come in handy. They're not cheap, but they're an essential part of any camping outfit. When you're not using them, roll them up tightly and store them outside your tent if space is an issue.
Aside from a water-proof container of some sort, you'll also need the following water traveling gear:
a. Life-jacket
b. Throw-bag
c. Other types of float (depending on state waterway regulations)
d. Map of extra paddles
e. Gloves for paddles (depending on personal preference)
f. Pad for the seat
g. Sandals or boat shoes
h. Raincoat/pants
i. Gloves
j. Sunscreen in abundance
You'll also need some equipment for the camping aspect of the trip.
Canoe Camping Gear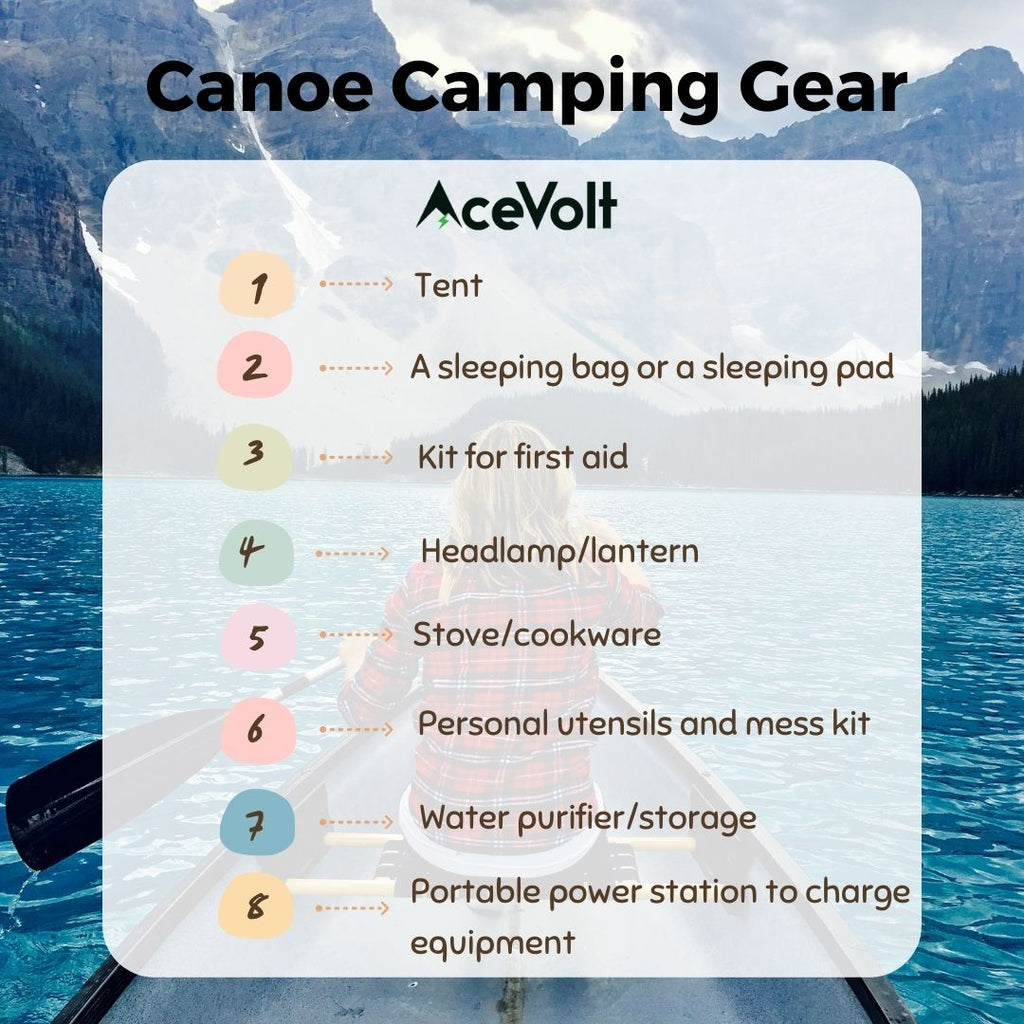 A power supply makes an essential part of your camping gear because it can provide emergency backup for electricity, charge up your phones or electric bug zapper, and even power solar lights.
The best kind to care about on a canoe camping trip is a portable solar power station. The best generator for off-grid camping is the Acevolt Campower. At 22 lbs, it is light enough, and the dimensions will fit right into your canoe. If you want to go glamping, it can power your music player, lights, and other electronic devices. And if you are into old-fashioned camping, it can power up your phones in case of an emergency.
Final Thoughts
Canoe camping can be a fun way to enjoy the sun, probably fish, and get some arm exercise while at it. Following the guidelines in this article gives you the best enjoyable experience.
For a fun experience, have your Acevolt campower as your off-grid solar generator.
---
Related Product