How Can You Shower for Cheap While Camping?
---
Camping is one of the most exciting moments in life. It allows you to relax and step out of your busy schedule. By implication, your mind and body have a chance to experience rest. However, your camping experience might be a frustrating period when certain things are not put in place. Here are 15 camping hacks for you. Things such as your feeding, activities you would carry out, and how you would power your gadgets and shower. 
Restricting your camping to campgrounds with a shower and basic amenities sounds like the way out. On the flip side, doing this will cause you to miss out on the many fantastic camp locations available. To avoid missing much, it becomes necessary to improvise and make the best out of whatever place you are camping. Here is a checklist for you to bring along camping essentials while camping.
For example, a lack of stable power is not enough reason to scrap a camping location. With Acevolt Campower 2000 portable power station, you can have all your power needs sorted. This ranges from charging your devices to serving as a portable power station. Hence, giving you a well-lit tent at night. Having fixed the power issue, let us help you with solutions to your shower concerns.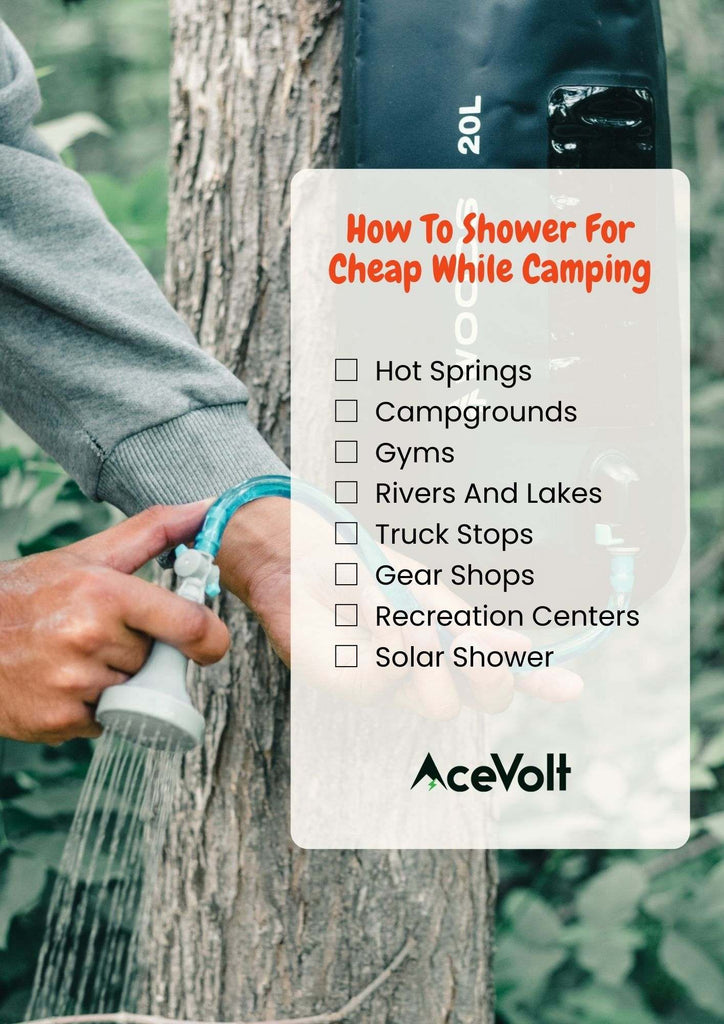 How To Shower For Cheap While Camping

Getting a shower while camping could be as easy as taking a shower while at home. It may not be with the same comfort as home, but you don't have to forgo a shower because you are camping. Right after now, we would be considering options of places you could shower while camping.

That's right! I know you possibly admire them as a beautiful part of nature. However, they could come in handy when it is time to freshen up and stay clean after/before the day's activities. While many of these springs are usually free, some might charge you a little token. In addition, most of these springs have showers, which makes bathing so easy for you. You could decide to catch fun by swimming before the obligatory bath. Both ways, staying fresh is the goal.
When it comes to taking a shower while away from home, campgrounds are one of your best options. This is because Most campgrounds have reasonably conducive shower facilities. You do not have to spend the night in the camp to use these facilities. With a little token, most of these campgrounds allow non-campers to use their shower facilities. If you are camping in the open, the importance of ensuring your gadgets are on cannot be overemphasized. A low battery cuts you off communication from your loved ones. This could cause them to get worried unnecessarily. The 672 Wh battery of Acevolt Campower ensures that your gadgets stay on for an extended period. Furthermore, its LiFePo4 battery guarantees that the Led lamp stays on for 50 days. That is way more than you need for a camping period.
Most likely, you would be camping in an area that is not so familiar. However, you could find the closest gym to you with one or two calls. If you are not so sure about what contact to call, google Maps might be your best bet. Once you find a gym, the next step would be to weigh your options. Depending on how long you would be spending in town, you could consider investing in a membership. In the long run, this could beat down the frequent cost of a daily/regular visit to use the shower facility. You could always pay a token to use the shower with or without a membership. The gym would give you a pass that grants you access for the day. It is important to note that the shower facilities aren't perfect. Because there would be nobody to hurry you up, it is still a good deal.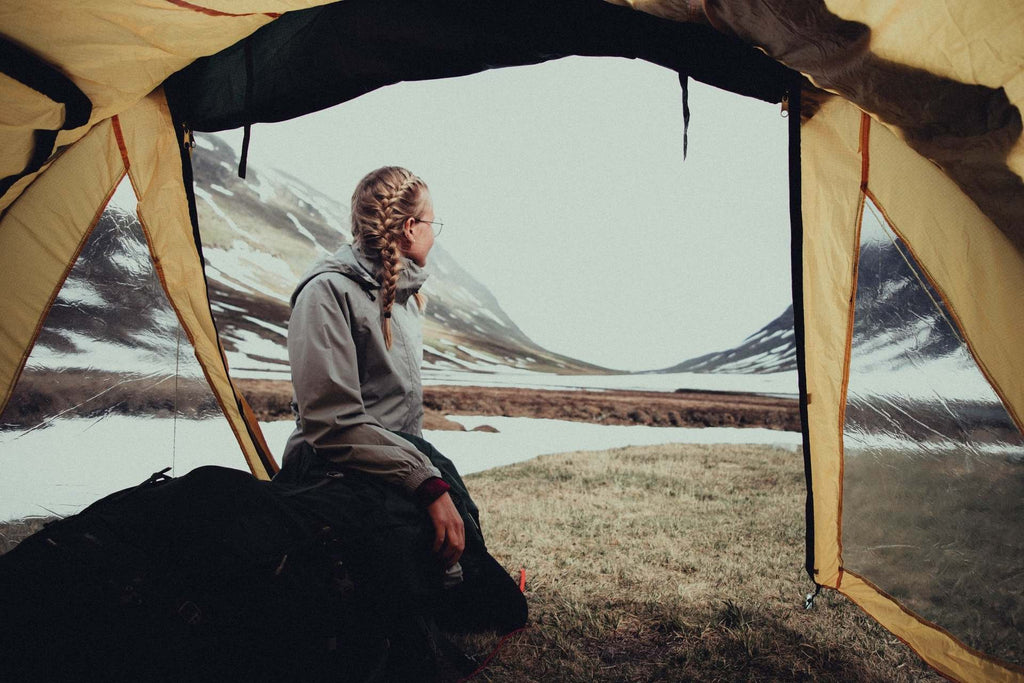 Rivers and lakes are good spots to take a shower during your camping experience. The water is always cool, making it perfect for a hot day. In addition, unlike other options, you wouldn't need to bother about your water consumption. The water is always in abundance. This gives you room to be thorough with your cleaning. Furthermore, there wouldn't be anyone to hurry you up or provide you with time limits. As such, you could take all the time you need while savoring the beauty of nature.

Truck stops are also a good stop point for your shower while camping. With a little token, you would gain entry to the shower facility. Amazingly, a lot of truck shops provide quality hot showers. The only challenge with narrowing your mind to truck stops is their location. Most truck stops are located along major highways. To use this option, plan your trip along major roads on days you want to take a shower.

You possibly weren't expecting to see this option in the list, but it made it. Gear shops are built with shower facilities in them. In truth, Gear shops did not create shower facilities for campers. However, it doesn't hurt to make use of it. Use of the shower facilities of gear shops is usually timed. It's often within the range of 4 to 7 minutes per person. It would be necessary to be very fast in using the shower. It would be embarrassing for you to be excused from the shower while your towel is still around your waist. But it could be a hilarious experience, depending on how you choose to see it. It wouldn't be fair not to inform you that you'd need to pay a token to use the shower.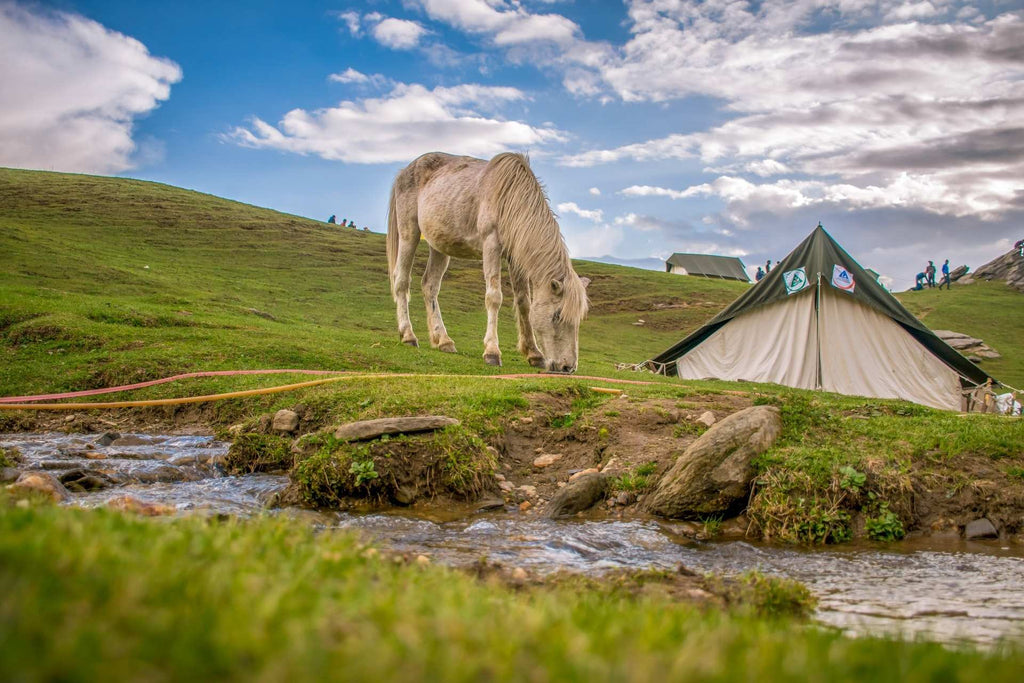 After having fun at the recreation center, you could hop into the shower. There is no need to get into panic mode if you haven't subscribed to any recreation center. With a token of between $5 and $20 per person, you'd be granted access to a hot shower for the day. However, this fee will need to be renewed on a subsequent visit. Given this, if you would be spending a while on your camping trip, you could consider subscribing.

As a regular camper, investing in a personal solar shower will be necessary. It eliminates the stress and extra fees that come with needing to shower while camping. Using it is very simple. All you need to do is fill it up before leaving home. You could get that done at a water fill-up station near your camping location. Set it outside on a sunny day once the solar shower is filled with water. Then you could have a warm bath with it when you are ready to. For the sake of privacy, you should get a bathing suit. When setting your solar outside for the sun, ensure you do not forget your solar-powered generator. Acevolt Campower 2000 comes in highly recommended as your off-grid solar generator. It has a 2028 Wh battery which can support as many as 16 devices simultaneously. Furthermore, its fast charging technology ensures that the devices quickly get fully charged. As such, you are always connected throughout your camping period.
We trust that taking a shower wouldn't be a challenge when you next go camping.

---