Vegan Tacos: A Camping Recipe You Can't Miss
---
What is a camping experience without great food? You got the word, boring! Camp isn't an excuse to miss out on excellent meals. When we are talking about amazing meals, Tacos fit the league. Often, we are bothered about the cooking process that we eliminate cooking altogether. However, cooking while camping doesn't have to be strenuous. 
You can enjoy your favorite meals without stressing yourself with the right tips and guides. Before diving into the world of Tacos, you might want to check out the camping food checklist. It will undoubtedly serve as a guide in selecting food items for camp.
Tacos are fantastic regardless of the time of the day you choose to consume them. Some people love to eat it during the day. However, others love to have theirs just before bedtime. If you fall in the second category, ensure your power station is within reach while preparing your Tacos. 
Being a vegetarian doesn't exempt you from enjoying the superb taste of Tacos. We'd be examining recipes that cater to both vegetarians and beef lovers in a short while. Before diving into the recipe, let us talk about Taco toppings.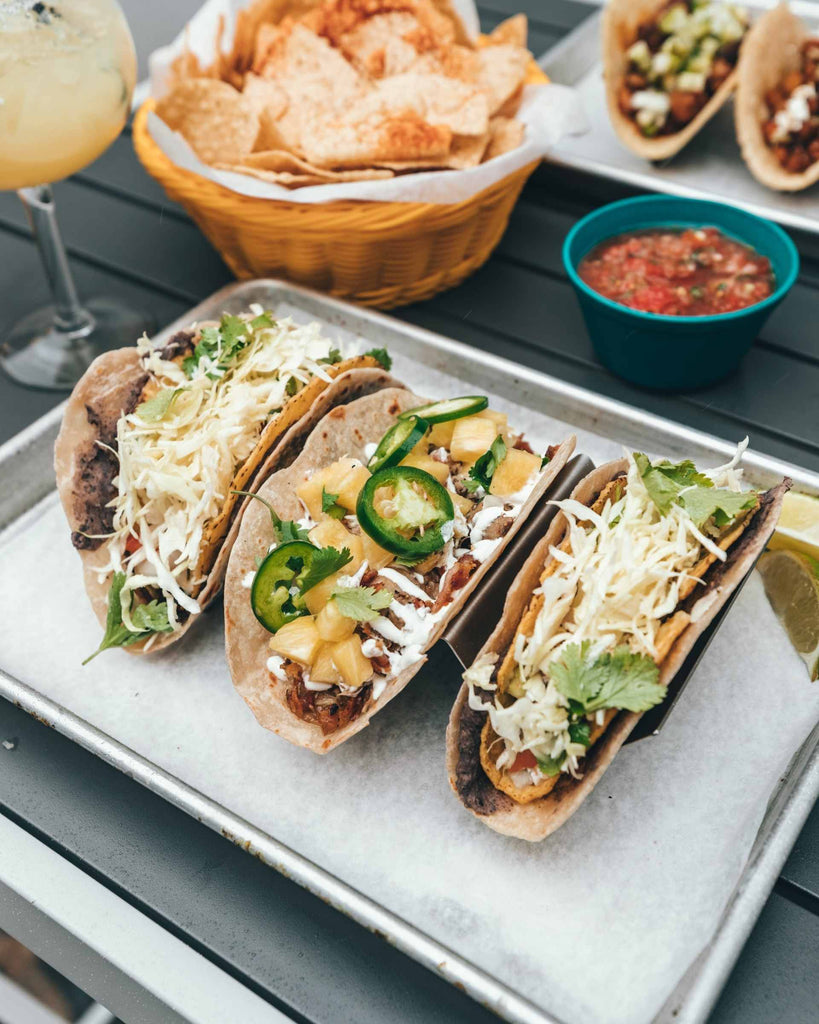 Toppings
Toppings are incredible ways to spice up the taste of your taco. Amazingly, there is a wide variety of toppings from which you could choose. While making your choice, it's essential to consider the effect of the size on your luggage.

A simple trick is going with all the yummy goodness is to choose toppings you can dehydrate. This eliminates the extra weight from the water content. Two toppings you could consider are dehydrated Salsa and shredded cheese.

If you are not so concerned about how much weight toppings would add to your bag, you could choose other options. Onions are certainly one topping you want to feature in your tacos. Including them will undoubtedly make your taste buds crave more tacos.

Tomatoes are another "go-to" topping. Its colorful nature is the right burst of energy you need to whet your appetite. It will be inappropriate to exempt gourmets and avocados from this list. Considering how spicy these toppings are individually, have you considered featuring all three? You don't want to be told about it. You could as well give it a try before your next camping experience.

Before closing this segment, it's important to state that toppings are not a compulsory part of your Vegan tacos. They are simply an easy way to deviate from the regular.

Vegan Tacos
In this segment, we'd be considering three easy-to-use taco recipes. They are stressless and would get you eating a taco in the shortest time possible.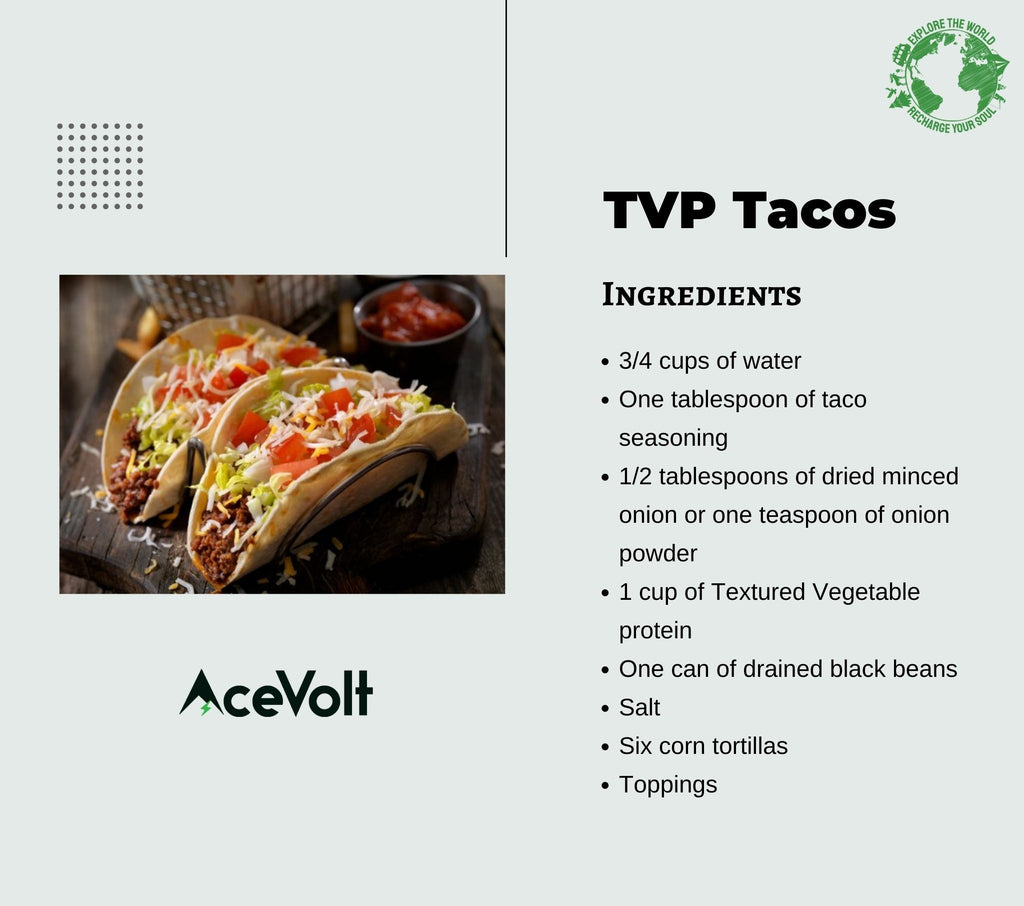 Textured Vegetable Protein, TVP, Tacos
Most tacos are made using turkey, Asada, carnitas, and beef. If tacos are an impromptu part of your camping meal, you could substitute these using TVP.

Textured Vegetable protein is the easiest taco recipe. It is made from soy flour and has a similar texture to beef. In addition, TVP is fat-free and inexpensive. While using TVP, it is essential to note that TVP is flavorless. It will only take on the flavor of whatever seasoning you use.
Ingredients

3/4 cups of water

One tablespoon of taco seasoning

1/2 tablespoons of dried minced onion or one teaspoon of onion powder

1 cup of Textured Vegetable protein

One can of drained black beans

Salt

Six corn tortillas

Toppings
Start the campfire and reduce the heat to the barest minimum. Preferably, you could use an electric stove. Ensure that your AceVolt Campower 2000 solar generator is nearby so that you can power your stove effectively. Boil the water, taco seasoning, and onion. Afterward, add the TVP. Once the TVP has absorbed the liquid, add the drained black beans. Cover the combination and cook on low heat.
Stir the mix at intervals to ensure that the filling does not scorch at the bottom of the pot. In addition, ensure that the seasoning fits your taste. Get your pan and heat your tortillas with some oil. Afterward, remove the filling from the heat. Build your tacos and garnish them with your favorite toppings. Share your tacos with your camping partners and accompany them with your favorite drink.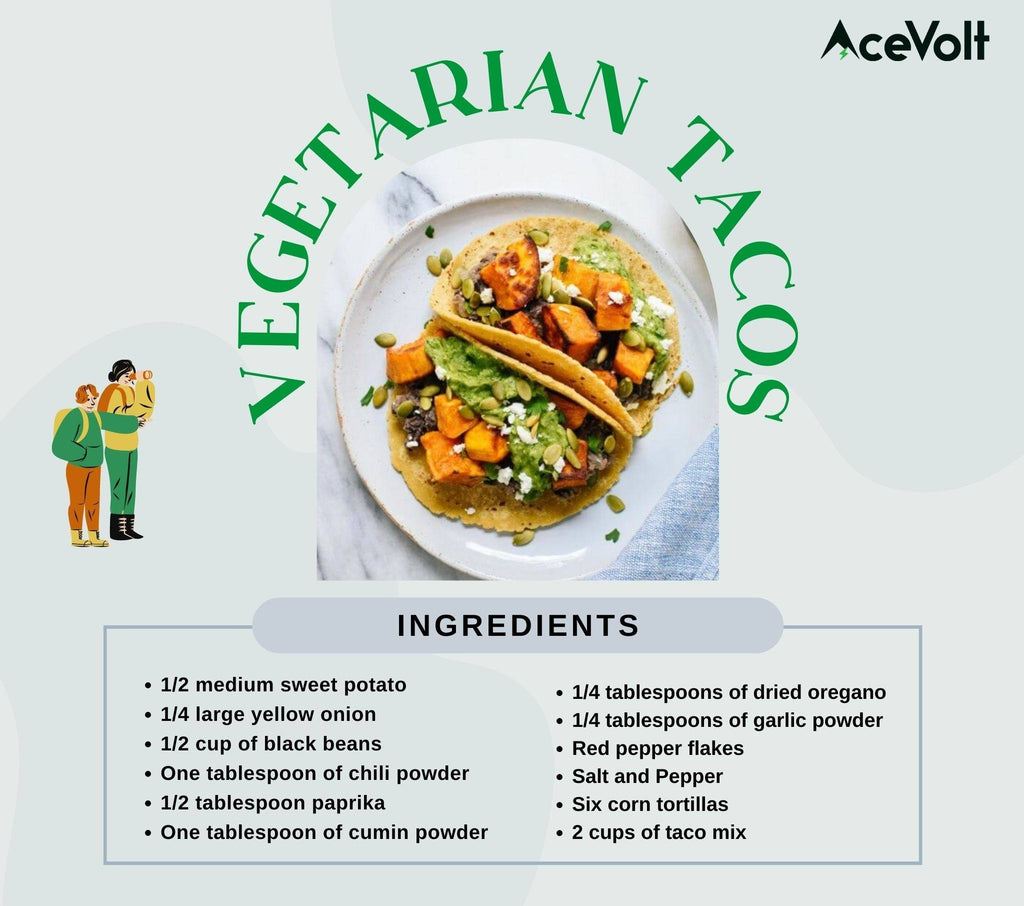 Vegetarian Tacos
You don't have to miss out on the savory taste of tacos as a vegetarian. Shortly, you'd be learning how to enjoy the goodness of this meal while using just vegetables.

Ingredients

1/2 medium sweet potato

1/4 large yellow onion

1/2 cups of black beans

One tablespoon of chili powder

1/2 tablespoon paprika

One tablespoon of cumin powder

1/4 tablespoons of dried oregano

1/4 tablespoons of garlic powder

Red pepper flakes

Salt and Pepper

Six corn tortillas

2 cups of taco mix
Ensure you get your vegetables ready for the preparation process. You could start by peeling and dicing the potatoes. Afterward, dice and clean up your yellow onions. Once these are set, you could proceed with preparation. Power on your electric stove using your portable power station. Acevolt Campower 2000 comes highly recommended because of its strong battery life. Asides from ensuring your electric stove come on, Campower makes sure that all your devices are powered on each time you need them.
Having powered on your electric stove, reduce it to medium heat. Add your sweet potato and onions to the pan and stir until it is soft. Then, introduce the spices and black beans and stir for another 2 minutes. Ensure to check if the seasoning suits your taste.
After completing the previous phase, assemble the mixture on your soft tortilla. Voila! Your taco is ready for consumption.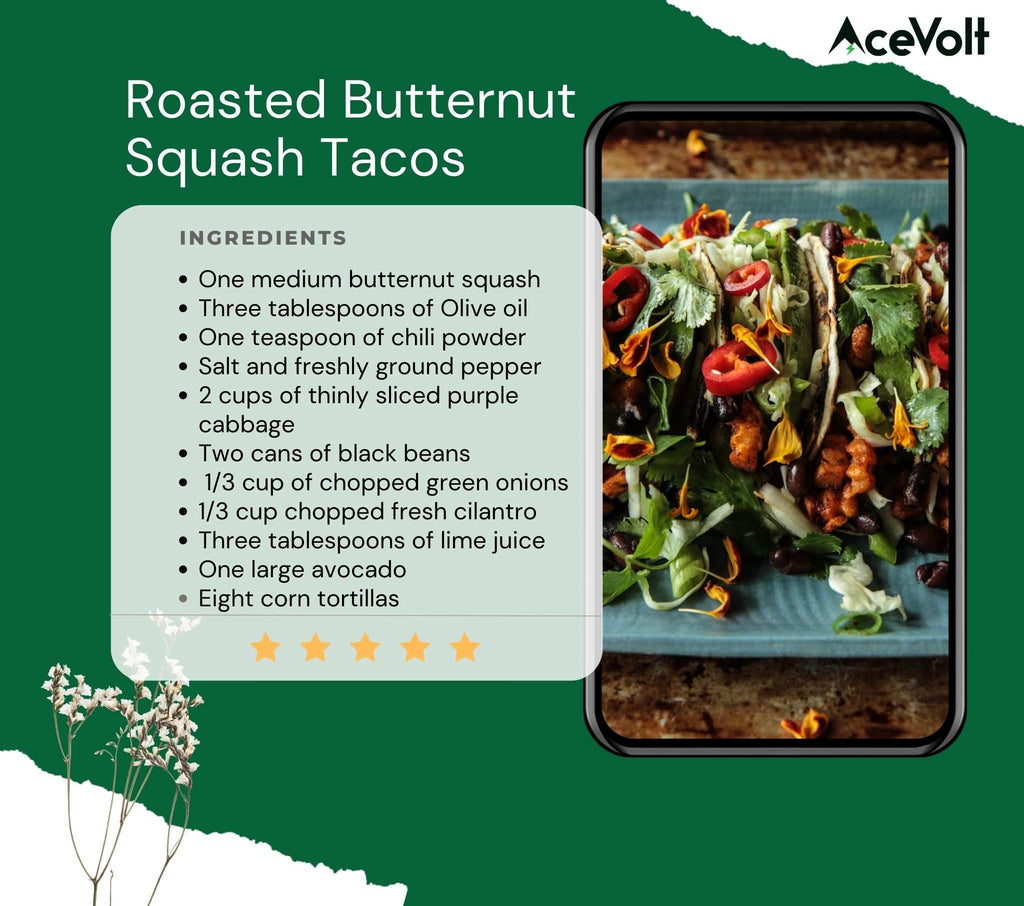 Roasted Butternut Squash Tacos
Ingredients

One medium butternut squash

Three tablespoons of Olive oil

One teaspoon of chili powder

Salt and freshly ground pepper

2 cups of thinly sliced purple cabbage

Two cans of black beans

 1/3 cups of chopped green onions

1/3 cup chopped fresh cilantro

Three tablespoons of lime juice

One large avocado

Eight corn tortillas
Preheat your electric stove to 425 degrees Fahrenheit. Add little olive oil to coat the sides of your cubed butternut. Introduce your chili pepper and salt to enhance the taste. Arrange the butternut in a layer and leave it on heat till it is tender.
Simultaneously, combine the cabbage, black beans, green onion, cilantro, lime juice, olive oil, and salt in a mixing bowl. Mix generously and set aside to marinate.
Combine the diced avocado, lime juice, coriander, and salt in another mixing bowl. Mash with a pastry cutter or fork till the mixture is blended. Taste it to ensure the salt level is sufficient.
Assemble the butternut, cabbage, and avocado mix on your tortillas. It's that simple! Your delicious tacos are now ready to be devoured.
To include your friends and family in the fun, feel free to take beautiful pictures of your tacos. This will be impossible without your gadgets being on. Because not all campgrounds have a power supply, Acevolt thought about you. Acevolt Campower 2000 portable power sttion will cover all your power needs for the camping period. It serves as a portable power source to charge your gadgets. Additionally, it has a bright led lamp which ensures you are not scared of the dark.
Tips To Make Taco Preparation Easier In Camp

Wash and Prep the veggies at home.

Opt for soft tortillas.
Once these are put in place, preparing your tacos will be as seamless and easy as possible.
---