Camping In Ontario Canada: 12 Best Campgrounds Worth Visiting
---
Sometimes, all you want is to get away from the busyness of life and tight schedules. At other times, you simply want to bond with family and friends. Regardless of which side of the coin you fall on, you can never go wrong with camping. Camping is a proven method to reduce stress and reset your mind with the tranquillity of nature. Be it a personal break or bonding with family; you'd certainly find a suitable spot in Ontario. Ontario has an incredible landscape of rivers, forests, and lakes. This array of nature's beauty makes it a favorite place for campers. 
Often, proposed campers are concerned about the best camping locations, electrical supply, and other essentials for the camping period. This article was written to inform you about Ontario's 12 best camping locations and possible things you should factor into your preparation.
One primary consideration you would want to put in place is your power source. Considering the fact that not all camps have an electricity supply, you want to get a portable power station. Portable power stations are oversized rechargeable batteries that serve as electricity supply. They ensure your gadgets always have power. Hence, ensuring you have a fantastic camp experience without missing the comfort of home. 
Without much ado, we'd be considering the 12 best campgrounds worth visiting in Ontario. These campgrounds are not listed in a particular order. Neither are they classified based on landscapes. However, they were carefully selected to give you a memorable camping experience in Ontario. 
Killbear Provincial Park is one of the most popular campgrounds in Ontario. The Park is home to seven beaches and seven campground loops. By design, each beach is located beside a campground loop. If you intend to camp with kids, they have a chance to play in the shallow water. Better still, you could choose to bike along the six kilometers of trail.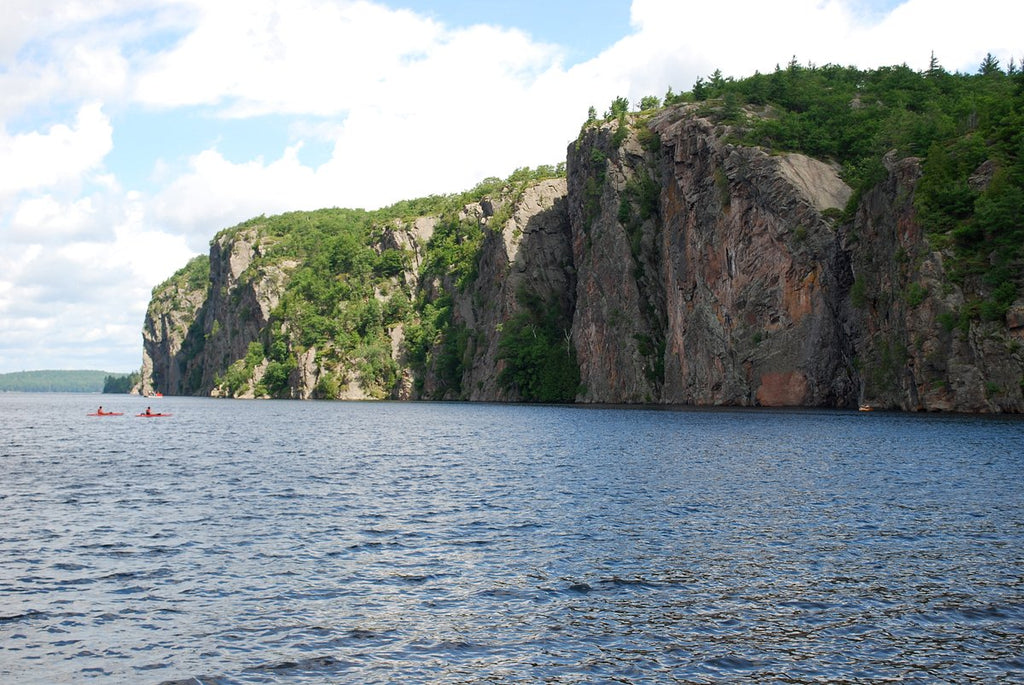 Mazinaw Campground is a thrill that makes the heart glad. Located in Bon Echo provincial park, the Lake prides itself as one of the deepest in Ontario. It is strategically located on a hill with exposed granite. In an actual sense, a visit to Mazinaw is not just a camping experience but a visit to a tourist site as well. One superb feature of this Park is electricity. However, the walk-in sites do not have power. As such, it necessitates using an off-grid solar system with a long lifespan. 
It wouldn't be appropriate to exclude the Missinaibi river from this list. It is a must-visit for lovers of solitude and privacy. At this camp, you have an opportunity to fish, stargaze, paddle, and engage in lots of outdoor activities. To have a terrific time at Missinaibi, make sure you go with all the facilities you'd need to be comfortable. Ensure you include your headlamp and a solar-powered generator. Acevolt Campower 2000 comes highly recommended as your choice of solar-powered generator. Its 2028 Wh battery capacity comfortably supports about 16 devices simultaneously. Its fast-charge technology ensures that your devices are charged in less than 2 hours.
Next on the list is Pukaskwa national park. This Park does not pop up frequently in conversations. However, a visit to Pukaskwa will blow your mind. At Pukaskwa, you get a rare opportunity to have spectacular views of Lake Superior. Feel free to call it the bonus you get from its undeveloped shorelines. 
Since we're talking about the best Campgrounds, leaving out, the Pinery Provincial Park wouldn't be appropriate. This is one of the best choices for groups and families who would love to have fun together. It has about 10 kilometers of sandy beach, right in front of Lake Huron. There is no telling of how much fun you could have with water activities with this.
Lovers of nature will surely love the Awenda provincial park. It gives you privacy and quietness that allows your mind to travel wide and free. This Park is characterized by sand dunes, wetlands, and beaches. However, it is essential to note that Camping at Awenda is a backcountry experience. As such, your edibles, tent, and Acevolt Campower should not be left behind.
Albion Hills Conservation Park
The Albion hills conservation sits as one of the best Campgrounds worth visiting in Ontario. Regardless of how good you are with mountain biking, Albion's got brilliant biking trails that'd help you. A trip to Albion guarantees you an opportunity to travel light. This is because the camp has the basic facilities you would need. However, it doesn't hurt to have your own backup plans.
A nature enthusiasts' trip to Ontario is incomplete without camping at the Haliburton forest. The forest is famous for its canopy walkway and wildlife reserve. Activities like kayaking, canoe camping, mountain biking, fishing, and snowshoeing give you an experience you'd relish for a long time. Furthermore, its backcountry experience offers you the opportunity to see the beauty in nature. 
The natural beauty of Neys Provincial Park is enough reason to make it your Campground location. The sight of its evergreen hills is heartwarming. At the same time, its fine beach sands are inviting. Neys is perfect for a solo trip. However, it's more beautiful with family and friends.
Bruce Peninsula National Park
If you're still unsure where to go camping in Ontario, consider Bruce Peninsula National Park. At this Park, fun activities range from terrestrial to aquatic, depending on your choice. Some of the fantastic features of Bruce peninsula include its crystal-clear blue waters, rocky cliffs, and cobblestone beaches. 
You could as well disqualify this post if we fail to mention Manitoulin Island. Reputed as the world's largest freshwater Island, Manitoulin will give you a remarkable camping experience. Activities on this Island range from horse riding to stargazing and a whole lot of fun activities. However, before leaving the Island, ensure you do not miss a chance to visit the bridal veil falls.
Bronte Creek Provincial Park
We would be closing up on this list with the Bronte Creek Provincial Park. A 1.8-acre swimming pool uniquely accentuates this Park. Furthermore, it has a children's farm, ensuring that kids are included in the camping fun. What more would you want for a family camping break?!
About AceVolt Solar Generators
As impressive as camping could be, the fun is more pronounced when you're well prepared. AceVolt solar generator ensures you pack less while having more. Our Solar generators have a massive battery capacity which comfortably caters for all your electrical needs during the camping season. Furthermore, they are built with excellent LED lighting. AceVolt Campower eliminates the need for a Camp lamp while ensuring that you are not in a fix when the night comes. With AceVolt Campower 700 power station, you wouldn't be spending so much time charging your gadgets. The Campower is designed with a Quick charge 3.0 technology. Thus, ensuring that your devices are fully charged within the shortest possible time. All through your camping season, charging your Campower wouldn't be a source of worry. AceVolt Campower is designed so that it can be charged with several mechanisms. You could use an AC wall outlet, a 12 V carport, or a solar panel. 
---
Related Product