All You Need To Know About Teepee Camping
---
Teepee camping did not burst into the scene from anywhere; indeed, it had been a thing for a while before civility caught wind of it.
What's a Teepee?
Teepee refers to a round tent made from animal skins supported by a frame of poles. If you have seen any movie which features American Indians, then you must have seen a Teepee in one of the scenes. To comprehend the concept of Teepee better, why don't we take some history lessons?
The English word "tipi" originated from the Lakota word "thipi," which refers to a dwelling typically used by the nomadic tribes of the Great Plains of America for centuries. These dwellings were known to provide warmth and comfort during winter and dryness during the rainy season. Tipis or Teepees have evolved greatly over the years; however, the overall concept hasn't changed up till today.
Research has provided evidence attesting to the fact that Teepee dwellings have been in existence since around 10,000 BC (now that's a long time; a time when mammoths and saber-toothed tigers roamed the earth). Teepees served as a popular temporary home option for wandering tribes across the world. However, the most precise depiction of Teepees comes from the Native Americans, the Plains Indians in particular. One important thing these Indians paid attention to was the fact that these teepees had to be easily taken down because of how they (the Indians) had to move from place to place. This was typical of the nomadic lifestyle. When the tribe arrived at a new location, the woman of each family would set up the Tipi and typically used about 30 minutes to do this. 
The covering was usually raised in summer to give room for a large gap at the bottom, allowing cool air to flow through the Teepee. Conversely, in winter, additional coverings and insulators such as animal hides and grass were used to keep the inside of the Tipi warm. A fire was usually built at the center, and there was a hole at the top of the Tipi to let the smoke from the fire escape.
The Indians had a deep connection with and appreciation for the Teepee; they saw it as a "good mother" who protected her children. Being secure, mobile, and comfortable made it a go-to option for the Indians every time they got to a new space. Today, Tipis have not changed much from their ancestral origins. However, the more modern techniques and quality materials have made Tipis better. The modern designs of Teepees protect the user and are resistant to most weather conditions, making them great for both winter and summer. 
This article focuses on Teepee camping and all you need to know about it. Giving a historical background on the concept of Teepees is a good foundation to build upon as we proceed with this article. Trust me; there are important things you need to know about Teepee camping that will make your camping experience a remarkable one.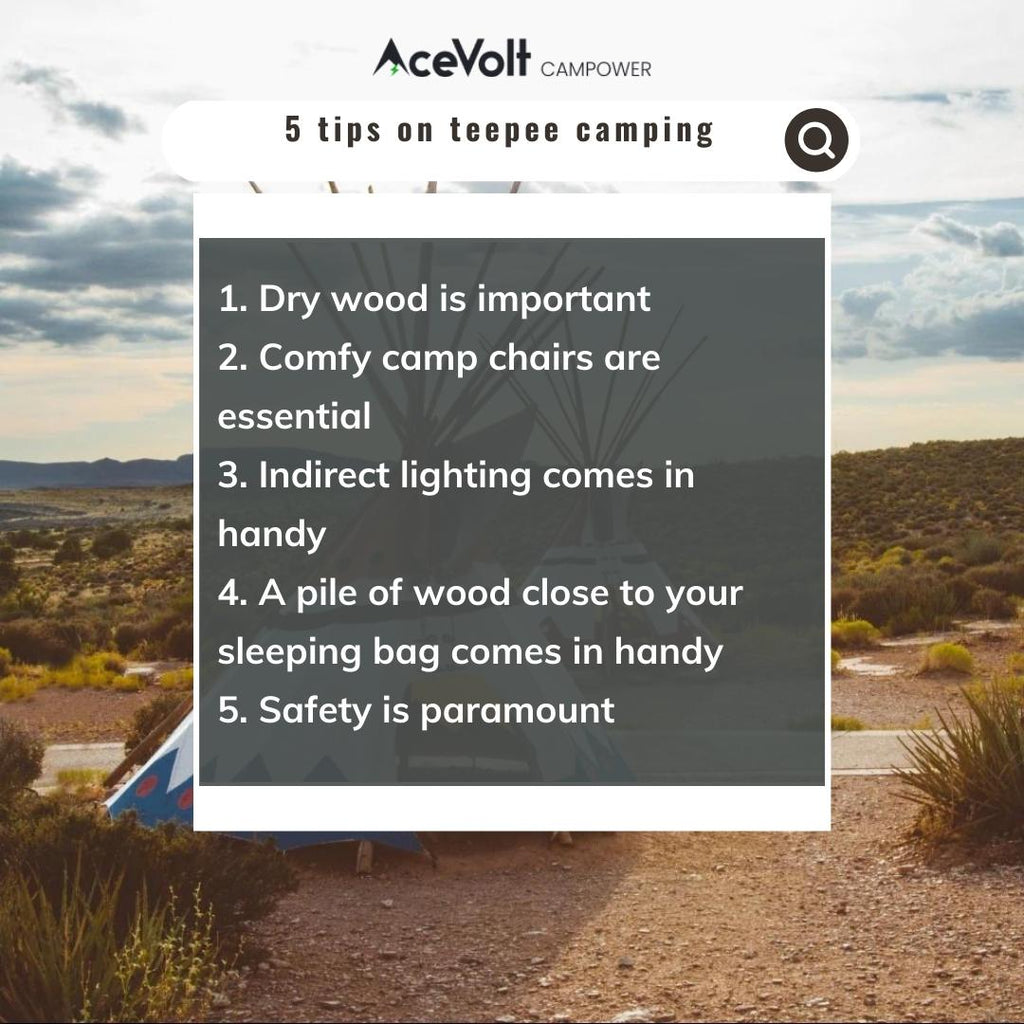 5 tips on teepee camping
Firstly, you need to note that teepee camping and tent camping are not the same even though they appear similar. Apart from their names, there are differences in their structures, their materials, and the quality of such materials. Typically, a Teepee is more rugged than a tent.
1. Dry wood is important
As a Teepee camper who plans to stay in a Teepee, you need to ensure that you use dry wood because smoke in a Teepee can accumulate pretty quickly, especially when the firewood is not bone dry. Furthermore, ensure that your bags and clothing are as low on the ground as they can be. This is because anything you hang up is going to be very smokey when you bring it down. 
2. Comfy camp chairs are essential
It is very probable that when you go Teepee camping, you sit around the fire, and it is so much comfortable if you do this with a cozy camp chair. It is very comfortable and full of fun to be in an interesting place with your favorite people and make memories that stay with you for a very long time.
3. Indirect lighting comes in handy
Undoubtedly, Teepees can get dark in the evening because the canvas which is used to make them does not allow easy penetration of light as much as a nylon tent. This means you might want to bring headlamps or other sources of light along on your camping trip. It is also important to bring lighting along for safety reasons because you will be sleeping around a fire pit. You can see the fire as it burns, but you might not be able to see a recessed cold pit when you wake up in the middle of the night. Hence you need all the lighting you can get.
4. A pile of wood close to your sleeping bag comes in handy
Because you will be sleeping with the fire pit burning, you will need to throw some wood in the fire occasionally to keep it burning. Keeping a pile of food close by saves you the stress of getting out of your sleeping bag every time you want to throw a piece of wood into the fire.
5. Safety is paramount
It seems the fire pit is an integral part of Teepee camping, which means you have to be extra conscious of safety. If you are sleeping inside a canvas Teepe tent with a fire pit, a fire extinguisher is absolutely a non-negotiable. The probability of an accident happening is pretty low, but better to be safe than sorry. Ensure the fire extinguisher is up to date and everyone knows where it is.
Where to go for a Teepee camping?
Note that you might be clueless as to how to do a Teepee tent, or you are in the category of those who always ask," how does a Teepee work?"; whatever category you belong to, the good news is you are not disadvantaged as there are various Teepee hotels you can lodge in that give the ultimate Teepee experience. The following are examples of popular Teepee lodgings worldwide.
This Teepee is stationed just outside Capitol Reef National Park at Torrey, Utah. An interesting fact about this Teepee is that you can experience every bit of the blood-red sunsets and sunrises that the Capitol Reef is known for from the comfort of your bed. This Teepee comes with plush furs, and Southwestern touches at different angles; it gives that exquisite Teepee experience you will never forget.
This Teepee is situated in Northeast Oregon and gives that pleasant remote experience associated with camping. It is miles away from towns and cities and is a perfect way to get off the grid. It provides an opportunity for travelers to bike and hike through Wallowa-Whitman National Forest and travel through local creeks and rivers. Local wine and Microbrews are side attractions that the Rimrock inn offers. If you are interested in camping in Oregon, here is an article about "10 Incredible Oregon State Campgrounds You Need To Know". 
Airbnb hosts are not left out of the Teepee trend as they host guests in their Teepees. One of such people is Andrea Orbeck, who is known to host guests in her 18-foot Teepee. The decorations of the Teepee come in aboriginal fabrics and furs. It is located near a guest deck for sunbathing and lounging. Furthermore, the location of the Teepee makes mountain hikes and day trips to the ocean possible.
Westgate River Ranch Resort & Rodeo
This Teepee has its layout on the Kissimmee River and is surrounded by protected wetlands that measure up to hundred square miles. This resort has a base in wrangling history and has 10 Teepees that look like traditional Teepees but are loaded with luxuries amenities.
This Teepee is situated in a place less than a ten-minute drive from the West Yellowstone Park entrance and offers a great view of arguably America's favorite park. You are set up to enjoy amazing views of the dramatic mountains and gently rolling lands for which Yellowstone is notable. The Teepees in the place are for larger parties of four ad above and coupled with a central safari tent.
Conclusion
Another interesting thing about Teepee camping is that you can introduce portable power stations to take along with you. You might need to make use of certain devices like coffee makers, laptops, and mobile phones; portable power stations come on board and are very handy. One of the very prominent portable power stations is the Acevolt Campower which comes with a lot of features that make your Teepee camping experience a whole lot better. The Acevolt battery powered generator is a great choice for Teepee camping and every other type of camping experience.
Having considered a lot of things about Teepee camping, it goes without saying that it is a must-have experience. So, why don't you get your things in order and go enjoy that wonderful Teepee camping experience?
---
Related Product