Everything You Need To Know About Acadia National Park Camping
---
Have you ever been to Maine? Then you should visit Acadia National Park! 
Its fantastic location has something great for travellers, hikers, camping enthusiasts, and tourists. It is just along the midsection of the Maine coast, boasting the glaciated coast and landscape and promoting biodiversity while preserving the cultural heritage. The park has the tallest mountain and rocky headlands, giving travellers a golden chance for recreational activities from spring through autumn. If you have ever been to Acadia National Park camping, you must have enjoyed car and bus touring, hiking, horseback riding and bicycling, and much more. The campgrounds are situated on Mount Desert Island, while the main visitors' center is Northwest of bar harbour. 
There are a series of adventurous events that will blow your mind and make it an unforgettable experience of your life. The popularity of this amazing park can be realized from the fact that more than 3.4 million people visited this park in 2019. Some other top reasons to visit Acadia National Park include rock climbing, kayaking, swimming at the Echo Lake, boat tours on the ocean, ice fishing, snowshoeing, and cross country skiing. 
You can get the most out of this fantastic recreational resort by opting for Acadia National Park camping. 
Here are a few tips that will make your visit more joyful and exciting, especially if you are looking for Acadia National Park camping. 
Tip number 1: Plan your visit before your trip
When it comes to visiting such a fantastic place, you must have detailed knowledge about the location of camping parks, the upcoming weather, and the total distance you have to cover to reach that place. 
Remember that there are three campgrounds in Acadia National Park, and two of them are located on Mount Desert Island. The third one is on the Schoodic Peninsula. As the park has mountains, lakes, ponds, woodlands, and ocean coastline, you should prepare yourself accordingly. It is also highly advised to look for the weather forecast and bring all the safety equipment and other essential things, including personal medications, hiking essentials, bandages, hairbrush, hand sanitizer, toothbrush, etc.
Tip Number 2: Make camping Reservations Online
Online reservation is always a convenient option because it is available around the clock and gives the freedom to proceed with booking anytime, saving precious time and money. Moreover, it prevents you from waiting for hours, and you only need an Internet connection. You can quickly pay online because the booking system automates the process. 
All these benefits of online booking also apply to Acadia National Park online camping reservations. So it is better to save time, energy and keep the process of reservation convenient and online. 
Tip Number 3: Double-check the RV-size limits
While planning the tour in State and National parks, you must consider the RV size limit (length restrictions). 
Acadia National Park has campground RV length restrictions which allow you to occupy space at your selected destination for camping purposes. If you have not considered the national park RV size limit, you will end up disappointed. It seems terrible to find out that you cannot comp at the particular space because it has exceeded the RV size limit. 
Remember that national parks have particularly notorious rules regarding RV, so if you think choosing the more prominent place will be a better option, you should forget about camping in national parks, especially Acadia National Park. 
On average, the RV of National Parks is 20 to 50 feet long. However, there are always exceptions, and not all of them fit into the same rules and often have their unique guidelines. 
Tip Number 4: Know what's included when you book a Florida camping park ticket online
Usually, the camping park online ticket's camping fee includes an admission fee and the use of Park facilities such as boat ramps and playgrounds. However, if you want to visit the museum or any other particular historical entrance situated within the park, you will have to pay additional fees. 
Remember that Acadia is a 12000 years old area inhabited by the Native Americans and then later converted into a park. It covers Maine, Canada, and adjacent Islands. So there are a lot of historical places, including the Abbe Museum & Teaching And Research Centre. Moreover, occasional historical festivals such as the annual bar harbour Native American festival are arranged for which the campers have to pay separately. 
For the detailed information about what's included in the online camping Florida ticket, you have to go through all the details provided in it. 
Tip Number 5: Prepare a portable power station along your trip
A battery generator is essential for camping. They play a vital role in keeping you connected with the digital world by charging your essential gear, such as small devices, laptops, smartphones, tablets, and other important devices and accessories that you need during the camping experience, including electric blankets and fans, and heaters. Be cautious; when you use a heater in a tent, there are some warnings you should know about.
The good news is that nowadays, various portable power stations are available that are mainly designed for camping purposes. Suppose you are interested in knowing more about them. In that case, you have to get in touch with AceVolt campower, a brand established with 100 campers and specializes in portable power stations that can effectively fulfill all of your camping needs. 
Why do you need a portable power station for camping? 
In this era of modernism and technological advancement, no one can imagine living without mobile and laptops. For regular blackouts in homes, we can use a power bank for charging over tablets and smartphones. However, in the campground, you do not have any electricity supply, and you have to keep a power station with you, such as a Portable Power Station that can charge electricity essentials.
Let's look at some of the benefits of portable power stations. 
Safety
The standard power stations available in the market use Li-ion battery cells that are often sparkle and may catch fires. However, the portable power stations use LiFePO4 cells, which are much safer. They can resist much higher operating temperatures.
Moreover, they did not release harmful fumes and provided a high level of safety and security. While Li-ion can operate under 104F, LiFePO4 can resist higher temp of up to 140F, significantly mitigating the risk of fires, overheating, and explosions and ensuring the safety of campers.
Affordability
After knowing many benefits, such as high power supply, portability, diversity, safety, security, convenience, and ease of use, you may be worried about their prices. Now you no longer need to worry about it because you can easily buy them without breaking your bank. Their prices are comparable to old-school generators, and you can easily purchase them for great camping experiences. 
Low Maintenance
They solve the central issue of power availability and often require very little maintenance. 
Convenient Size
They are light chargeable, portable, and convenient. So you can quickly bring them to the campground by keeping them in your recreational gear and luggage. 
Here it is worth mentioning that you should prefer a solar power station over a  gas power station because the solar one is most suitable for camping purposes. For example, a solar power station does not require any paid energy source for charging and is self-sustainable with solar energy. Moreover, it does not produce noise, so you can easily enjoy your camping experience and charge your phone or laptop while charging simultaneously. On the other hand, gas Power stations are often very noisy, and you cannot even talk to someone while they operate. 
Whether you want to purchase solar power stations or look for high-quality battery portable power stations, you can easily find them at AceVolt.com.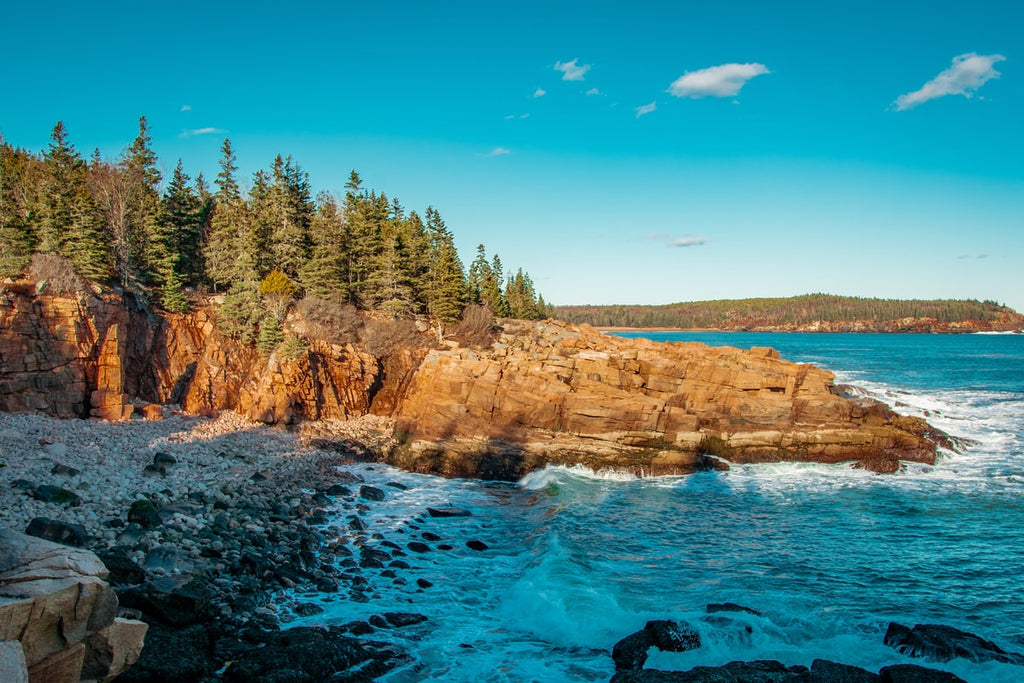 Summary
Acadia National Park Camping can be a very great experience of your life if you have a portable power station with you. It allows you to charge your camera, laptop easily, and mobile phone to capture precious moments such as taking photos and videos while hiking, kayaking, swimming at Echo Lake, boat tours on the ocean, ice fishing, etc. It is highly advised to purchase a portable power station from a reputable brand (such as AceVolt) and carefully arrange other essentials, including first aid kits. Moreover, making realistic camping cost estimates and doing appropriate research is also mandatory to keep your expenses within an affordable range. 
---
Related Product