The 6 Cool Places for Camping in Nevada
---
The 6 Cool Places for Camping in Nevada
The US has a lot of beautiful cities, and Nevada happens to be one of them.  Being the 7th largest state in the US,  it has many state/national parks and recreation centers.  Though mostly desert, Nevada offers many natural beautiful sights to behold.  From crystalline lakes to towering mountains and landscapes, there's lots of un in stock in Nevada. 
With so many campgrounds in Nevada, you might get confused about where to go camping exactly.  Out of the many campgrounds, Acevolt has put together in this article, six cool places to camp in Nevada and all you need to know about the campgrounds.
Cathedral Gorge State Park
Cathedral gorge state park is located along the east of Nevada, with Carvey erosion and heavy winds, and parked with plenty of rocks.  The park has family-friendly slot canyons and a unique carven, making it an excellent location for kids to explore.  Cathedral gorge state park is a fantastic place to visit any time of the year, but it is mainly a beauty to behold during the winter season.
Address: 111 cathedral gorge state park road, Panaca, Nevada 89042
Cathedral gorge park has walking trails, making it easier to explore.  A trail connects the miller point to a picnic area, and another track allows visitors to explore the remote regions of the park.
The campground has 22 campsites, with shade ramada, picnic tables, and a grill.  Water and flushing restrooms are available, and all sites have electric hookups.  Visitors are allowed in from 9 AM to 4:30 PM every day, and the park is accessible all year round.
Cathedral gorge campsites do not allow reservations, and all sites are only available based on first-come-first-serve.
The entrance fee is 5 dollars for Nevada Vehicles and 10 dollars for non-Nevada vehicles.  The camping fee is 15 dollars per vehicle per night for Nevada vehicles and 20 dollars per vehicle per night for non-Nevada vehicles. 
Nevada Beach Campground
When describing the Nevada beach, massive, peaceful, and quiet can best describe it.  Nevada Beach and its campground is located in the Tahoe basin, east California, on highway 50. 
Address: elks point road, Zephyr Cove, Nevada 89449
We can call your ideal adventure basecamp when exploring the south lake Tahoe, Nevada beach.  It is especially a great place to visit during summer and winter.
Nevada beach can be windy, making it the perfect location for kiteboarders.  You can also enjoy water skiing, boating, and fishing at the Nevada beach. 
Nevada Beach campground has 54 campsites, with 30 being RV sites.  Each site has restrooms available, and dogs are allowed as well.  Most of the sites view the lake, and each area has tables, water, grills, and campfire rings.  Campsites have six people, and the maximum stay is 14 days.
Kindly note that charcoal and wood fires are not allowed on the beach, but you can come with your gas stove with an on/off valve alongside your valid CA campfire permit.
To make reservations, please visit www.recreation.gov.
Fort Churchill State Historic Park

Fort Churchill is a former US army fort built to protect the then settlers.  Though ruined, the ruins are fascinating, especially after some restoration and reconstruction measures have been put in place.  Imagine what life looked like several years ago?  Fort Churchill state park allows you to explore that feeling!
Address: 10000 US-95 ALT, Silver Springs, Nevada 89429
The main campground has 20 campsites suitable for tents, trailers, or motorhomes.  Reservations are not allowed; all sites are strictly based on first-come-first-serve.  There are no electrical hookups, so be sure to go with your portable power station.  Relax if you don't own one; Acevolt Campower got you covered!  With any of our portable power stations, you need not worry about electricity.  Also, there's a maximum limit of seven days for all campers.
Activities to enjoy at fort Churchill parks include night hiking, family campfire, and lots more. 
Fort Churchill campgrounds also have amenities to allow group camping.  The group campsite can accommodate about 60 persons, but it is strictly based on reservations.  To make reservations, contact the park office at (775) 577-2345.
The park is open 24/7  throughout the year.  There's an entrance fee of 5 dollars for NV vehicles and 10 dollars for non-NV vehicles to visit the park.  Or campers, the camping fee is 15 dollars per vehicle per night for NV vehicles and 2o dollars per vehicle per night for non-NV vehicles.
Thomas Canyon Campground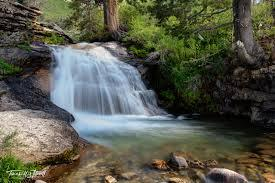 Thomas Canyon campground is located in northeast Nevada, along the Lamoille creek.  It is scenic, with a creek running through the campground.  The canyon road is known for road biking and scenic driving.
Address: spring creek, NV 89815
There are about 40 campsites.  Most of which are either single or double campsites.Each camp offers a grill, picnic table, and fire ring.
Due to weather conditions, the Thomas canyon campground opens from May till November.  A summer or spring visit is advisable.  During the peak season, you will find a campground host on-site.
You do not require a  parking pass  to visit the Thomas canyon campground, but for campers, a fee of 17 dollars per night is necessary for the basic site.  Also, note that animals are not allowed in the campground.
Make reservations via www.recreation.gov.  We highly recommend that you do this early.  Reservations can be made six months before your trip.
Cave Lake State Park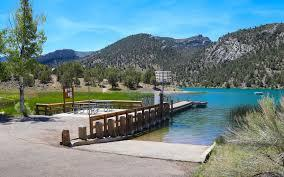 In search of a park that offers a little bit of everything?  This is it.  Cave lake state park is a national recreation area located in white pine county, Nevada, with the perfect landscape for fishing, camping, or sightseeing.
Address: US Highway 93-Success Summit, Ely.  Nevada 89301
The park has waterways often filled with trout and crawdads, this is the place for you if you love fishing.  There's a 32-acre reservoir known as the cave lake; now, you can guess where the park's name originated.  The lake is what you can call the highlight of the park.
 Besides fishing, the park also offers activities such as swimming, cross-country skiing, hiking, and mountain biking.
Cave lake state park has two campgrounds: the Elk flat campground and the lake view campground.  Elk flat campground is only available from May to October, while the lake view campground is open.  But for both campgrounds, the maximum number of days you can spend is seven days. 
Angel Creek Campground
Angel creek campground is located southeast of Well, Nevada.  Its especially desired for the canoeing and fishing opportunities it has to offer.
Address: Wells, NV 89835
The mature aspens surrounding the campground offer shade and beautiful colors during fall.  Angel lake is about 4 miles away from the campground to enjoy your canoe ride while fishing.  The campground also offers hiking, camping, wildlife viewing, and horseback riding.
The amenities available at the campsites are picnic tables, tent pads, a fire pit, and a fire ring.  Camping fee ranges from 17 dollars-71 dollars during the season and 8 dollars off-season.  To make reservations, visit www.recreation.gov.  For campground inquiries, call 775-752-3357.
In Conclusion
 Nevada has a lot of beauty, fun, relaxation, and adventure to offer with its so many amazing parks.  Each park has something unique and thrilling for its visitors.  The question is, are you ready for the adventure? 
---