Prepare Your Summer Trip With Acevolt Solar Generator
---
When Preparing for summer trips or camping, various equipment is essential for a great and comfortable experience, and one of that equipment is the Solar generator. Imagine a camping experience where you don't have to worry about the terror that comes with running out of power in the middle of nowhere; That's the kind of experience to expect when you add a solar generator to your camping list.
Acevolt solar generator generates power throughout your trip or camping. The setup is convenient, portable, and robust, allowing you to convert solar energy to control all your electrical appliances.
Below, we provide an overview of the Acevolt solar generator, how it works and what makes them unique and the best.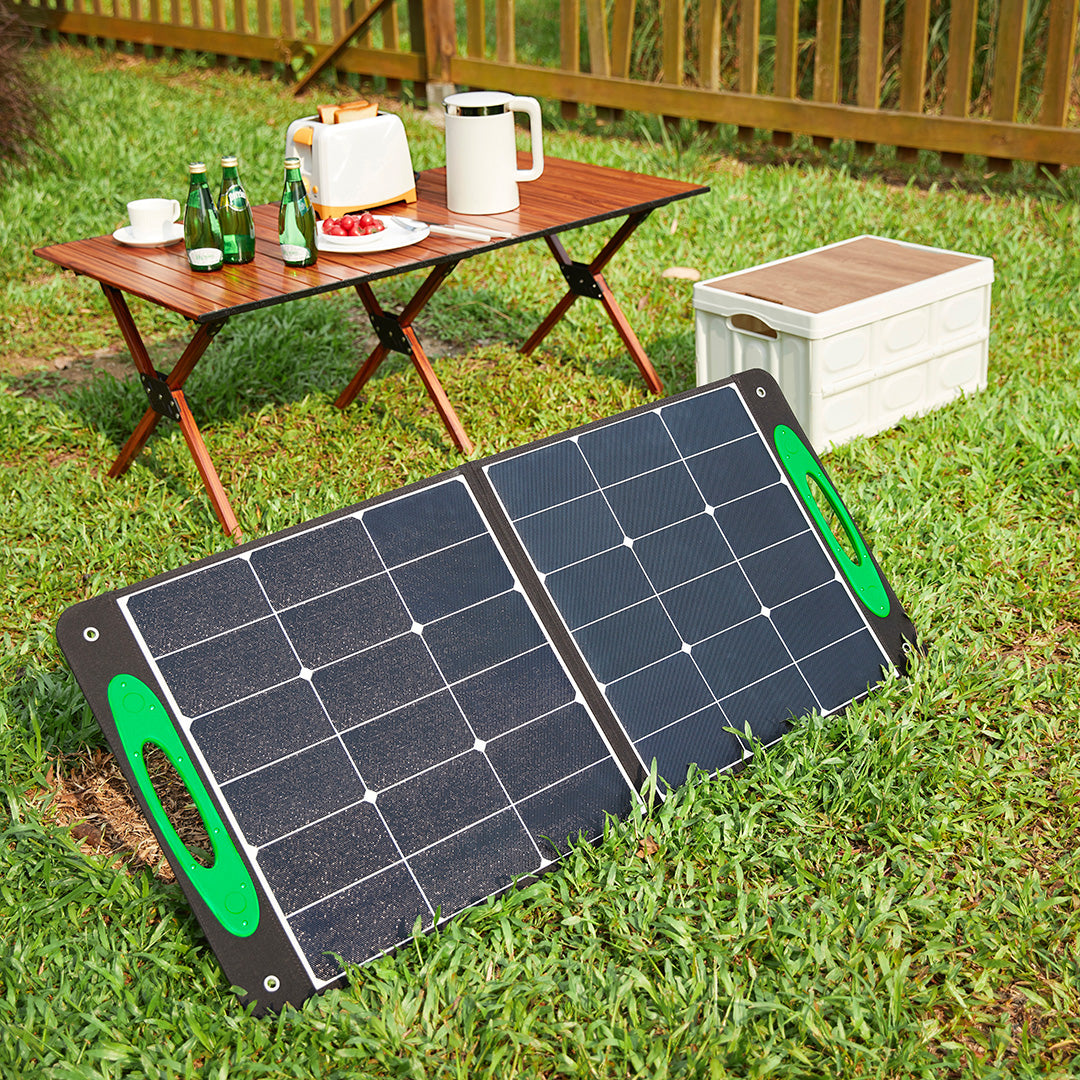 A solar generator is a device containing a portable power station that uses a solar panel, an inverter, a charge controller, and a battery system to generate essential backup power from solar energy. It is helpful during power outages and is also very useful for off-the-grid living and camping.
How it Works
For a solar generator to work fully, it has to include;
Solar panels

Batteries

Inverter

Charger controller
The solar panel is set facing a direction where it can capture solar energy and convert it into electrical energy, which is then transferred to the portable power station. Power stations receive and store energy, which can power appliances like laptops, phones, etc. battery capacity of power stations varies, but a 5000mAH battery is a more common portable power station.
Acevolt solar generators can power almost all appliances available in the RV or Caravan, ranging from small electronic devices like phones to big household appliances like refrigerators and coffee makers.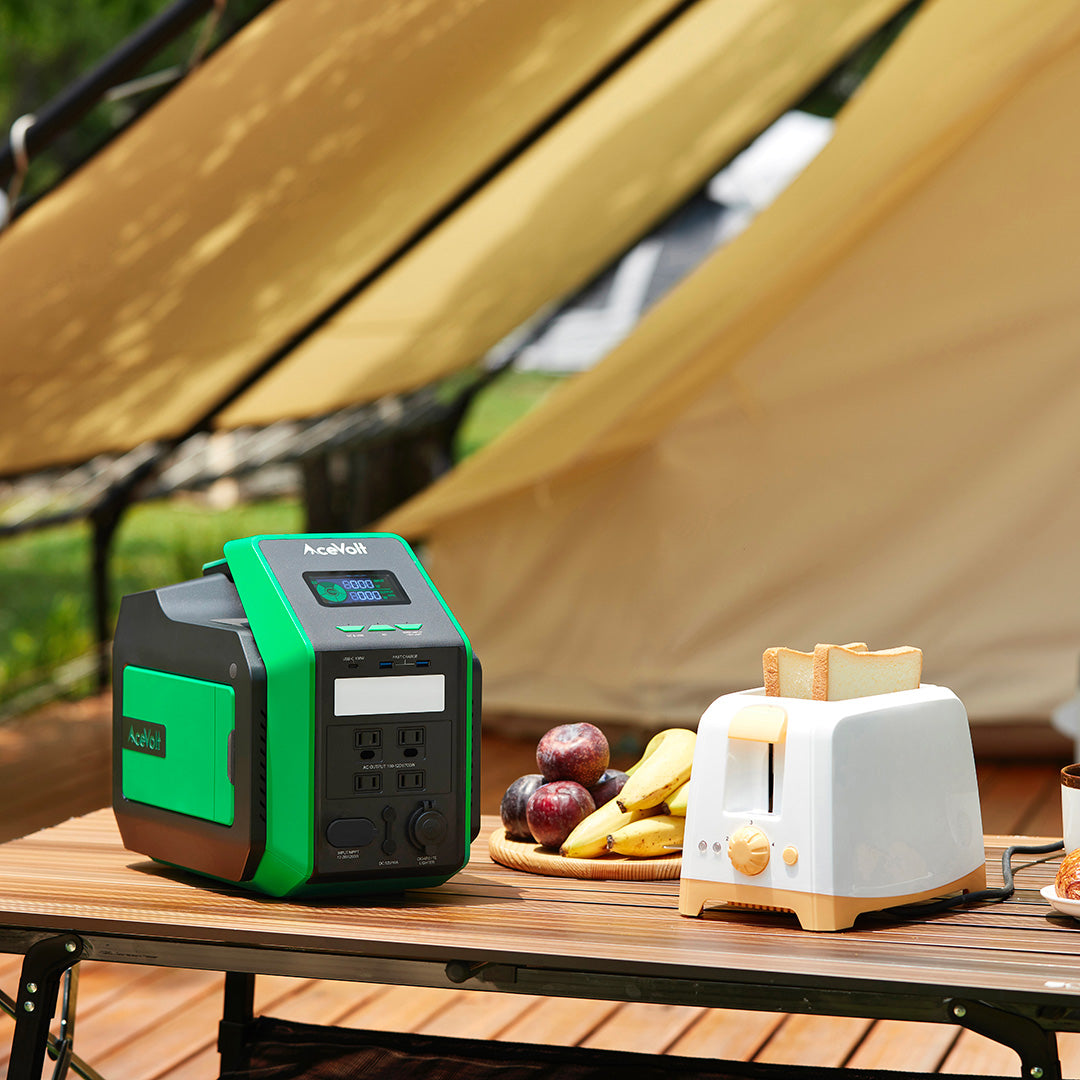 Acevolt Solar Generator 700 and Solar Generator 2000
Acevolt currently produces two kinds of solar generators with similar features but different capacities; both generators are of high power.
Acevolt solar generator 2000
The Acevolt solar generator 2000 has a 1997WH/2000watt battery capacity, 100-200 volts, 13 total power outlets, and can recharge 95% of your devices. It can satisfy all of your emergency needs or power outages and your off-grids and camping.
Acevolt campower 700
Acevolt campower 700 portable power station is a safe LiFePo4 backup battery with over 2500 charge cycles. It features three fast-charging USB ports and an integrated MPPT. It has a battery capacity of 672Wh/700wh,100-200volts, and is lightweight, weighing 22 pounds. With an inbuilt 4 X 100V-120V/700W (surge 1400W) AC outlets and powerful inverter, campower 700 can run over ten essential camping gears or appliances, which includes most indoor and outdoor essentials such as the projector, refrigerator, drone, and more.
What Makes The Acevolt Solar Generator Unique?
The Acevolt campower has various qualities that make it unique and the best for a great camping experience;
High Safety Performance
The LiFePo4 battery has no risk of explosion due to high temperature or excessive charging; it can resist temperatures up to 140 degrees Fahrenheit.
Recharge To 80% Within 87minutes
The Acevolt campower 2000 can be charged from 0-80% in 87 minutes and reaches full charge in 108 minutes; it can handle high wattage appliances up to 4000W.
Conducive to Electronic Devices.
The campower 2000 has a pure sine wave inverter that produces better sine wave AC power, protecting electronics while reducing noise and power consumption.
Fast, Safe, and Strong
The Acevolt campower 2000 is the lightest 2000W portable power station. With Acevolt empower, you can camp with a 1997Wh battery capacity, which can power up to 4000W of your devices whether for Rving, camping, or in case of a power outage. It is also a clean energy source with no carbon emission; this makes it far more desirable and preferable for camping over other conventional generators.
Dual Protection BMS
The Acevolt campower 700 has a battery management system that allows it to self-diagnose and self-repair. This protects your battery from short circuits, overheating, and overloading. It also provides battery cell balancing, improving the utilization rate and extending the battery's overall lifespan.
Diversified Charging Options
Acevolt campower has three different charging options. You can charge with the solar panels, wall outlet, or car.
It takes 3-4 hours when charging with a solar panel, 2.5-3.5 when charging through a wall outlet, and 7-8 hours when charging with a car.
Also, it is equipped with a fast-charging 100w USB-C port, which is suitable for the latest electronic devices with USB-C as their mainstream.
5 Times Longer Lifespan
Generally, lithium-ion batteries have only about 500-700 charge cycles and can last not more than three years. Acevolt campower2000 is capable of over 3500 charge cycles before reaching 80% of its capacity, meaning it can power you up to 15 years.
Breathing Light
The Acevolt campower 700 has a gentle breathing light that lets you know the generator is in use. Each time you press the button, the light is turned on for 30 seconds.
Built-in Adapter
The Acevolt campower 2000 has abandoned the traditional adapter, replacing it with a 2-in-1 inverter, also a built-in adapter. With this, you only need a cable to recharge.
Noiseless
One of the aims of camping is to enjoy a serene environment in the woods or wherever your campground is. The Acevolt solar generator is a noiseless portable power station that only requires setting up. Once you set up and place the solar panels towards the sun, you only have to relax and enjoy every bit of camping.
UPS Ready
The switchover time of the Acevolt campower is under 10ms!
Acevolt campower has a 2000VA/1997W uninterrupted power supply battery backup system ideal for smart home devices, home entertainment equipment, desktop PCs, alarm and phone systems, etc.
As earlier stated that a solar generator converts solar energy through the use of a solar panel; it is then essential that you purchase a solar panel alongside your portable power station. Acevolt currently offers two very durable solar panels- solar panel 200 and solar panel 100- and they have almost the same features.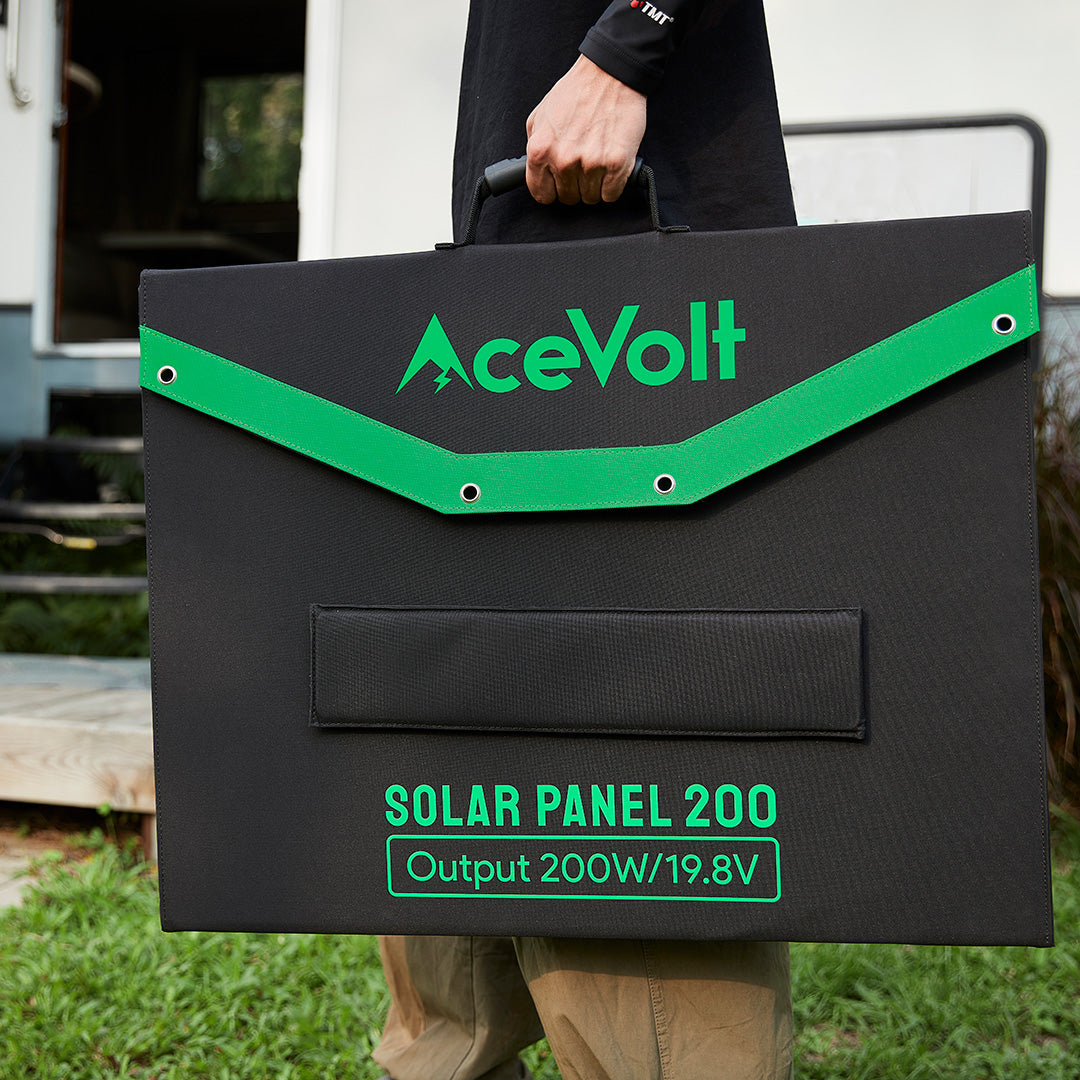 The Acevolt portable solar panel 200 features the highest conversion efficiency of up to 24%. It is a monocrystalline, durable, compact, and foldable solar panel that you can carry with you on the road.
It is made of the most efficient monocrystalline silicon cell, making it ideal for camping because it will generate more electricity you need faster.
Another unique feature is that it is dustproof and waterproof; therefore, wind and rain can not affect it during camping.
Also, it is compact and lightweight and can be easily folded and carried anywhere.
Acevolt Solar Panel 100
Like solar panel 200, solar panel 100 is framed from monocrystalline silicon cell, has 24% conversion efficiency, and is a foldable design for ultra-compact and lightweight.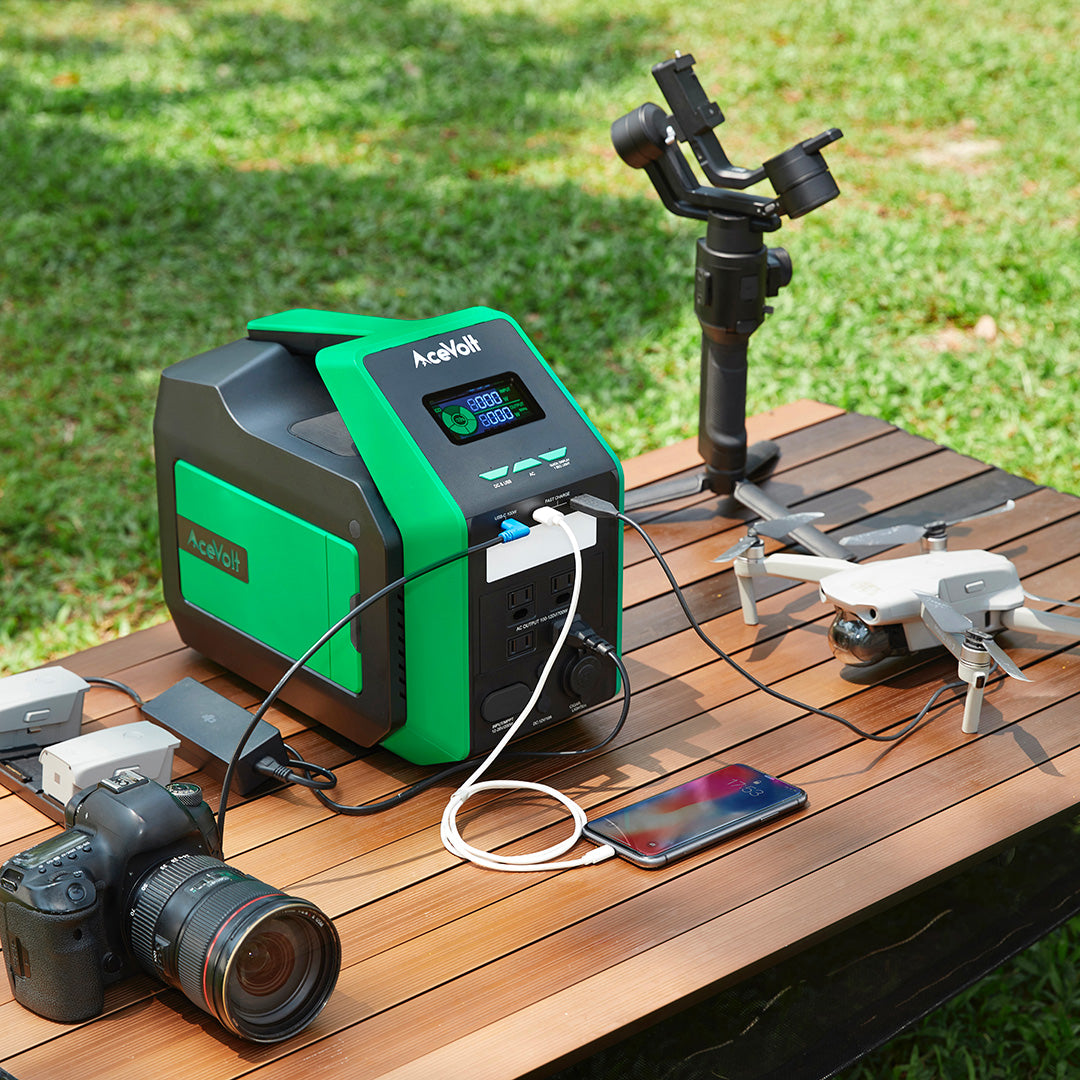 In Conclusion,
Acevolt is a company that produces durable, environmentally friendly, and strong solar generators and panels. The solar generators are built to meet RVers' and campers' needs, but it's also beneficial for people who often experience power outages.
Currently, Acevolt offers free shipping with FedEx to the 48 contiguous United States, and if you shop via the site, you get a lucky spin discount; now is the best time to take advantage! 
---
Related Product
Sold Out
Campower700 LiFePO4 Portable Power Station