6 Campgrounds in Kentucky You Can't-Miss
---
6 Campgrounds in Kentucky You Can't-Miss
  Camping in Kentucky is a popular hobby, and visitors travel from all around the country to see a diverse range of sites and attractions. Kentucky is one of the best states with intriguing camping sites. Campgrounds in Kentucky have a wide range of well-equipped campsites which are accessible to campers. 
Most of which are located around rivers or lakes. Its prominent campgrounds are spread among the numerous state parks. These campsites are supervised with partial hook-ups for RVs and trailers, as well as basic tent campsites for those looking for a more primitive trip. 
Here are 6 Campgrounds in Kentucky and various on-site activities you can afford to miss.
Yogi Bear's Jellystone Park Mammoth Cave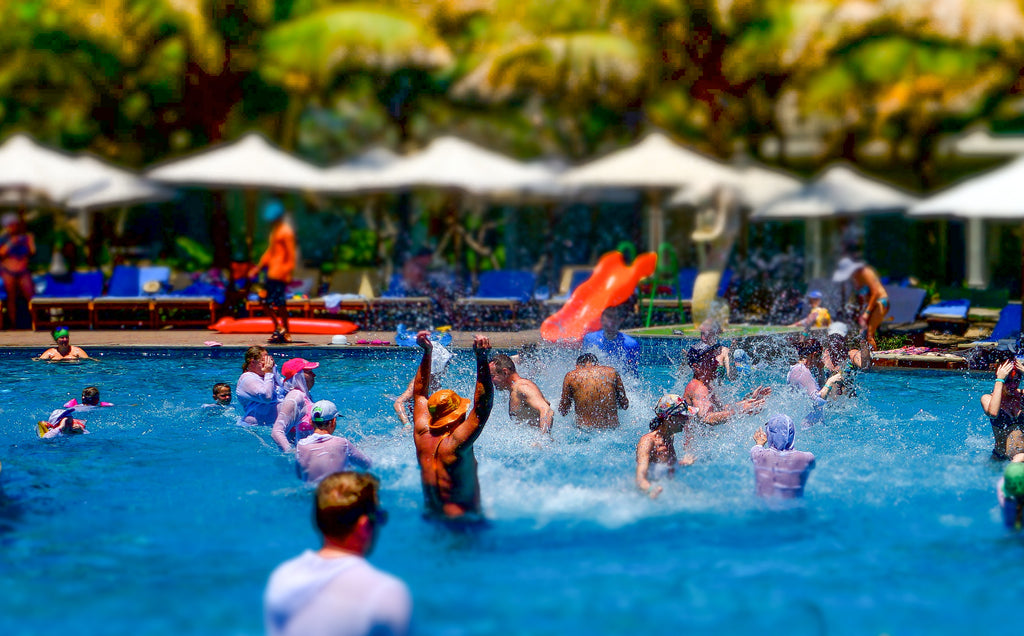 Yogi Bear's Jellystone Park is one of the regular campsite sites as well as cottages for rent. This campground has a plethora of events to keep you entertained. Alternatively, you might simply relax on the beach and enjoy the lake's inflatable water park. 
It is a place to relax and spend some quality time with your friends and family. It also has several RV parks with 50 AMP and 30 AMP available. This is a perfect destination for family reunions, scout groups, church groups and school groups. 
They offer different styles of cabins to suit your taste and meet your expectations. There are spacious campsites available for RVs, travel trailers, pop-ups, vans & tents. . Yogi Bear's Jellystone Park Mammoth Cave has an amazing guest attraction which includes mini-golf, jumping pillow, water slides, splash pad, free cables and WiFi and entertainment the whole family can be involved in. 
All these are to ensure you have a satisfying and fun-filled camping experience. This is one of the promising regional locations to bring your family to enjoy a day or weekend of relaxation! Make your reservations here.
Price rate: $52 - $80
Location: 950 Mammoth Cave Rd, Cave City, KY 42127, Mba United States
State Parks in Kentucky
The Kentucky State Park's camping system has 31 campsites scattered all around the state, so you're never far from being able to enjoy the outside. There are RV, camper, and tent sites available, as well as horse sites in five parks: Dale Hollow Lake, Pennyrile Forest, Taylorsville Lake, Carter Caves, and Greenbo Lake. 
Electric and water connections, as well as a fire ring and a table, are available at each campsite. Campers should make bookings online or over the phone to ensure that they get their preferred spot. You can select from numerous settlement options which include resort rooms, seaside cabins, forest huts and campgrounds according to your preferences.
 There is an extended catalogue of recreations to keep everyone in the family engaged and happy. Water activities involve canoeing and kayaking, boat excursions, fishing, swimming and white-water rafting.
 Those who like to keep their feet dry can take satisfaction in more than 20 miles of hiking routes, most of which are reasonable for groups. Golfing is accessible nearby and a seasonal outdoor cinema shows movies and musical exhibitions.
Falls Creek Cabins and Campground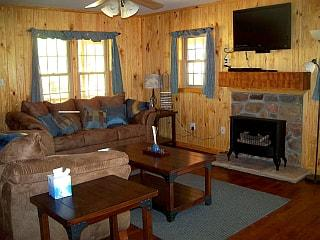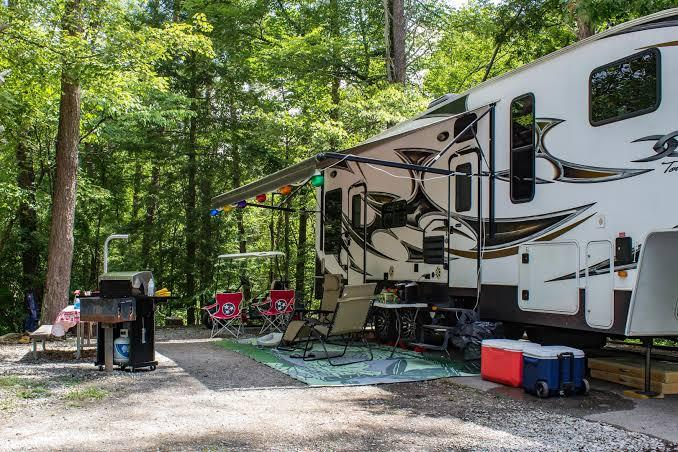 Falls Creek Cabins and Campground is a home away from a home campground in Kentucky. A great place for hiking, boating, and fishing, which allows you to spend time with your family in a fun and beautiful environmental setting. It has a spacious site gravelled with a grassy front yard for RVs. 
RV bathhouse features 4 private bathrooms, each of which has its toilet, sink and shower. Its pull-through and back-in sites have water and 20,30,50 AMP electrical service. And the pull-through sites offer sewer connections and there is a dump station on-site as well. There is a good satellite connection, and also a free WI-FI. 
Their check-in time begins anytime after 3pm and check-out is anytime before 11am. It has a snack bar on-site (seasonal) and plenty of room to run around and explore! It has pet-friendly campsites, however, owners had to take responsibility for their pets. 
The campground is extremely famous with families who have older children who can engage in the game of white-water rafting, zip-lining, wagon rides and canoe tours. Falls Creek Cabins and Campground is a good place to visit during spring. Check out their website here to book your preferred spot.
Location: 1943 KY-90, Corbin, KY 40701, Mba United States
Axtel Campground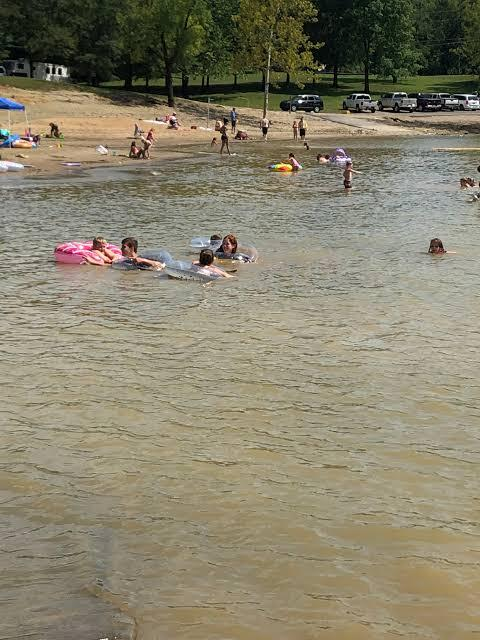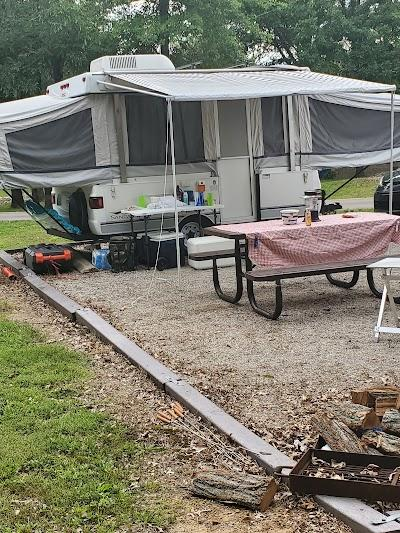 Axtel Campground is a Campground with a large facility of about 158 campsites, many of which have electric hookups. All campsites provide tourists with a peaceful and sweeping view of the lake. It has a swimming area, boat ramp, dump station, flush toilets, playground, showers, drinking water, fish-cleaning station, and a short footpath.
Wi-fi connection is also accessible from an outside source at an extra expense. You can enjoy numerous on-site activities like boating, swimming and fishing and there is a brief path for hiking and bird-watching. Nearby attractions include the Mammoth Cave National Park where you can explore the biggest cave system in the world. 
Both electric and non-electric sites are interspersed, and tent campers and RVs are mixed. You don't want to miss the camping satisfaction Axtel Campground delivers. Stop by here during the weekend to enjoy a peaceful visit. All reservations must be made at least 2 days in advance. Click here to know more.
Daily Rates:  $15-$22/night.
Location:  Shore of Rough River Lake in south-central Kentucky
Whispering Hills RV Park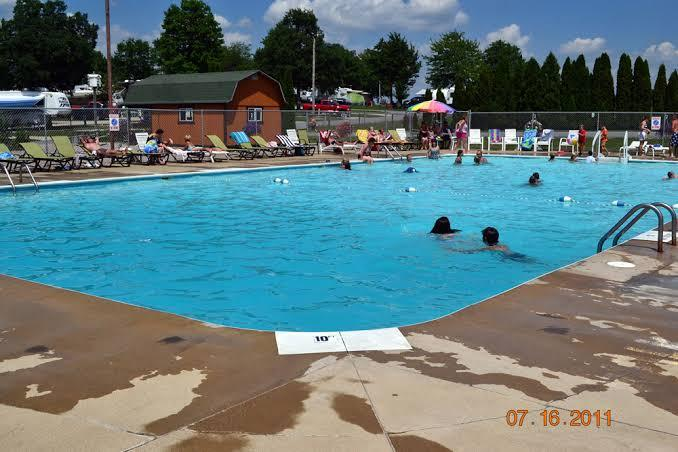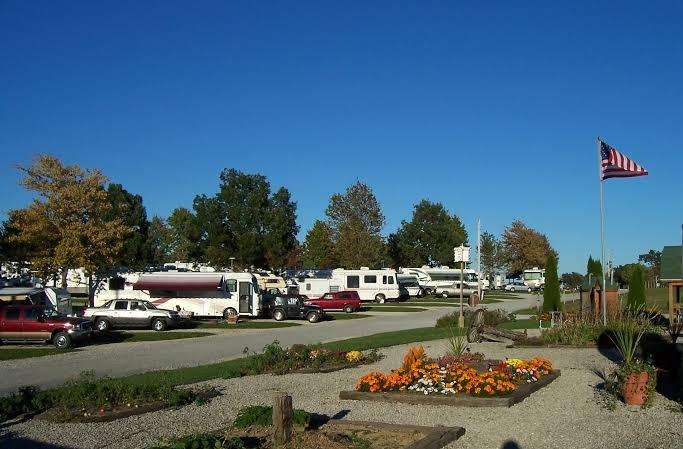 Whispering Hills RV Park is a place to enjoy a leisurely stay of fishing, swimming, basketball, or discovering the area. Experience Kentucky on horseback, and walk through the antique stores and historic buildings. 
It has a wildlife Park, which serves as a natural habitat full of a combination of game species, birds, reptiles, and amphibians. The campground offers 230 pull-through full hook-up sites with 20,30,50 AMP services, with most of them having a fire ring. 
There are 9 exceptional locations with adhesive pads, tables, and double rocking chairs. Kids can make use of a playground, swings, bouncing house, and bouncing slides. It's a pet-friendly campground. All reservations must be secured with a valid credit card. Click here to make your reservations
Location: 257 Rogers Gap Rd, Georgetown, KY 40324, United States
Barren Fork Horse Camp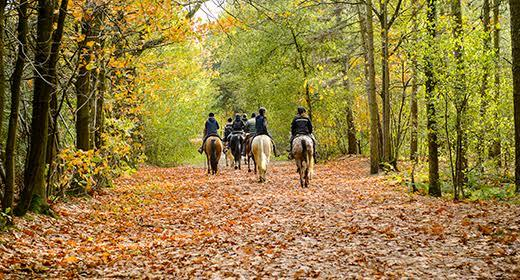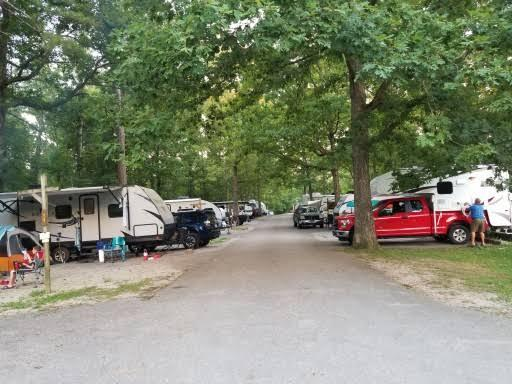 Barren Fork Horse Camp is a popular campground, located in the Stearns District of the Daniel Boone National Forest, for horseback riders who enjoy the forest setting. It features places where you can demonstrate your horse and has lots of trails through the Daniel Boone National Forest.
 The campsites also feature fire grates, lantern holders, and a watering pond for horses. The campground offers 41 campsites that accommodate horse trailers and RVs up to 35 feet. It has a nearby fishing pond where you can relax and enjoy the atmosphere. There is a picnic table, table, potable water, and vault toilets located at certain campsites. Visitors are also allowed to bring in their pets.
 Activities offered near the campground include; Biking, Boating, Fishing, Hiking, Horseback riding, Paddling, Wind sports, Climbing, Snowsports, Swimming, Whitewater paddling, Wildlife watching. Natural features you'll discover at Barren Fork Horse Camp include; Beach, Cave, Forest, Lake, River, Stream, Swimming hole and Waterfall. You can make reservations for groups of not more than 10 people in a group. Click here to know more.
Price rate: $8/night, $12/2 nights and $100 annual passes (limited to 14 consecutive nights).
Location: Whitley City, KY 42653, Mba United States
Conclusion 
Camping gives you the chance to connect with nature, build and strengthen relationships between family members, and encounter wildlife. It also serves as an educational opportunity for your children to learn new things. However, one of the campers' major concerns on campgrounds is power supply; they fear not being able to keep their devices fully charged and working in case of emergencies or urgency. You don't have to worry anymore because ACEVOLT CAMPOWER offers you the most productive portable power station of (2000W LiFePO4) and solar panels of (700W LiFePO4) which are safe, cost-efficient, convenient and rechargeable that can prepare you for camping and RV travelling. You can enjoy your camping experience with a consistent camping power supply with ACEVOLT CAMPOWER. Check out any of the campgrounds listed above and make adequate preparations to take your family to enjoy the great outdoor experience.  
---